The decline of Oscar Wilde gives Javier de Isusi the National Comic Award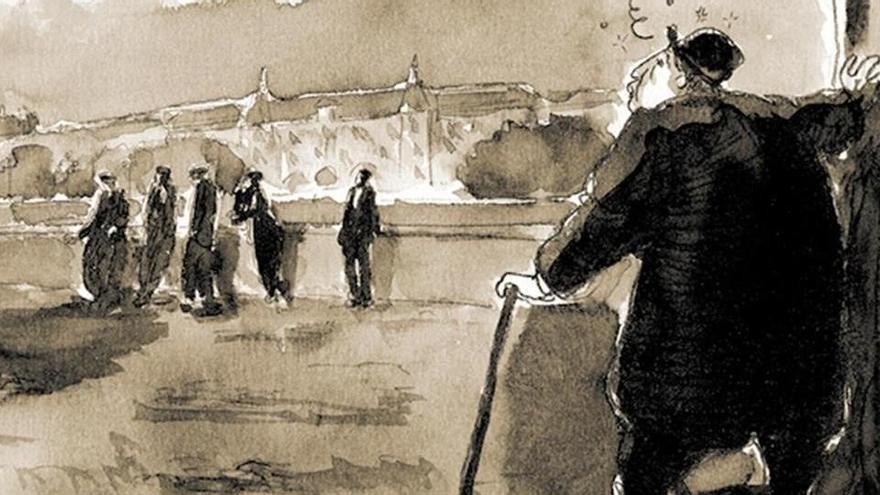 With 'The Divine Comedy of Oscar Wilde', a work that is close to the last three years of the Irish writer, when bankrupt and drunk he took refuge in Paris, the Basque cartoonist Javier de Isusi (Bilbao, 1972) has won this Thursday the National Prize for Comics granted by the Ministry of Culture and Sport, endowed with 20,000 euros.
The jury has highlighted of 'The Divine Comedy of Oscar Wilde' "the representation of the theater of life and a brilliant characterization of the characters through the successful use of individual interviews" and he added that "the illustrations, very suggestive and at the service of narration, are the result of an excellent command of sepia ink watercolor with subtle transparencies and different depth planes marked by virtuosity in the tonal use of the same range chromatic ".
Being faithful to historical reality and paying homage to Wilde's work with numerous quotes and references that convey his ideas, Isusi imagines in the winning comic how he could feel, what encounters he could have and how the writer could live his dramatic last three years, Irish playwright and poet, who died in exile in Paris in November 1900 at the age of 46. He had arrived in France after being convicted in Great Britain of prison for his homosexuality, accused of sodomy and corruption of youth, morally and financially ruined, drunk and annulled as the author. From ETA to refugees
Isusi's previous works include 'I've seen whales', where he inquired from various perspectives on how to overcome the wounds, still to be healed, of ETA terrorism, or 'Asylum', vignettes where he raised awareness, based on real cases, about the refugee drama while remembering that many Spaniards were also refugees before, such as the Republican exiles who arrived in France at the end of the civil war.
Isusi, who decided to dedicate himself to telling stories in vignettes after returning from a year traveling through Latin America after graduating in architecture in San Sebastián and Lisbon, began publishing comics in 2004: 'The travels of Juan Sin Tierra', a tetralogy published by Astiberri and inspired by his own travels.
'The Divine Comedy of Oscar Wilde', in which he worked for five years, has not been the first foray into the writer's universe since Isusi illustrated in 2012 his magnum opus, 'The Picture of Dorian Gray'. That same year he published 'Ometepe' (with a script by Saracino, with whom he had already collaborated in the collective 'Historias del Olimpido').
In last year's edition, the winners of the National Comic were Cristina Durán and Miguel Ángel Giner for the work 'El día 3' (Astiberri), a work on the 2006 Valencia metro accident and the struggle of the victims during the trial.