The dark and social Popeye that we (still) miss | Ka Boom Blog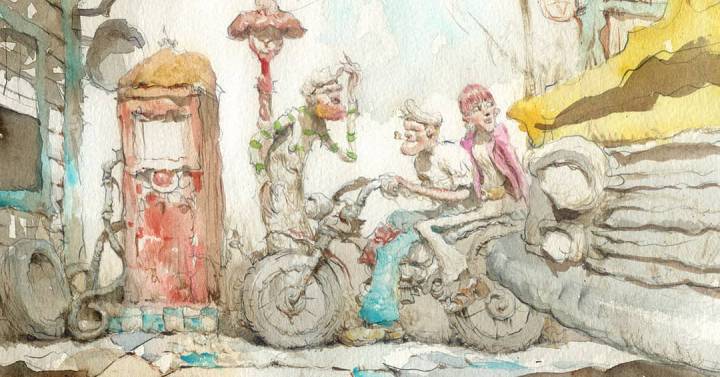 What happens and what doesn't. It's that simple, and hard, is the rule that marks the cultural sieve. Some works pass it and reach us, readers, regardless of geographic coordinates. Others remain in oblivion. Sometimes, sadly, forever. But what are the reasons why some works die and others live? What makes the difference?
This question served as a backdrop for the colloquium talk with which yesterday the XXV International Conference of Avilés Comics opened the morning conference session. At the table, two veterans of the bande dessinée French, Alexis Nolent Matz and Antoine Ozanan, and a Brazilian, also of luster in the BD market, Marcello Quintanilha.
The question in question has a cultural crumb and responds to multiple hazards. Fire almost robs us, on many occasions, masterpieces, as could happen if the will of Sábato had been respected or how de facto happened with Teacher and margarita by Bulgakov, which the Russian writer knew how to rewrite from memory after the loss of the original manuscript. The deterioration also ends with immense portions of the universal treasury; the chilling figure of the 75% of the films produced during the silent stage of Hollywood (more than 7,000 works) simply are gone.
But there are other reasons, less dramatic, but equally sad, that mark the cultural loss of what is relevant. The vile metal, the capitalist approach of the large publishing groups, is, according to what was heard at the Conference, one of them. "I am very sorry that the criterion is so often economical," Ozanan complained. "I think that publishers, when betting on a comic, should look at something more than the copies sold. Because there are comics that can succeed in other countries for very different reasons even if they have failed in their own." It is worth mentioning how savvy production companies like Netflix are following this axiom with amazing results; see the rescue of The paper house or Cobra Kai.
This trio was asked to choose their own work from those that have been outcast in the Spanish comic book market, outcasts of a production in all cases marked by a notable success over time. Ozanon was left with one of those that just listening to it arouses enormous interest; for something gives title to this chronicle. "I would love my Popeye to be published in Spain. It is not, as happened with Spirou, a work faithful to the original. I took it to my field. It is a darker and more realistic Popeye, even dealing with social issues," he explained. The work is titled: Popeye – Un homme à la mer (Michel Lafon, 2019), that we could translate, taking certain liberties, such as Popeye, a man of the sea.
Quintanilha and Matz opened a melon, with their choices, which has always had rather little luck both in cartoons and in words: the narrative about sport. The Quintanilha comic is an exception to the rule; both in France and Brazil, Luzes de Niterói (Veneta, 2018), a fresco from the Brazil of the 50s, with football and the life of Quintanilha's own father as a backdrop, has been a success. "I think because it focuses on human drama and not on the sport itself. It was something that surprised the editors quite a bit, because you don't trust a comic that deals with sports." Matz deeply regretted that this is the case, arguing that in France it is just a matter of "a certain disdain" for the beautiful game. "But it is a fascinating narrative setting and a metaphor for many very powerful things. There is much more to it than the sport itself." The French have explored it in the comic, genre noir, Arret de jeu (Casterman, 2018), which has not yet reached the Spanish shelves either.
At the end of the table, during the audience question time, a beautiful and passionate reflection by Ozanan about those responsible, first and foremost, that this cultural sieve does not miss jewels that could have been but will never be. "Both the publishers who buy, and those who sell, have to see first if they like that book. If they believe in it, instead of looking at how much they have sold. This is the first thing the publisher should do: believe in the book. You have to defend it, you have to be the first to believe in it. This is how it should work. "
And it is true that this way, from time to time, it works. But not always. If not, we would already have our Popeye, man of the sea, sailing oceans of vignettes lashed by a grim social realism.