The curse (or superstition) of Pompeii: "This rock has brought misfortunes to my family"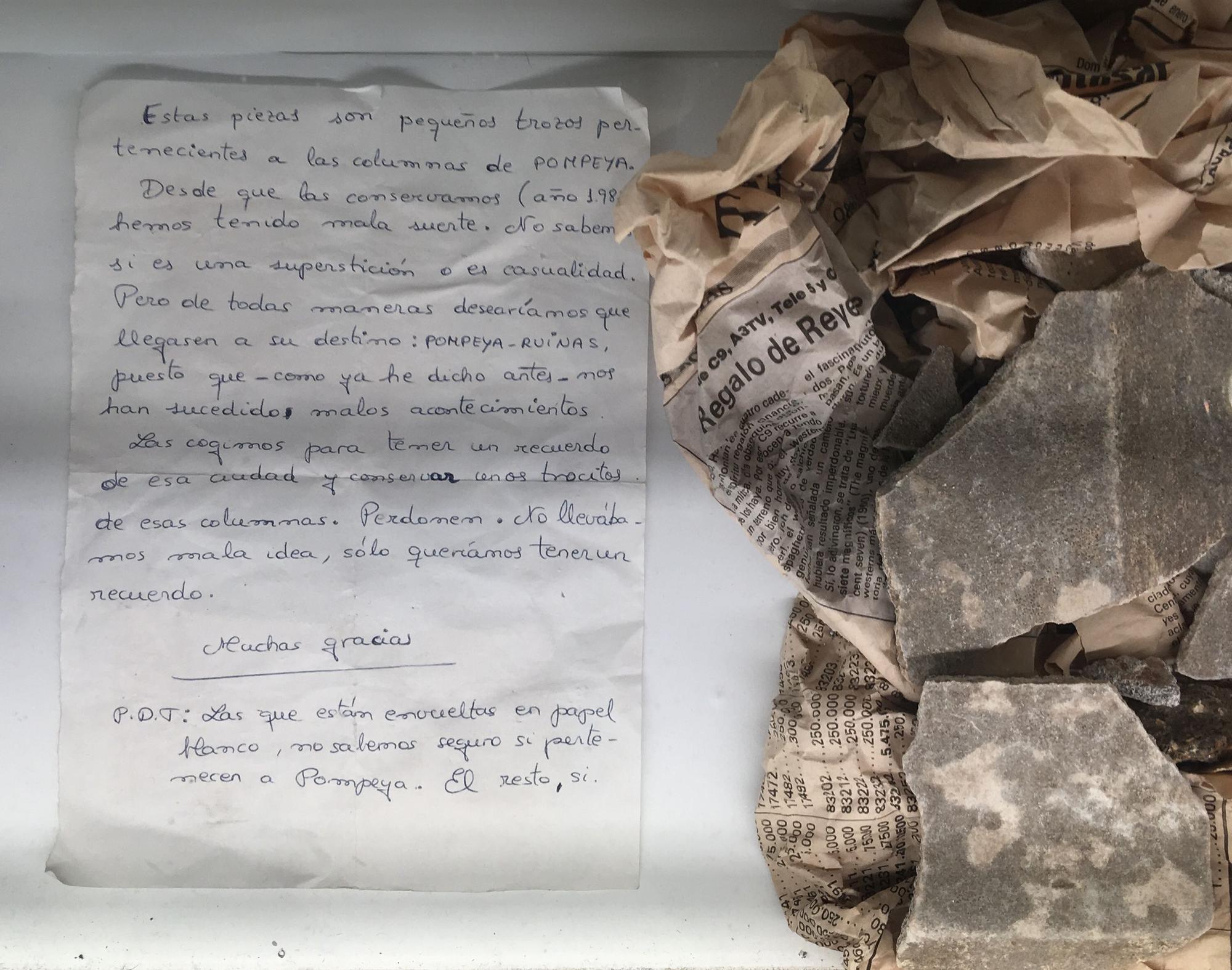 The tourist offices of the Italian city receive daily letters from tourists with mosaics, shells, coins or amphoras that one day they stole as a 'souvenir' and that, now, they return for fear of the consequences: death of relatives, truncated careers, illnesses unexpected …
The day Jordi visited Pompeii he never thought that his life would end up being hell. While walking through one of the most famous ruins in the world, the only thing he had in mind was to soak up the most of its history, its energy, its mysteries & mldr; In fact, he was so impressed by the visit that, in an outburst, he decided to take home a most particular souvenir: a piece of decorated plaster that ripped and he quickly hid among his belongings so as not to be caught. What at that time seemed most exotic, soon became a real ordeal. "I return this relic because it has been the cause of my family misfortunes," said the young man in a letter. directed to the archaeological park and dated 2009. But the thing does not end here: "It is also the culprit that my country has fallen into a deep political and economic disaster."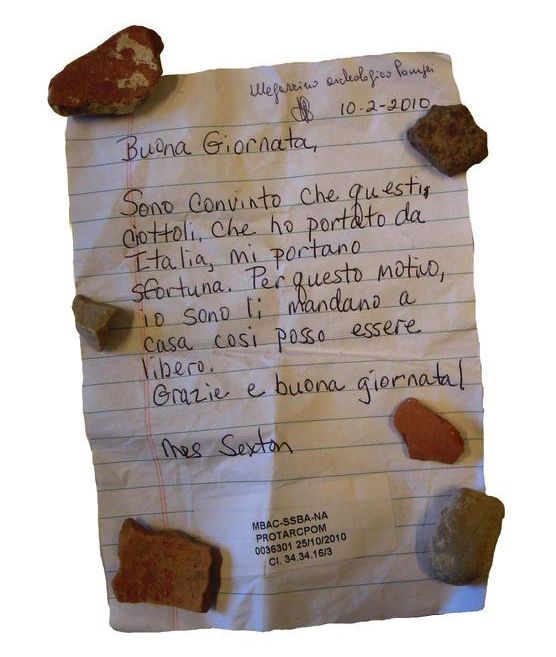 Part of the blame is attributed to Vesuvius himself, the volcano that devastated the area in 79 AD, leaving rooms, gardens, shops, bodies intact & mldr;
The Italian Tourist offices receive tourist packages every day with mosaics, shells, coins or amphorae that one day they stole as a gift and that, now, they return for fear of the consequences. It is known as the curse of pompeii. Legend has it that a spell hangs over these remains that haunts those who dare to take a piece of this city buried under the ashes. Part of the blame is attributed to Vesuvius himself, the volcano that devastated the area in 79, leaving rooms, gardens, shops, bodies intact & mldr; Hence, the place, in addition to causing a certain respect, astonishes any visitor. In particular, those who decide to tear apart this ancient city, considered a World Heritage Site by Unesco. The following are all unfortunate. Or at least that's what they say.
This was precisely what a couple from Gloucestershire (United Kingdom) experienced: fed up with the most insipid souvenirs, broke a piece of marble to fulfill the dream of his 95-year-old grandmother. The old woman was always passionate about geology, but her legs were already failing her and the possibility of traveling to this alpine destination it was very low. What their grandchildren did not know then was that such an innocent act would bring them episodes so unlikely like the following: since that July 13, 2016, the father of a friend, the neighbor's dog and the mother of an acquaintance died suddenly. The responsible? Again, the rock. So, in an attempt to restore normalcy, they reimbursed everything very quickly.
Call it superstition or placebo, but since the 1990s a large number of usurped pieces have been returned by mail, accompanied by missives recounting the calamities their owners have faced. "We do not want to risk more & rdquor ;, pleaded the English couple in writing. "Please accept our sincere apologies & rdquor ;.
Since the aim is to cleanse the conscience and eliminate bad luck, those affected do not skimp on giving the details of their punishments. Something like a kind of confessional via postal. "It is my way of fighting against the evil eye that I emit & rdquor ;, it picks up a message of Italian origin. "When my father died, I found this rock among his things. I hope you can place it in its place of origin & rdquor ;, underlines another italic story. These are two of the bizarre stories that the archaeological organism exhibits under the title La maledizione di Pompei. Reperti rubati nel sito e restituiti per combattere la sfortuna. As the previous director of the institution, Massimo Osanna, has stated on more than one occasion, people write to repent and unburden themselves of the little fortune they have accumulated for decades. Everything else is gossip.
A double mastectomy
One of the most notorious events was starred by Nicole, a Canadian who stole various pieces in the same visit
The remains have come from USA ("Two days after picking up the stone, my wife broke her foot and was on crutches the entire trip. She still can't move it & rdquor;) or Australia ("This rock has brought hardships to my family & rdquor;). SpainAmong them: In 1987, Superintendent Baldassarre Conticello discovered five packages containing various decorated plasters and a bronze statue. Along with them a note written in Spanish, which warned of the "curse & rdquor; that had ravaged their home. "We do not know if it is the result of superstition or chance. In any case, we want them to reach their destination & rdquor ;, with a certain picaresque. "We wanted to keep a memory. We had no bad idea & rdquor ;.
One of the most illogical events was starred by Nicole, a Canadian who stole various pieces in the same visit. He did it in 2005, when he was just 21 springs. Today another 16 have passed and he still remembers with sorrow what came after him: "I have had breast cancer twiceThe last of them ended with a double mastectomy. We have also been through financial problems. We are good people and I do not want to transmit this condemnation to my children. "In his manuscript he assures that he will return to the metropolis to apologize in person. A promise shared by Alastain and Kimberly:" We took several pieces without thinking about the pain that these people felt and the terrible death they had. We're sorry. Please forgive us for doing this terrible deed. May their souls rest in peace. "Amen.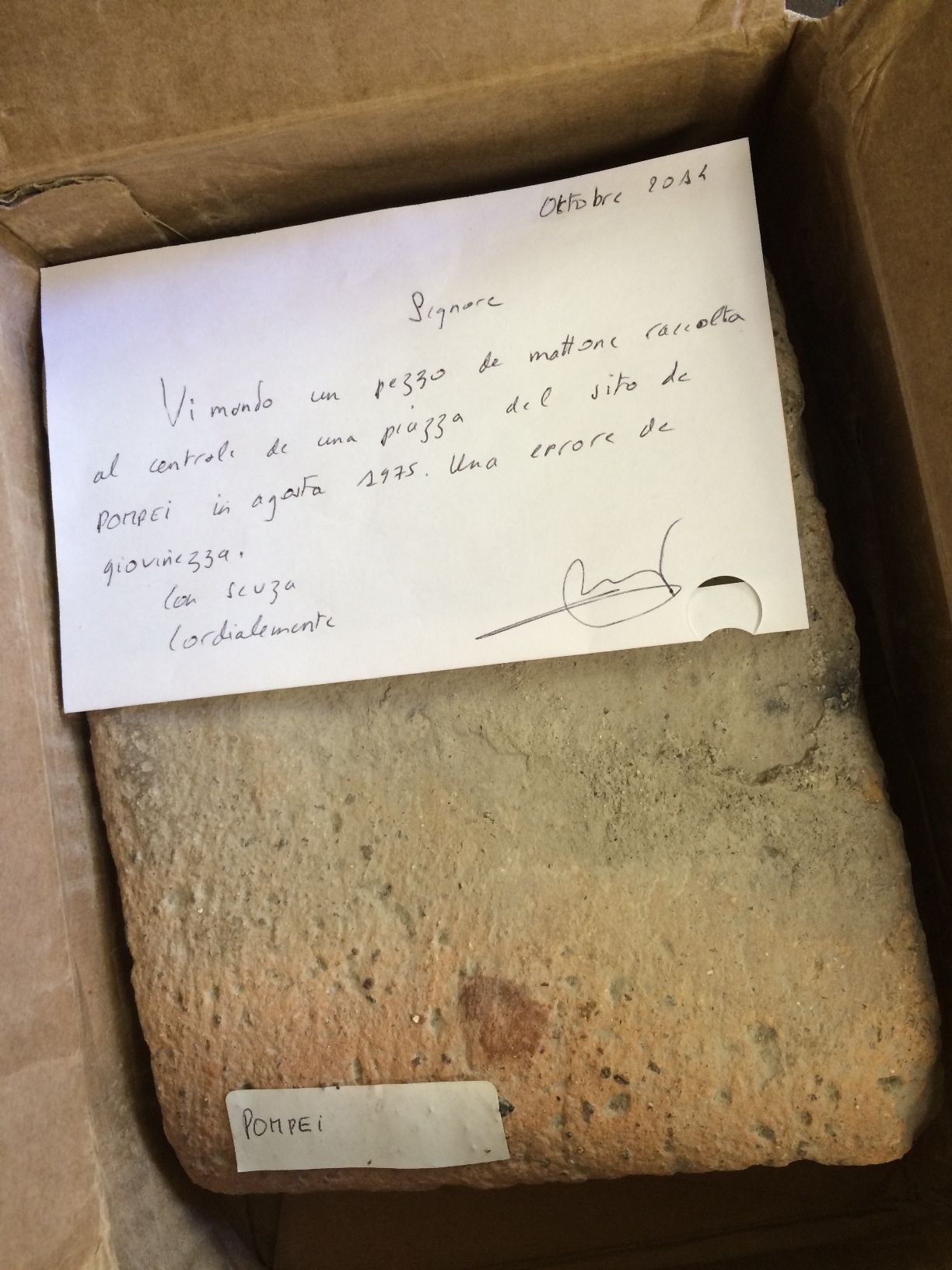 A casino player
In 2015, the most unheard of robbery to date took place: a German neighbor decided to take with him a fragment of Etruscan masonry from a column
The curl can be curled even more: there are those who reintegrate objects for fear of inherit misery. No more no less. This was recognized by the English woman who received ten tiles of a mosaic that her parents took away during their holidays in 1970. Or the Canadian lady who returned to return a terracotta sculpture that her husband dragged away when they were on their honeymoon in 1964. "Now I will be able to sleep peacefully," he explained to some astonished Carabineros after his delivery. This has been a much debated question by scientists and historians, who conclude that there is no armageddon associated with the ancient city, although yes a lot of fantasy in people's heads. Be that as it may, that superstition is serving to bring valuable pieces home: the only positive part of the disgrace caused by archaeological beauty.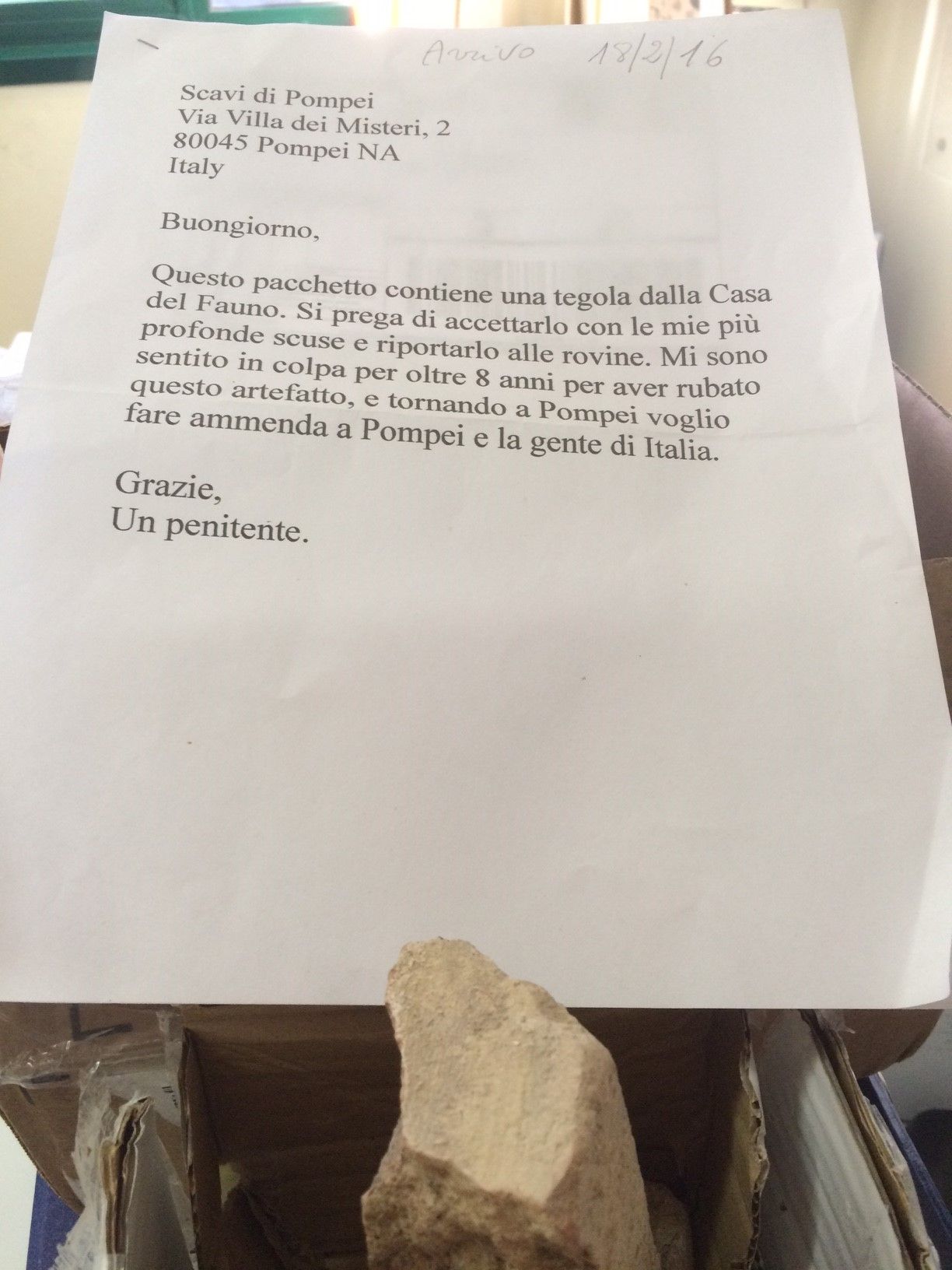 In 2015, for example, the most unheard of robbery to date: a German neighbor decided to take with him a fragment of Etruscan masonry from a column. His name is Manfred and at the time he was gambling at the Stuttgart casino every night. He knew perfectly well that, since it was a game of chance, there would be times that he would win and others that he would lose. However, since he toiled this vestige, never pocketed money again. At least until, three years later, he returned it. A situation similar to that experienced by Alessandro, a car driver in Rome: in his case, he stole the toes of a human figure and consequently stopped winning races almost immediately. So much so that he was even on the verge of losing his life on two occasions. According to him, because of Pompeii.
Related news