The critics refute the jury that despised Tanxugueiras: "They save us another international ridicule"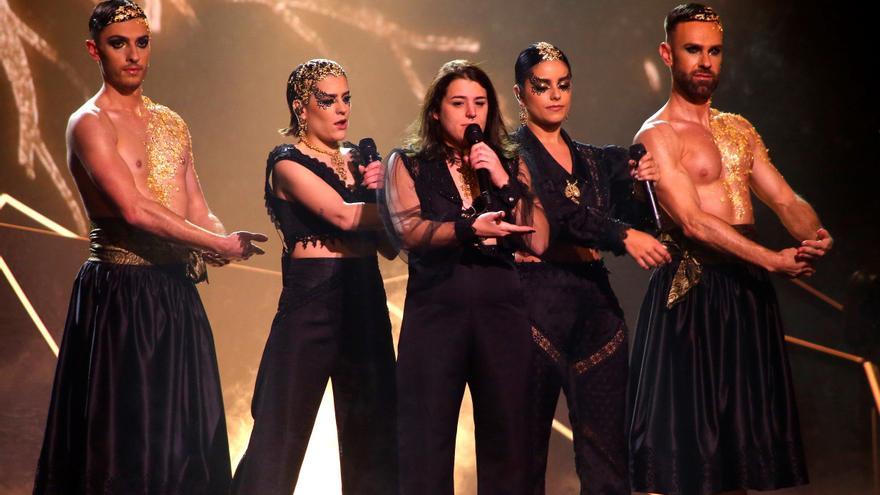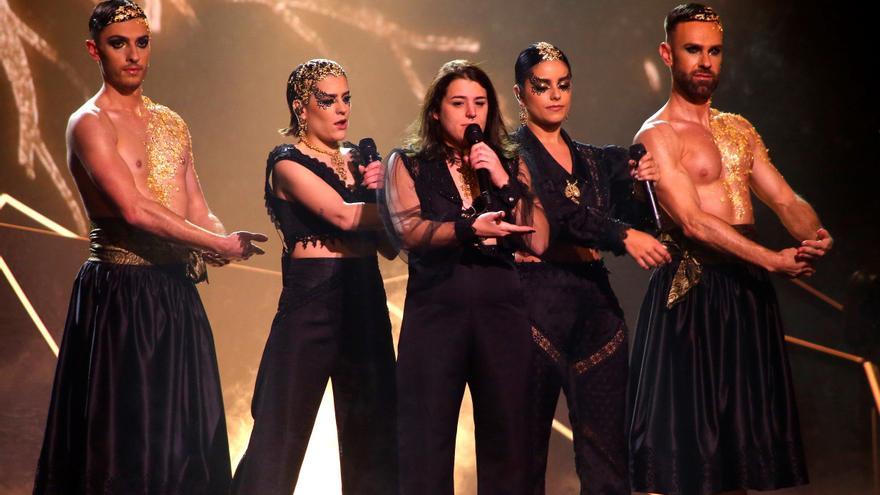 Tanxugueiras must win the benidorm fest. And go to Eurovision. And, already put, to obtain the award that Spain takes 53 years without savoring. They can achieve it... because they have the most powerful weapon to do it: a doll that, as experts say, houses the necessary elements to attract the attention of the Old Continent. Although not only that. They also have that peculiar gift that nobody knows what it's called, but that prevents anyone from looking at them. They look like meigas, burned in front. With a Galician song that hypnotizes from the first drum. They already demonstrated it in the first semifinal last Wednesday, where they conquered the audience with a throat hit and tribalism. The jury resisted them… so much that they considered that they were not suitable to reach the final on Saturday. Now, thanks to the push of the public, it is their turn to revalidate their bet. A new religion must come to Europe.
"land has it all. It is not exceptional or entirely new, but it is brilliant and part of a genre that is not very common among mainstream audiences: that of chanterelles. They are young, women, powerful, empathic. Matriarchal as good Galicians and as representative of this country as any other corner of our plural geography. At a time when we must claim diversity more than ever, they represent integration, tolerance, hug, a burst of happiness", emphasizes Fernando Neira, musical critic of Day by day (Cadena SER) and creator of the website undiscoaldia.com. These adjectives that he mentions are part of the very essence of the group: Olaia, Sabela and Aída represent each of the values ​​that they have been collecting in the associations of tambourines in which they grew up.
A large part of their musical background was acquired through the recollected, a tradition that consists of going town by town recording the melodies that grandmothers retain in their memories to value them. "It's a very good song, which saves us an umpteenth international ridicule. Also, among the possible options in the preselection (some, like Rigoberta Bandini or Varry Brava, estimable), it is the one with which I feel best represented", adds the journalist. And it is not the only one: the group won from popular macro polling that the specialized website Eurovisión-Spain carries out every year, prevailing over names of the stature of Rosalía, Aitana, Lola Índigo, Ana Mena... The debate has even reached politics, where Yolanda Diaz, Adriana Lastra or Alberto Nuñez Feijoo They have already shown their respective support. "I love you the same, but this Benidorm Fest belongs to Tanxugueiras," the Minister of Labor and Social Economy replied on Twitter to Jéssica Albiach, president of the En Comú Podem group in the Parliament of Catalonia.
THE RESURRECTION OF FOLK
Undoubtedly, these are data never before reached by the Galician trio. This was born with no greater pretension than to enjoy music, playing in fucked and competing in competitions tambourine. Almost unintentionally, in 2017, they tasted the honey of success thanks to a video that quickly went viral: in it, they were seen singing over percussion. No more no less. However, their vocal quality and neo-traditional style put them in the spotlight. So until, the following year, they released their first LP. Thanks to him, they took the Independent Music Award (MIN) for the best album in Galician and they toured Cuba, Switzerland, the United Kingdom and India. later came Counterpoint, a second proposal in which they consolidated a more contemporary and resounding sound turn, but without forgetting their folk marrow. A unique concoction that has borne its best fruits in their latest singles: Midas Y Figa.
"Amaia, Maria Arnal i Marcel Bagés, Baiuca, Rodrigo Cuevas, Califato 3/4, C. Tangana or Rosalía are the clearest recent examples that the revision of root music is gaining a new and much broader public in Spain ", holds Leyre Warrior, presenter of na na na on Radio 3, a program of current events, context and references that define our time. About the role of land at the festival, it is clear: "It is time to bet on a proposal folk which, in addition, is updated with electronic arrangements that push it towards an epic with proven effectiveness in Eurovision".
In this format, the roots are the basis of the brotherhood, it is what is sustained. So much so that, given the results of the last two decades, sounding with heart is better than doing it pretentiously. And in that the anthem of Tanxugueiras has a lot to contribute. "His fusion of styles is very interesting," he stresses. Roger Rodes, producer of Nathy Peluso, Estopa, Juan Perro or La Pegatina. "The ailaralalá of the chorus makes it international, singable and memorable. The piece has a special charisma thanks to a beat with a tempo of 140 that gives the feeling that it goes in the middle. Above it, the folkloric percussion marks a ternary beat that allows the public to walk hand in hand with the music. It is a subject with great inner strength and exquisitely done that stands out, in particular, for combining classic textures with electronic ones to the right point". A seal of identity that, beyond their project, has also permeated the collaborations they have just launched with Muerdo (change everything) and Rayden (hell).
BAROQUE WARRIORS
Your strengths do not end here. In fact, his image is another of his great hallmarks. Something that matches perfectly with a contest in which the most important thing is to leave a mark. "They have gothic and baroque aesthetic influences. We see it in the colors they wear (black, white, burgundy) and in the old gold accessories they wear. Also in the garments: shawls, scarves, blouses, skirts, lace, earrings... Her image is intense and she constantly tries to move us to a world of magic and witchcraft", he argues Elena Watering Can, fashion stylist with more than 17 years of experience in television and advertising. What Paula Ventura, a regular costume designer for Shakira or Alizzz, adds: "It's appreciated that they go outside the box, that they don't follow the latest trends and take pride in their style. transmit strength, security and empowerment In a different way. The makeup also fulfills the same task: her lips in dark tones manage to put the focus on their mouths, on the words". Which, in the end, is what it's all about.
Now, the key is to insert everything on stage in the right proportion. Otherwise, the effect would be lost. "Today more than ever, the image of strong women who raise their voices, united, visible and free through a song is the best representation to shout that there are no borders", highlights Marcelo Pacheco, art director known for his work on Costa del Sol Brigade, The knot, Treason, the cathedral of the sea or Isabel. For him, land evokes a trip to the traditional through a party sound, which is why it opts for a very specific aesthetic: "A warm image with tones between brown and sand on a monochromatic scale, where there is a halo with a nod to nature, would encompass a round".
THE GALICIAN REPRESENTS SPAIN
If they win the Benidorm Fest, Olaia, Aída and Sabela would be the first to bring a song composed in a co-official language to the contest. Quite a milestone if we remember that the only similar threat dates back to 1968, when Joan Manuel Serrat refused to participate if he could not interpret in Catalan the la la la which, in the end, led Massiel to glory. However, this language has already reached the ears of Europe thanks to Andorra, which debuted in 2004 with Marta Roure and her We will play to estimate ourselves, but it has never done so hand in hand with Spain. Hence, his intention to arrive in Turin with several of them under his arm has been so applauded by the public and critics.
along letter of land It is possible to hear the phrase "There are no borders" in Galician, Basque, Catalan, Spanish and Asturian. A blow on the table that is already beginning to break molds and set a precedent for future editions. "What we consider unprecedented and exceptional here, in Eurovision is more than normalized. There are many candidacies that, over time, have already resorted to co-official languages ​​or dialects," he says. Jose Garcia, co-director of the Eurovisión-Spain portal. "Among them is the Ukrainian Jamala, winner in 2016, who used the Crimean Tatar in 1944; also the Frenchman Amaury Vassili, who played Sognu in Corsican in 2011. Without forgetting that, in 2003, the Belgian group Urban Trad finished in second position thanks to Sanomi, composed in an invented language".
Since the Tanxugueiras proposal came to light, it has been discussed whether a Galician song could represent the whole of Spain. And, although the arguments have sometimes taken on more political than musical overtones, the answer is clear: yes. "We are going to reformulate the debate: could a topic in Spanish represent all Europeans? Obviously. Nearly 300 languages ​​are spoken in Europe, of which more than 70 receive some kind of recognition or institutional support. An event of these characteristics should be a beautiful showcase to show the world the creative wealth of the continent", maintains Francisco Jesus Moreno, dialectologist and sociolinguist who occupies a chair in the North American, Cuban, Chilean, Mexican and Spanish Academies of Language.
A point of view that opens another paradigm: that of knowledge. "The necessary recognition cannot be given to minority languages ​​and cultures without a minimum familiarity with them," he points out. Xose Enrique Monteagudo, professor at the Department of Galician Philology at the University of Santiago de Compostela and member of the Royal Galician Academy. "That is why it is so important that they, a popular and youthful phenomenon, represent our country at the festival. That the Spanish public, in its maximum diversity, felt represented and recognized in a Galician song would translate into a small big step forward". Only in this way could the same message of unity be sent around the culture that lies in the very essence of Eurovision. And who knows... maybe, in a few months, we will see the image of a whole continent praying in unison the song of Tanxugueiras.