The crisis opens the door to the rise of 'freelance' experts | Fortune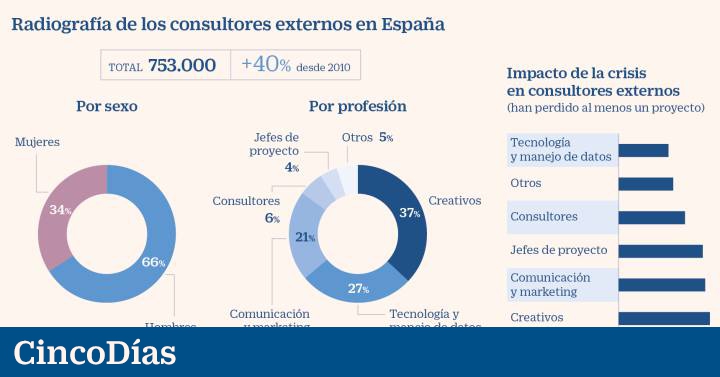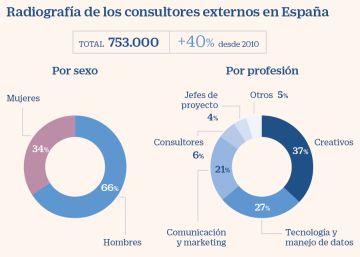 They were never so many and, incredible as it may seem in the middle of a pandemic whose outbreaks threaten the strongest economies in the world, the circumstances were never more favorable. In Spain, of the almost two million people who registered on Social Security as self-employed on March 31, approximately 753,000 belonged to what the European Forum of Independent Professionals (EFIP, for its acronym in English) defines as iPros, that is, freelancers and without dependents who work in intellectual professions with a very high level of qualification and specialization. In other words, they are in charge of directing complex projects for which companies do not regularly have capable personnel to carry them out. Their number has grown nationally by 40% compared to ten years ago, when they began to multiply in the worst years of the previous economic crisis.
The reasons for this are due to many factors, although many experts point to a recent study by the Research Circle of the consulting company Gartner, which figures in nine months the time it takes for companies to train their own employees for them to be fully operational in concrete and complex tasks, it takes half a year to find the right candidate and just six days to spend in finding an outside expert who fits what they want. The freelance, the specialists point out, they end up being cheap: "External consultants grow in difficult situations because they are a resilient, skillful and cheap workforce," Juan Ferrer, director at Boston Consulting Group, explained on Tuesday in the presentation of the Post-Covid report: How freelancers influence tomorrow's company, which the consultancy carried out with more than 2,500 surveys of external experts from Spain, Germany and France and which it presented together with Malt, a firm specialized in providing companies with this type of personnel.
Part of the success of these employees, the study explains, lies in their decidedly technological profile at a time when companies are asking for help to go digital. According to Vincent Huguet, co-founder of Malt, this explains that there are many more men than women (66% vs. 34%) and is reflected in the 27% of these workers who are directly dedicated to technology and data management. This is a percentage only exceeded by 37% of creatives, a union especially exposed to work for others. In comparison, consultants and project managers, for example, barely add 10%. The news for these experts in new technologies during the crisis, on the other hand, has been favorable. While 77% of creatives acknowledged having lost at least one project to the coronavirus, only 44% of freelance More technological, less than half, have been affected in some way by the pandemic.
Response to coronavirus
But if anything distinguishes workers freelance, stresses the study, is their ability to learn and adapt, the result of the six and a half hours they devote to training each week, although 27% of them prefer to do so through platforms far from traditional education. Thus, while most companies have spent years talking about agile work methodologies, 58% of freelancers say they have been working for a long time through these methods. Despite the fact that many companies have forced teleworking in the last few months, 69% of consultants declare that they were already working remotely before the crisis. The report shows that difficulties in communicating were a constant in many companies, despite the fact that 64% of the specialists declare that they have been able to communicate with their clients and that they have managed the confinement well.
But the data that provides the best prospects for expert freelancers is that, with 97% percent of them having already worked in a company, 74% declare that they are not interested in returning to work for others. They see a more flexible future.