The crime is not homosexuality, it is hatred: your rights against discrimination | My rights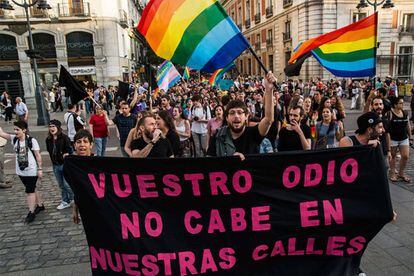 Four days after starting the course, Leia found her nine-year-old son dead. The boy had had the courage to confess to his companions that he did not like girls. It was 2018 and although he was scared, he felt good about himself. But the harassment he suffered at his school in Colorado (USA) led him to suicide.
The teasing also pushed Riley to end her twelve years of life. At that age when dreams begin, her existence had turned into hell. After being kicked, insulted and harassed repeatedly, he could not take one more insult and hanged himself last May in the United Kingdom.
A year ago Nerea also got out of the way in Galicia. The reason, being bisexual in a small town where everyone knows each other, but no one stands up to harassment. In his case, in addition, fueled by social networks. At 17 he was not to blame for so much hatred.
In 2021, the most serious cases of LGTBIphobia continue to cause death on the five continents, despite all the progress that the community has made, especially in Spain. The statistics of the Ministry of the Interior on hate crimes due to sexual orientation or gender identity indicate that these crimes grew in our country by 8.6% between 2018 and 2019 (the last year for which it offers data).
Specifically, the attacks went from 256 to 278 in that period. Although the cases that are registered are only the tip of the iceberg since they are far from the reality that is lived in the streets. As an example, only so far this year, and in the midst of the pandemic, 80 people have been victims of homophobic attacks in Catalonia, according to its Observatory against Homophobia (OCH). Its analogue in Madrid indicates that in 2019 there were 321 incidents, which is practically equivalent to an attack per day only in the Community of Madrid.
From insults such as "fag", "tortillera" or "travelo" to persecution, throwing of objects or beatings, LGTBI people continue to be attacked simply because of their sexual orientation or gender identity. They are victims of what are known as "hate crimes", although this expression does not appear in the Penal Code.
I reject the different
Carlos Viader, criminal judge, explains that these crimes are based on the rejection of those who are different, groups that have traditionally been discriminated against, and seek to make them feel ashamed, hide and not be part of society. For this reason, they can also be directed against other people because of their skin color, beliefs or place of birth, among other prejudices.
The Penal Code typifies in article 510 and following two large groups of conducts: on the one hand, and with more pain, the actions of incitement to hatred or violence; and on the other hand, acts of humiliation or contempt and the exaltation or justification of the crimes committed.
In the area of ​​LGTBI, "it is not necessary for the attack to be directed against the entire community, it being sufficient that the individual victim has been chosen precisely because of his or her real or apparent membership in the group." In addition, it is enough that the action "involves a humiliation for said group", without the need for a "concrete result". And you don't need a specific spirit to humiliate, it is enough to know the humiliating nature of the expressions, regardless of whether the issuer does not consider them that way, Viader develops in the book Homosexuality and Law (2020).
For example, the Provincial Court of Madrid in ruling 762/2017, of December 29, which can be consulted here, delimited hate speech from freedom of expression. The defendant, founder of a digital medium, taking refuge in this right, had accused homosexuals "of being the authors of the vast majority of cases of pedophilia." In a video posted on YouTube, he said that "homosexuality, that is, sodomy and pedophilia or pedophilia, are two branches of the same trunk."
The Provincial Court of Madrid, citing jurisprudence of the Supreme Court, argued that "an expression is insulting when, despite what the author may affirm, the words deserve the consideration of outrageous in the public concept." For this reason, he rejected the arguments of the appellant, who had alleged that with the video he had no intention of offending the homosexual community. But "none of this can be preached in relation to homosexual people if it is not from the most obvious intention of humiliating them," the court responded.
Cut the wings
Although it is about disqualifying homosexual men by appealing to the "pen", it is not usually noticed in all the times that they have tried to clip their wings. The European Court of Human Rights has also taken account of this, as it did in the historic ruling in the Vejdeland et al. Case against Sweden, which can be consulted here. The events date back to 2004, when four subjects distributed approximately one hundred brochures in a secondary education center stating that homosexuality was an abnormal sexual tendency, had a morally destructive effect on society, was responsible for the transmission of HIV and AIDS and promoted pedophilia.
The court, based on the doctrine of the case Féret against Belgium, condemned them and said that incitement to hatred does not only include calls to commit specific violent criminal acts, but also insults, ridicule and defamation of a specific group .
Isaac Guijarro, legal director of the Olympe lawyers office, explains that in these crimes the good that is protected is the dignity of the people and the principle of non-discrimination. For this reason, he considers that it would be a hate crime to say that LGTBI people "are sick because they are or that they should not be able to adopt because they are unable to take care of children." It adds that these crimes can also be committed by legal persons, such as political parties.
The lawyer recommends that LGTBI aggressions be reported, stating not only the physical or verbal aggression, but also that they cause hatred towards the people of this community. "Beyond the obvious crime of injuries or threats, it should be reflected that you have been called a shitty fag, for example, so that the court sees that it is a hate crime," he explains.
In addition, he says that greater "awareness" is needed on the part of some officials, especially when collecting complaints. "They know what a gay or a lesbian is", but they "get lost" with other concepts such as queer, transgender or gender non-binary.
Conversion therapies
This week the green light was given to the draft of what is known as trans law, which contemplates, among other issues, the prohibition of conversion therapies. These assume that LGTBI people have a problem to solve from a medical point of view, as if belonging to this community were a disease that must be cured.
Paz Lloria, professor of Criminal Law at the University of Valencia, says that these therapies violate rights such as health or non-discrimination. "They are outrageous from a medical point of view," since homosexuality, bisexuality or transsexuality are not mental disorders, according to the World Health Organization (WHO). But, in addition, in this type of therapy the technique of electroshock, exorcisms or forced internments has been used. "They put physical health at risk, but also mental health," warns the lawyer. Even when the person submits voluntarily, it would be necessary to assess "how this consent was given" because "freedom" could be flawed.
LLoria also focuses on the discrimination that LGTBI people may suffer in the workplace. According to the ADIM Project, developed in 2020 by the Government of Spain and Portugal and the Complutense University of Madrid, under the baton of anthropologist Ignacio Pichardo, seven out of ten homosexuals return to the closet every day at work. And they do it to avoid negative comments, teasing or insults. But also so that their sexual condition or gender identity does not prevent promotions or salary increases and, in the worst case, not to be fired.
In this regard, the jurist says that this type of action may constitute the crime against the rights of workers provided for in article 314 of the Penal Code, which punishes with imprisonment from six months to two years "those who produce a crime serious discrimination ". In addition, it encourages reporting to the Labor Inspectorate all those entities that refuse to hire LGTBI people for the simple fact of being one, as it is "discrimination".
No to transphobia
Antonella, for example, has been in Spain for 24 years and despite having university studies, she cannot find a job. "And do you know why? Because I am a woman, transsexual, Latina and over 40 years old. That is why I have been forced into prostitution. But I have the same needs as you, "he explains.
Graduated in Advertising and Marketing, in Spain she has studied cash and replacement or cleaning of large areas. But despite all the certificates that show his worth, no one has given him a chance. "My professional ceiling is your floor," he laments.
For several years, the professional network myGwork has been helping LGTBI people to find employment. It was created by two brothers after suffering discrimination in their respective jobs due to their sexual orientation. Miguel Garzón, director in Spain and Latin America, says that companies must reflect "the plurality that exists in society. They can be incorporated earlier or later to develop inclusion policies. But the new generations increasingly seek to find themselves in work spaces where they can develop as they are, without fear or discrimination ".
And, as the explanatory statement of the law that approved homosexual marriage in Spain provides, "History shows a long history of discrimination based on sexual orientation, discrimination that the legislator has decided to remove. The establishment of a framework of personal fulfillment that allows those who freely adopt a sexual and affective option for people of the same sex to develop their personality and their rights under conditions of equality has become a requirement of the citizens of our time ".