The craftsmanship of Aurelia Gil returns Gran Canarian fashion to the MBFWMadrid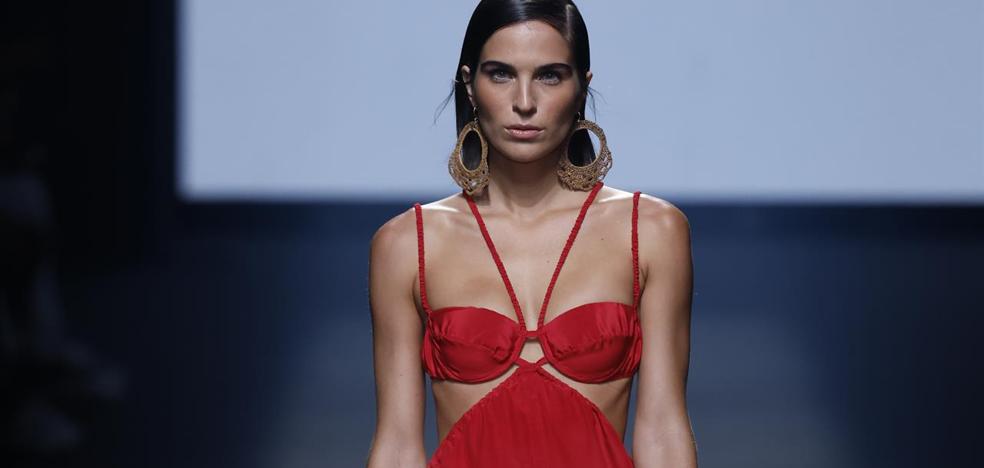 design
With almost two decades of dedication to the textile industry, the designer from Gran Canaria has launched the '365' collection, a declaration of intent based on concepts such as sustainability and diversity
Nineteen years after the Canarian firm TRAStornados paraded on the Cibeles Madrid catwalk,
Aurelia Gil has once again brought Gran Canarian fashion to the
Mercedes-Benz Fashion Week Madrid with a
organic and fluid collection marked by craftsmanship and canarity.
With almost two decades of dedication to the textile industry, the creator from Gran Canaria has launched the "365" collection, a declaration of intent based on concepts such as sustainability and diversity, expressed through swimwear, clothing for events and a series of basics including shirt jackets, trench coats and bombers.
«The collection has been designed from sustainable fabrics such as
recycled polyester and linen» the designer has declared to EFE, who assures that since last year she only makes «one collection a year» in her
Triana workshop, in Las Palmas de Gran Canariaalong with a team of seven people and the collaboration of artisans from the region.
The tribute to its signature land, integrated since 2003 in the Moda Cálida program promoted by the Cabildo de Gran Canaria, is projected through pieces made with the fretwork technique, wooden and leather footwear and bags made from fiber banana tree
Another of Aurelia Gil's designs. /

EFE

«
A yarn is extracted from a natural waste that becomes a raffia, a natural thread that has an incredible color range and weaves very well.», Gil has clarified regarding the circularity of the process of making «light and resistant» bags and earrings that he has presented based on the work of Pilar Ureña.
It has also highlighted the experience of
the jigsaws of Villa de Ingenio that capture "el calado" in their garments, a fraying and embroidery technique that destroys the fabric and then rebuilds it through stitches that generate bobbin lace.
As a novelty, Gil has confirmed that this sewing technique has been applied to "very fine silk fabrics" with a result, in his opinion, "very good."
Before its premiere on the catwalk, the designer has confessed to feeling "tremendous vertigo" as the main fashion figure on the island in a unique showcase of Spanish fashion in which she hopes to "open up" to the national and international public after its consolidation as a leading firm in the Canary Islands.
Carolina Darias, Minister of Health, attended the parade of Aurelia Gil in the first row. /

EFE

On the catwalk
The Minister of Health, Carolina Darias, has been presenttogether with the Minister of Industry, Commerce and Crafts of the Cabildo de Gran Canaria, Minerva Alonso, who has expressed "the pride" that represents the return, two decades later, of a Gran Canaria firm to an international catwalk in an alliance "hand to hand" between the institution and fashion brands.
«The parade has been a sample of the perseverance, work and enthusiasm that puts
Aurelia Gil in each garment that he designs", a collection that, in his opinion, reflects the tradition, history and culture of the island with "unique identity garments" in which swimwear stands out.
Beyond the glamour, the spotlight and the opportunities offered by the MBFWMadrid catwalk, the Canarian creator is clear that she shies away from dramatization and costumes in fashion: «
I just make women's and women's clothing», he concludes