The 'Covid challenge' of the Police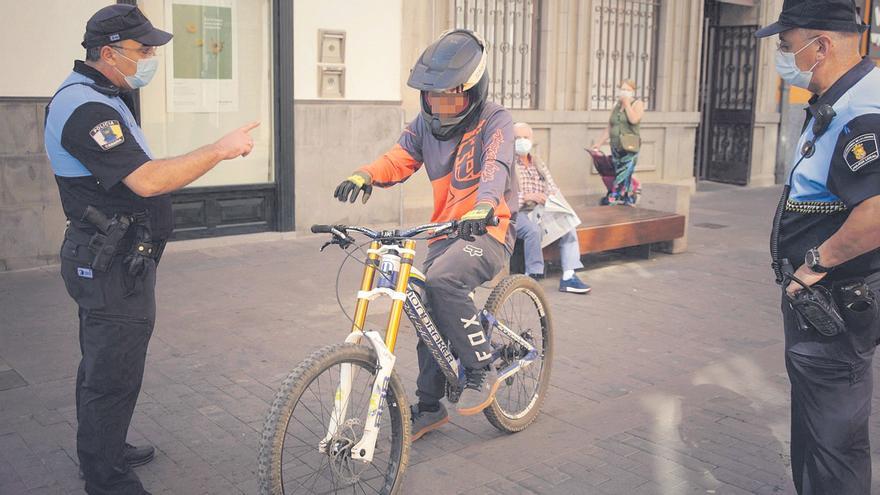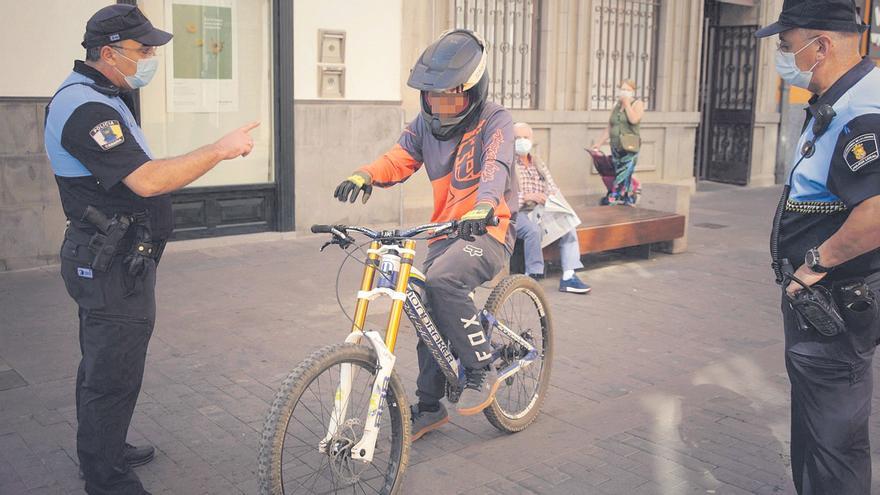 That the irruption of Covid-19 It has changed the ways of understanding the society in which we live, as it is a proven fact. At least while the effects of a pandemic last, which has forced the introduction of new regulations and measures to prevent the spread of a deadly virus. Behind this new approach is the daily work carried out by local police, the National Police and the Civil Guard of the entire State, whose agents, apart from the work they had behind their backs, have been added another that they are not afraid of, even if it causes them the unpopularity of demanding compliance from a society already tired of restrictions.
Is he "Covid challenge", which is setting a controllable extra pressure, but often difficult to apply and generating a certain rejection of a minority of the population. It is a sensation that has been increased during the last eight months, since the State Government decreed the state of alarm, which came hand in hand with mobility restrictions and other measures to contain contagions.
Until Friday, from March 16 there were 1,556,730 coronavirus cases confirmed with diagnostic test of active infection, rising to 42,619 confirmed deaths throughout Spain (317 in the Canary Islands) with positive tests performed. Numbers that define the pandemic in the Peninsula and in the Islands.
To all this is added the pressure of facing "always watched" performances due to misused or self-serving technological devices, through recordings, at a time when habit limitations have influenced residents in all municipalities. The last? The images that emerged from a police intervention that took place last Sunday in La Laguna, which was recorded on video and partially exposed on social networks, "interestedly looking for the morbid", without analyzing what had really happened and what happened to that an arrest occurred to the screams of eyewitnesses.
From heroes to villains
These facts have been analyzed by union representatives of the local police of Santa Cruz and La Laguna and the National Police, given the feeling that their work, "very difficult", is not rewarded by citizens, who are the owners of the general interest, especially a minority "that does a lot of damage," explained Juan Pedro Cruz, Asipal union representative in capital. "In my opinion, nobody knows what Covid is because the Government does not emit real images, and that could raise awareness among citizens and facilitate the work we do, which is to enforce the rules." The trade unionist said that "there is fed up with the situation. Eight months later, we've gone from heroes to villains when we just enforce the law. And even more so when performances are recorded that lead to misinterpreting our role in society. Today a person falls and it is not interesting to help them, but to record them twisted in pain on the ground. We are dehumanizing ourselves ".
Of the same opinion is Roberto Martin (UGT), for whom "the police are hyper-trained to face compliance with the rules, but public awareness of the Covid problem has weakened. Now, with videos, information is distorted and it comes to us completely biased. This generates distrust against professionals who are on the street ". He reflects on the fact that "we come from a declaration of a state of alarm and sanitary restrictions that, at first, were accepted by everyone and now, we see that people are faltering and wanting to restore the above. That cannot, be for now, "he said.
Jesús Illada, from the CSIF in Santa Cruz de Tenerife, is convinced that the reference police action "is justified, although it does not coincide with the social version when the information, a video in this case, is used in an interested way. There is a distortion of the facts. You always have to exhaust diplomatic channels. Realize that we have to reach out to people who have never before faced attention for wearing a mask or not participating in a meeting, but there are limits, "he said.
No malpractice
The regional head of SUP in the National Police, José Luis Guedes, fully entered into the misuse of recordings, highlighting that "today everyone has a mobile phone with a video recorder and what happens is broadcast live on social networks. Most of the time when making a video it tries to look for malpractice, abuse or possible neglect for just a few seconds. In the networks something concrete is disseminated that people want to be seen in an interested way and not the reality of what has happened, decontextualizing the matter. That generates misinterpretations and reflects that it is done with very bad intentions ". The use of video devices by the police? "You are right. It happens in Europe and here we have nothing to hide and situations such as those experienced by the companions from La Laguna would be clarified ", he clarified.
Ismael Lugo, head of AsipalHe pointed out that "the citizen is stressed by the restrictions set by the Covid and that creates a pressure that, in the end, unloads against the police. Today it is a challenge to go out to work on the streets and what we do is regulate rights, not take them away based on new standards that are being established ". Like other of his colleagues in the profession, he understands that "social awareness is needed. Now the confrontation against the police is being sought for the curiosity of what can be extracted from a performance without having all the information. Many citizens defend us, it is true, but it is regrettable that a minority question us like this ". And journalism is not alien to this: "I think we are living a whirlwind of pink and yellow press that contributes to the environment. Professionals are not here to annoy us, but to ensure safety ".
The head of CC OO in the Lagunera police, José Luis Díaz, stressed that Covid is significantly influencing the behavior of citizens, who see things where there are none. In his opinion, there is a certain "detachment" from policing, "when a polite and courteous intervention is made and, even so, the rules are not followed. We are living that now people are supporting people who violate those norms and throw themselves at us, as happened to our colleagues on Sunday. It is something that really saddens us as professionals and adherents of the law ".
Goyo Domínguez, representative of the CSIF, went a little further and pointed out that, "in my opinion, we live in a completely segmented and polarized political and social situation, which negatively influences behaviors. Against the Police, people are on alert to find the error and it is not understood that we are really here to help ".
"The intervention of the companions? Impeccable, with respect and education and it shows in the video. The mask is ordered to be used and identification is requested. It is unfortunate that when we intervened, voices of 'police abuse' were heard by various citizens who surely did not see what the antecedent was and what background the detainee may have, "he concluded.