The cost of electricity soared 48% in January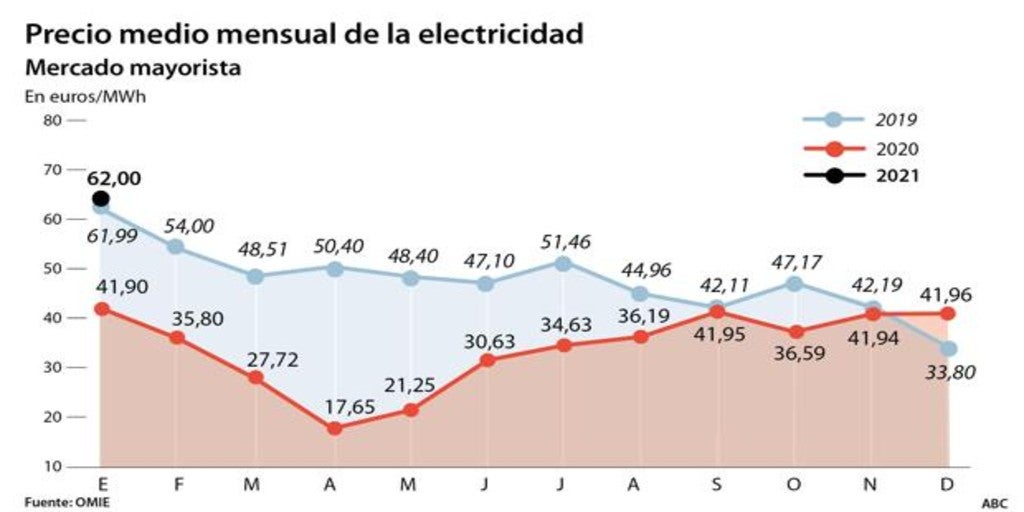 Madrid
Updated:
save

The cost of electricity in the wholesale market has risen this month by 48%, the same percentage compared to last December and January 2020. The average price is 62.12 euros the megawatt hour (MWh), according to OMIE, the operator of that market.
It is also the second most expensive January since there is data (2008), after the 71.49 euros reached in 2017.
In the wholesale market is where the expected demand of the next day is married every hour with the supply. Cheaper energies do it first, such as renewables, hydroelectric and nuclear. Finally, gas, which is the most expensive.
This cost of energy represents a little less than 40% of the total amount of the bill for the consumers. The rest are regulated costs and taxes.
As the arrival of new storms is expected to almost the entire peninsula, which will increase electricity production with wind energy, The prices for tomorrow Saturday register a spectacular fall: 4.19 euros the average price, with a minimum of only 1.95 euros.
These prices for Saturday contrast with the records registered during the Filomena storm, when maximums of 121.24 euros were reached on the 9th and an average price of 94.99 euros on the 8th.