The contributors reach another maximum but grow at the slowest pace of the year | Economy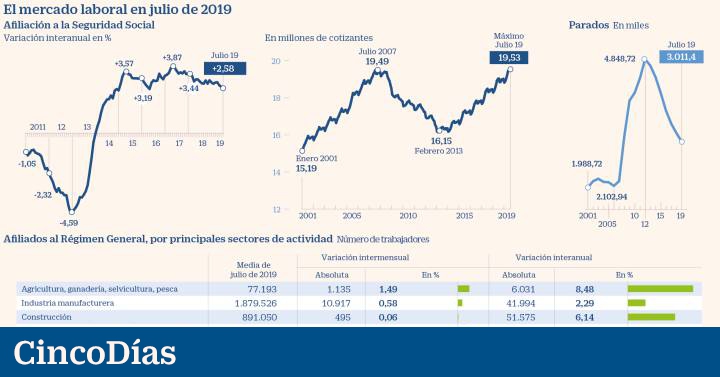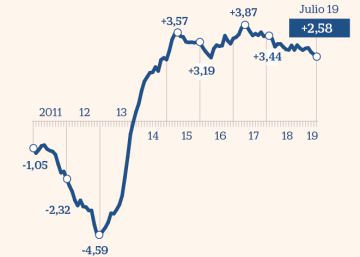 The July Social Security registry data showed a slowdown in job creation. Although the system returned to record historical maximum with 19,533,211 people contributing, in the last month only 15,514 affiliates were registered more than in June, which meant the lowest rate of job creation in a month of July since 2012 and the lowest in so far this year.
These data, provided today by the Ministry of Labor and Social Security, in addition to other known indicators in recent days that suggest that the economy begins to lose its pulse, as is the case with the sharp drop in enrollment or the lower GDP growth in the second quarter (0.5% compared to to the first). Unions and associations of freelancers – a group that lost 7,767 contributors in July – blamed the political paralysis of this slowdown.
Thus, the number of new jobs in the last month is far from the increase registered in July in recent years, when the number of workers increased by 35,819 (in 2018), 56,222 (in 2017) and 84,721 (in 2016) . In annual terms this slowdown is somewhat mitigated. The occupation has grown by 490,401 people compared to 12 months ago, with an increase of 2.58%, one point less than in July 2018, when membership increased by 3.6% annually. Still, employment continues to grow slightly above the economy, which advanced 2.3% year-on-year in the second quarter.
The fall in unemployment also slowed in July. Last month, the number of registered unemployed was reduced by 4,253 people, the fourth consecutive monthly decline, but also the lowest drop in that month since 2008. The total number of unemployed people has stood at 3,011,433 people, the most low since November 2008. But he failed to descend from the level of three million as predicted a few days ago by the president of the acting Government, Pedro Sánchez. Regarding July 2018, unemployment has fallen by 123,588 people.
But all these data hide, in addition, others that would reflect an even greater slowdown in employment. Specifically, it is the seasonally adjusted unemployment data. Eliminating seasonal and calendar effects, the number of unemployed would have risen in July, for the second month, by almost 3,000 people compared to June.
Likewise, membership data is conditioned upwards by non-professional caregivers to whom the State has paid the contributions again. This, as explained by BBVA Research economists "has boosted the affiliation" of this group to 40,700 people last month, 7,900 more than those registered in June.
Where employment is created
However, membership increased in most sectors, especially in Health Activities and Social Services, due to temporary hiring in tourist areas and summer substitutions (54,465 people employed more, 3.46%); in the trade and repair of vehicles, with 40,417 more (1.64%), and in the hospitality industry, 29,262 (2.02%).
On the contrary, the education sector again destroyed employment last month, with its usual practice of firing professionals in summer to hire them again in September. Thus, in July alone, 14% of all employment in this sector was destroyed, with 108,616 less paid workers.
The number of contracts grew in the month, both temporary (8.6%) and fixed (6.6%). But the deterioration of indefinite hiring continued last month, in which it fell, in year-on-year terms (2.3%), for the sixth consecutive month. Thus, in July, 4.45% of contracts were signed more than a year ago, but all this increase was due to temporary hiring, which advanced 5.13% annually.
July's indefinite contracts are divided, in terms of the duration of their workday, into 111,191 full-time and 74,522 part-time.
Another worrying fact is that it shows that, according to the net balance of these figures, all employment created in July would have been occupied by men, since these increased by 59,426 compared to a drop in women affiliated to 43,912.

As for unemployment, eThe unemployment rate among men fell by 1,569 people compared to June and stood at 1,216,487 people, while the female was reduced by 2,684 people and stood at 1,794,946 people.
By regions, the largest increases in membership in July correspond to the autonomous communities of Galicia (12,290), Catalonia (12,193), Balearic Islands (11,371) and Castilla y León (9,593). They descend more in Madrid (16,849), Andalusia (14,712) Canary Islands (4,465) and the Basque Country (3,873). Although, in percentage terms, Cantabria was the region where employment increased the most (2.8% in the month); It is followed by the Balearic Islands (2%).
While unemployment falls in eight communities including Andalusia (5,100 less), Galicia (falls in 4,328) and Asturias (falls in 2,160 people). It rises in nine communities, among which the Canary Islands (1,979 people) and the Basque Country (1,741 more unemployed) stand out.
On the other hand, unemployment of young people under 25 years of age has decreased in July by 4,714 people compared to the previous month, while unemployment among people aged 25 and over fell only 461.
. (tagsToTranslate) contributor (t) reach (t) maximum (t) grow (t) lower (t) pace (t) year (t) unemployment (t) low (t) low (t) 4,253 (t) person ( t) clipping (t) July (t) 2008



Source link