The construction of utopia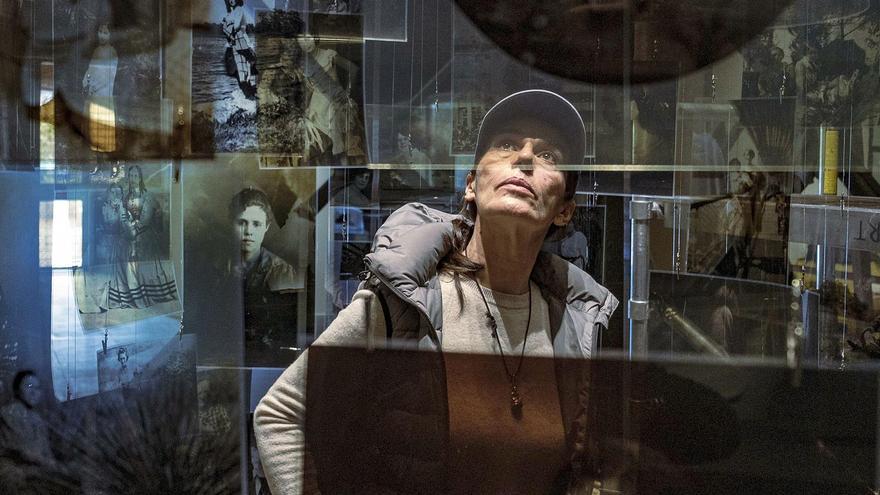 The artist Carmela García projects other possible worlds, between reality and fiction, in which women free themselves from corsets imposed since the beginning of time, and redefine their condition and life. "The objective is an egalitarian society where human rights are carried out in all their breadth, that is a utopia," says the photographer regarding the exhibition project Authors of utopias, which opens tomorrow at the Canal Isabel II Room in Madrid .
"You have to understand feminism as something that is nothing more than human rights," García points out when questioned about the commitment to gender identity and the representation of women in her work. The artist does not consider herself an activist of feminism, although she admits that "it is true that through work I have channeled a discourse that does have political-social overtones".
The exhibition that will remain in this room until May 2, is the result of an invitation from the Ministry of Culture of the Community of Madrid, with which "somehow closes a cycle as well," according to García. In this room he held his first exhibition in the capital in 1998, in a collective with other artists. Now she occupies the four floors, "a very wide space with a lot of work", which allows us to go through the foundations of her work and a discourse focused on gender identity.
Authors of utopias allows you to go through the foundations of his work, codes and formats, from the beginning until today, through some 70 pieces between photography, audiovisuals and installations and other recent ones that are interrelated. "The curator has made a kind of conceptual journey through different projects of mine and I think that if it is true that whoever comes to see the exhibition will have a broad view of my work, there are works from the late 90s to recent ones. same year, the last piece I finished nothing ago, it is a perspective look ". It is not an anthology, "it is a thesis exhibition," he clarifies.
"We cannot say that this is over, we must normalize the idea of ​​feminism"
Carmela García's work revolves around women, those women who have turned their lives, according to the curator, into nuclei of resistance, and who are projected in Authors of Utopias. "A type of resistant woman is represented, which is not the stereotype to which hegemonic culture is accustomed, as more peripheral women, if we want to call them that," he says. "I have always been inspired by the new women of the 1920s, ru-pturists, which is from then on when a very forceful iconography arises and that works very well on a plastic level."
The representation of women has changed, but as the creator warns, "we cannot draw a thick veil and say that this is already over. The idea of ​​feminism must be normalized, and that it be integrated into the speeches of anyone, women and men as well ".
Daily and personal
Authors of utopias, is the title of the exhibition and of one of the series with protagonists of different utopias such as scientific, mystical, artistic, socio-political, cultural or ecofeminist. The author explains that they are "five new works that are all in some way dedicated to one or more authors who developed a utopia; but not great historical or political utopias, but proposals as political, social, cultural micro-realities, even of the everyday, the personal, the possible ".
These utopias include the installation Planeta ella, located in Parque Doramas, with a large-format photograph. "I asked Teresa Correa to take the photo, because she couldn't travel," says the artist.
The exhibition presents projects such as All Souls (2003-2020), old photographic reproductions of women, from the artist's collection, which hang like a circular curtain; a selection of photographs and two videos of Girls, Desires and Fiction (1998), Women in Public and Private Spaces; images from the series Paraísos (2002-2005), ecofeminismo; the screening Espacio de silencio (2004); the series Casting (2007-2008), I Want to Be (2006-2008), and Escenarios (2007), which address the representation of women and identity; and the new production Seres equivocos (2020), a medium-length film about Victorina Durán from Madrid.
"A free documentary, let's say it like this", Carmela García points out about this audiovisual made online in times of pandemic together with the Canarian filmmaker Miguel Morales, portrait of a woman from the 1920s, "artist and a declared lesbian with very interesting contributions from a personal point of view ". A window to another time and a story that, in his opinion, to know it you have to "dive into small lives."
Authors of utopias was born in the pandemic. "I have had to work confined for a long time, like everyone else, and it is complex, there have been things that I have not been able to do," explains Carmela García. "Very luminous works have come out, and there are several pieces very connected to this pandemic moment, of confinement and internal search as well." In the images, piece of Girl, desire and fiction (1998); and Las nietas del Lyceo or Tertulia (2020). |
Discourse and perception of the work
"I would like the discourse behind my work not to cloud the perception of the works," says Carmela García. "In the Canary Islands my discourse is given a lot of importance, because I believe that in the Canary Islands there is also a problem with feminism, I sincerely believe it, and there is a lot of resistance that makes discourse very important in my work, but the works have sufficient capacity to retain the emotional part of the viewer and to have an appeal by themselves, and I think that there you have to know how to play and analyze the work of the artists ". In the photographer's opinion, "behind every artist there has to be a political consistency as well. I don't think there are naive artists when it comes to doing their work, and that doesn't mean that they are not visually powerful ". | DFH