The concentration of SO2 is exceeded on La Palma without declaring the alert as requested by the EU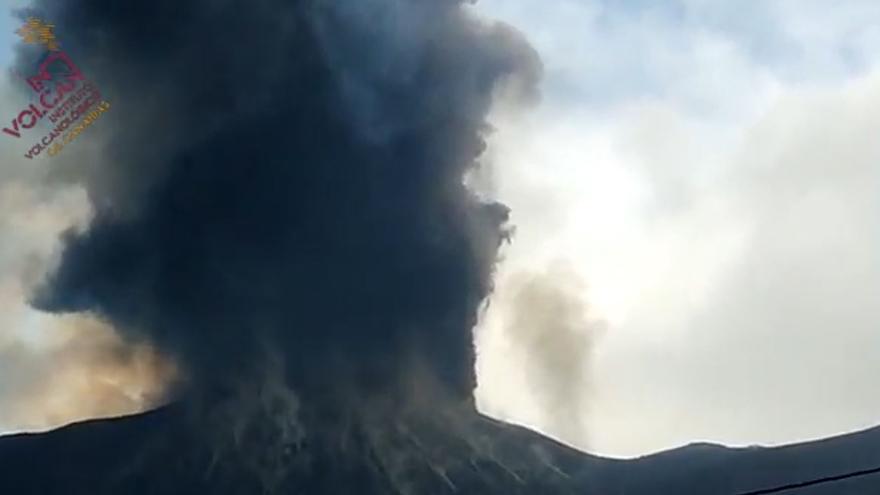 According to the data that the Government of the Canary Islands has on its website on air quality, These parameters were exceeded for five hours on October 23 in Los Llanos de Aridane and this Wednesday in a period of three hours in Puntagorda.
The European Union establishes that It is mandatory to declare the alert if for three consecutive hours the concentration of 500 micrograms of this gas per cubic meter is exceeded, something that has occurred on those two occasions since the volcanic eruption in the Cumbre Vieja system began on September 19.
On October 23, 926 micrograms per cubic meter were recorded in Los Llanos de Aridane on average between 5 and 6 hours, and that concentration was 992, 839, 620 and 588 micrograms per cubic meter during the next four hours, according to the data collected in the mobile unit located in that municipality of Palma.
In the case of Puntagorda, the limits have been exceeded this Wednesday, since 667 micrograms per cubic meter have been registered between 7 and 8, while between 8 and 9 the concentration dropped to 533 and between 9 and 10 there were 558.
It is also noted on the regional government website that the presence of sulfur dioxide in concentrations between 501 and 750 micrograms per cubic meter is "very unfavorable", and between 751 and 1,250 "extremely unfavorable".
Effects of SO2 on health
Among the effects of sulfur dioxide on human health are the eye irritation, mucous membranes and skin, and conditions in the respiratory system, and the competence to declare the alert corresponds to the Government of the Canary Islands.
The technical director of Pevolca, Miguel Angel Morcuende, said this Wednesday that the volcano is emitting very high values ​​of sulfur dioxide, which will lead to the drafting of a action protocol on air quality.
Miguel Ángel Morcuende has indicated that the lava flow continues its journey towards the west but also, he added, the "unfavorable" data has been produced that the plume is emitting "a significant amount of sulfur dioxide (SO2), with values very high "of 37,350 tons per day, which have caused the threshold of recommended values ​​for air quality in Puntagorda, El Charco and Los Llanos de Aridane to be occasionally exceeded.
The specific SO2 readings in Puntagorda above the advisable thresholds still do not have an explanation from Pevolca, which has nevertheless announced that it will draft an action protocol for the population of the municipality in case those levels are maintained. for periods of four or five hours, "which has not happened at the moment."
According to Morcuende, this protocol will contain "simple measures" such as the use of FFP2 masks or avoiding going abroad as much as possible, if there are no exceedances of the thresholds that require more.