«The commitment of the Catholic to Spain is unwavering, he cannot renounce»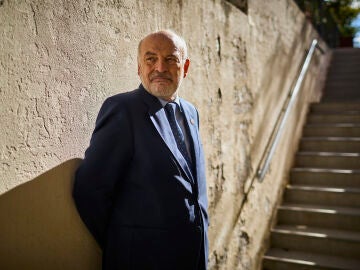 Countdown to the Catholic and Public Life Congress that will be held between Friday and Sunday at the Faculty of Economics of the San Pablo CEU University. Organized by the Catholic Association of Propagandists and the San Pablo CEU Foundation, it faces its 25th birthday under the motto "Live, share, announce. Evangelize". And it does so with "record numbers" of participation, as certified by the director of this training and reflection forum, Rafael Sánchez Saus. There are already more than 1,300 registered, more than half of them in person, and they hope to reach 1,500, 40% more than last year. As the highlight of these days, the presence at the closing of Magnus MacFarlane, founder of Mary's Meals Global, a Catholic association awarded the Princess of Asturias Award for Concord 2023.
Where were you at that first congress in 1998?
I was absolutely out of the game because I was neither part of the propagandists nor did I imagine that my life would take place along those paths. It was around 2005 when I experienced a conversion process after years of being away. Through the Catholic Association of Propagandists I returned to the apostolate and the Church. Of course, I remember perfectly how from then on I joined congresses since 2006.
What does it mean to take the reins precisely when you have been in business for 25 years?
Luckily, I take on this anniversary when it is already my fifth congress as director. I am sure that if I had been the first, I would have been overwhelmed with a feeling of responsibility. I continue to maintain the same enthusiasm and clear awareness that I am an heir called to preserve the legacy and project it as far as possible. I live this service with special priceless gratitude to all the association and to the one who trusted me to be there, that is, to President Alfonso Bullón de Mendoza.
Who needs to be reminded more that Catholics need to be in public life? To the Christians themselves or to society?
In principle, Catholics have to believe it because we are all seeing that there is a kind of slack in the life of the Church in these years due to complex circumstances, both of an ecclesiastical nature and specifically in the Spanish and, in general, Western context. We cannot allow ourselves to get trapped in this kind of fatigue. Furthermore, we have a lot to contribute in a society that sometimes desperately seeks a solution to so many problems. Throughout the history of Spain, Catholics have been an essential part of our country's successful companies and in the face of major crises.
Faced with the incipient amnesty, what should or can a Catholic do?
The first thing you have to do is pray for Spain, something that our parents and grandparents did quite naturally and that is how they taught us, but which is now even seen as "fake." Even praying has made us see that it is a matter of "fajas", when history is in the hands of God, even if we are the ones who direct it. This providentialist sense of existence, of believing that God is the Lord of history, has to be accompanied by our action and commitment. The Catholic's commitment to Spain is unwavering. We Spanish Catholics have to show that Spain has acquired its deep personality over the centuries as a consequence of its Catholic condition and we cannot ignore or renounce this essence. From this conscience, each one does what his duty demands.
In the presentation of the congress, Cardinal Antonio María Rouco Varela explained that a Catholic should not dissociate his private life from his public life. Does the Christian live a kind of schizophrenia between what he lives inside and outside?
Absolutely. I have direct experience in this because I am a university student from the age of 17 as a student to my teaching work. From there I have experienced how many believing teachers who enter through the door of the faculty disregard their status as Catholics so as not to stand out, even if they are involved in their parishes or brotherhoods. This trend was forged in the Transition and has become a shameful step backwards in society.
Will it be a self-referential anniversary congress?
Absolutely. On the one hand, there will be a notable commemoration in an extraordinary session on Friday morning that reminds us of where we come from. But that celebration will not eat into this year's congress, which has its own mission and its own presentations, workshops and round table. It is not good that in the current circumstances a self-aggrandizing congress was held, we have to be in the gap.
And in that gap, the key word of the motto is "evangelize." How to do it without proselytizing as the Popes ask?
Fundamentally giving testimony. We must live, share and announce the Gospel from each person's circumstances, in a more or less intense or express way depending on the space in which they move. If we understand proselytism as pressure, it is very wrong. But that cannot lead us to renounce the explicit proclamation of Christ either.