The cloud, an oligopoly in the hands of three 'big tech' Americans | Trends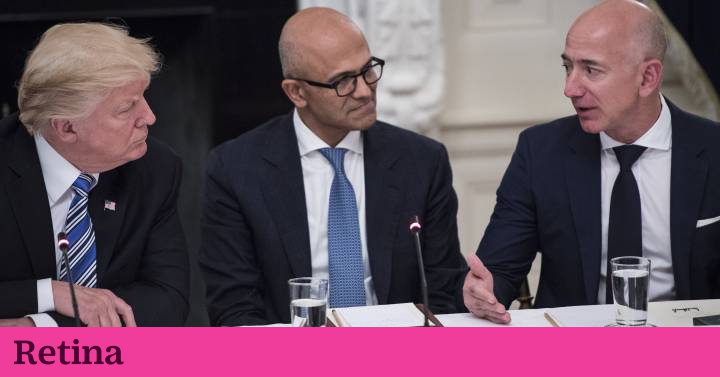 If your business, or part of it, is not in the cloud, little less than rubbing heresy. The cloud computing It has become one of those essential technologies of the digital revolution. A mantra as repeated as the big data It will save your company. The most dedicated choose to develop it by themselves, the so-called private clouds. Quite unusual. Public, designed by third parties, and hybrids, a mixture of both, are the most common.
Amazon (AWS), Microsoft (Azure) and Google (Google Cloud) dominate 76% of the market, according to Gartner and Goldman Sachs studies. Only the company founded by Jeff Bezos has almost half of the users. In the distance appears Alibaba, in an attempt for the oligopoly to speak some Chinese. As has happened with so many other technologies, those who arrived first have hardly left room for the laggards. In the words of Moises Navarro, VMware's principal strategist, the investment level of these big tech in infrastructures, such as in data centers, and services, such as information processing, it is incomparable. "They have created this oligopoly for their innovative effort and for their effort in the development of the platforms. We talk about thousands and billions of euros. This is unmatched, "he argues.
Given this situation, different voices have risen to ask the Administrations to take action on the matter. If the cloud is so crucial, why not break the dependency of this triumvirate? At least that's how Nick Srnicek, a professor at King's College in London and author of the book Platform Capitalism (Black Box). "I think it is a powerful argument to have these companies under state control, as long as some type of public ownership cannot be exercised. We already talk about public goods, "he explains. The European Commission itself, under the initiative of the European Digital Agenda, has developed a cloud public for researchers and scientists, called Open Science Cloud, which aims to extend to other areas.
Merkel's opinion
"The key to everything is the so-called technological sovereignty," says Mara Balestrini, CEO of the consulting firm Ideas for Change and member of the Retina Observatory. "Three weeks ago, Angela Merkel it was cover of Financial times he hassoft Gaia-X, the mainland project to create a European cloud. "There is enormous tension in Europe because of our inability to set standards."
"We are behind» the giants like Google, Amazon or Microsoft, "Chancellor Angela Merkel acknowledged at the end of October," and what worries me most is that data processing, industrial or consumer data, be it made largely by American companies, "he said. "We enter into a dependency relationship that will not be good in the long term," he warned,
The Spanish Government, despite being in office, is used to flying the flag of digitalization in its speech as a policy of great importance. This does not mean that among its plans it is possible to develop a public cloud. From the General Secretariat of Digital Administration, under the Ministry of Public Function, reiterate that their objective is to have an offer of possibilities in the provision of state services in all types of cloud and according to the needs. "The capacity of the big tech to make available to its customers the potential benefits in the use of services of this technology, especially in terms of cost savings and faster deployment cycles ", indicate the same sources.
Switzerland, neutral even in the cloud
The cloud computing market is facing a window of time, five or 10 years in the words of Navarro, which determine whether the oligopoly becomes irreversible or small businesses eat some ground. Dominic Williams, founder of Dfinity, intends to become one of those proper names that wins the game to the big techs. Williams believes there should be a public option. Call your Internet Computer plan. He regards it as an extension of the Network, but with the tools of cloud integrated into the protocol. Like the web, it will not be controlled by a single company. It will be open, maintained by a Swiss-based foundation – of which Dfinity will be a member – and operated by independent data centers worldwide thanks to blockchain.
In the General Secretariat they believe that the cloud will be a strategic element. They will seek to increase their own capabilities, although without enclosing themselves in monolithic and unique solutions. "The adoption of cloud Public will go to more. I consider it positive in terms of innovation, but a path that takes time and effort. It is not agile or as dizzying as promised, "says Navarro. As proof that it is not said about this technology, IDC consultant quantifies 85% of the number of users that repatriate part of their processes and data to a private space. "This trip is taken many times without having all the knowledge and business load it requires. You realize that the new model is not what you expected and you go back ", ditch the main VMware strategist.
The Spanish Gigas and the French OVH have shown that they can compete in an almost monopolized market. They do not reach far from the implementation of Amazon, Microsoft and Google, but their payroll rises exponentially. They have taken full advantage of the few slits to sneak through. Small cloud computing providers have not said their last word. "This oligopoly should have a maximum period of validity. We have a margin time to break the sector. If the years pass and the market does not evolve, it will obviously be sentenced, "concludes Navarro. A different debate is whether the time has come to consider the cloud a new public service, where politics – and some madman like Williams – will have to say something.
(tagsToTranslate) cloud (t) oligopoly (t) three (t) big (t) tech (t) American (t) American (t) mandatory (t) adopt (t) cloud (t) computing (t) survive ( t) sector (t) arise (t) voice (t) ask (t) consideration (t) good (t) public (t) open (t) market (t) low (t) low (t) competition



Source link