The chronicle of the La Palma volcano in 'catalá-canari' that has gone viral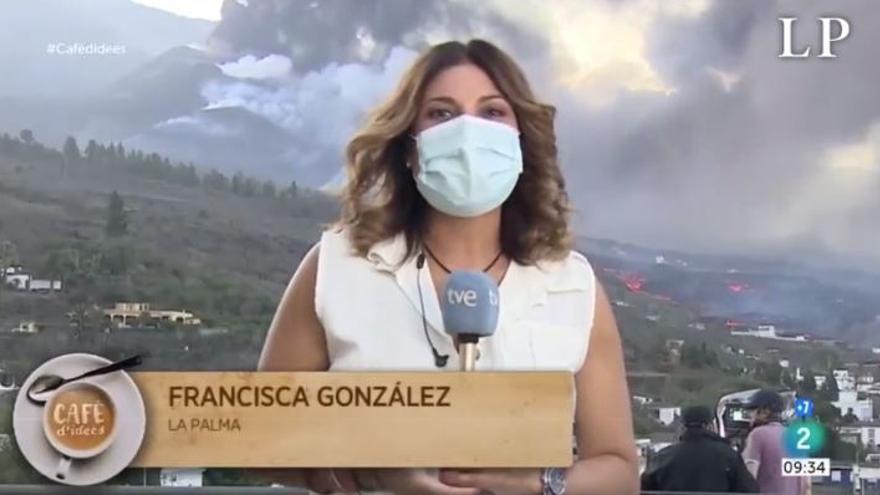 The journalist from TVE in the Canary Islands Francisca gonzalez surprised the journalists of the program 'Café d'idees' giving his chronicle in Catalan from the island of La Palma with the news of Cumbre Vieja volcano. The astonished face of his companion Gemma Nierga From the studio he said everything when he heard the "Catalan-Canary", as González defined it, in which he narrated the latest events related to the eruption.
The situation was so unexpected, that at first comments were heard from the set of 'Café d'idees' when verifying that "Catalan is spoken" from outside Catalonia, something unusual when it comes to contacting communication professionals from other autonomous communities other than Catalan.
"We have stood still and you have made us smile how well you speak Catalan, dear Francisca, because we were not expecting it, "Nierga told her. González justified that "I speak Catalan-Canarian, I speak Canarian Catalan, because I studied my second degree in Catalonia".
González reported in his chronicle that "at this time the lava flow that surrounds the Llacuna has not reached the sea. It is about 60 or 50 meters, moving slowly at about two meters per hour obrint-it passed between plantations of plataners. I know that you join 24 hours, children and children are going to return to the school but they have classed them and they have suspended the municipality of Tazacorte in anticipation that the arrival of the lava flow to the sea".
The video has gone viral and has already had about 382,000 views.