The Chinese economy stops growing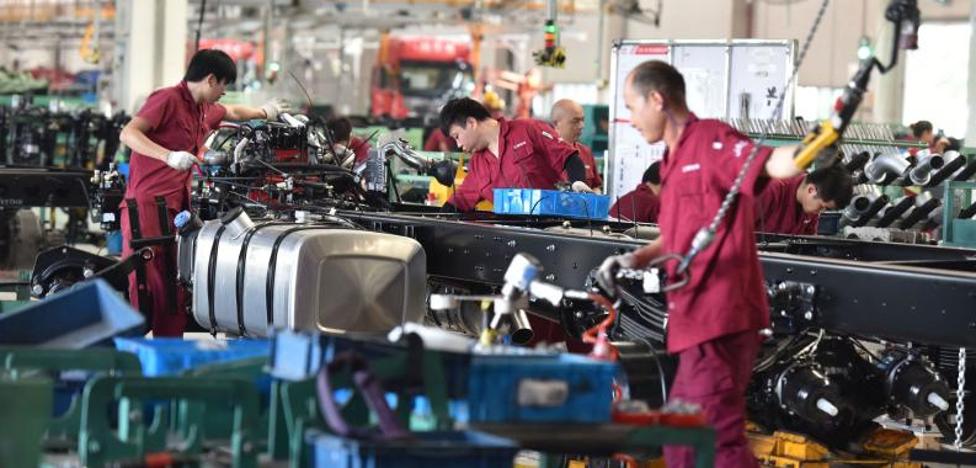 The second world power increased its GDP by 0.4% in the second quarter, mainly due to confinements due to the pandemic
The coronavirus stopped China's growth in its tracks during the second quarter of the year, a period in which its economy expanded by just 0.4% at an annualized rate. It is the worst figure since the start of the pandemic and the second lowest since the world's second-largest economy decided to abandon Maoism in the 1980s. It also means that, barring any unexpected surprises in the second half of 2022, Chinese leaders will be unable to achieve the 5.5% growth that had been set as a target for the year as a whole, since, after having marked an advance of 4.8% between January and March, the GDP fell by 2 .6% between April and June.
The main reason for this slowdown is found in the harsh confinements of cities such as Shanghai or Changchun. Not in vain, the economic capital of China saw how its blow subtracted 13.7% of its wealth. However, although the restrictions have already been relaxed and there is no fear of a technical recession, analysts point out that the scenario for the second half of the year is not particularly promising because two types of uncertainty remain: local, caused by fear of the Chinese population to the imposition of municipal confinements, which is reflected in the 28.2% drop in income from the tourism sector; and the global one, derived from runaway inflation and the anxiety caused by the war in Ukraine, which does arouse fear of a recession in different parts of the world.
However, there are some green shoots in China's economic outlook. The main one is the slight rebound in consumption in June -retail sales increased by 3.1%- after having chained two months of contraction. Although the balance for the semester as a whole remains slightly negative -a fall of 0.7%-, the Chinese leaders hope that the different approved stimulus measures will maintain the upward trend, also supported by a reduction in unemployment, which has passed from 6.1% to a rate of 5.5%. However, the negative data in this regard is in the unemployment of urban youth, which has shot up to a historical record of 19.3%.
Among the positive aspects of the statistics published today by the Chinese government are investments in fixed assets, which grew by 6.1%, and industrial production, which expanded by 3.9%. These are data that add to the record trade surplus driven by export growth, although the spokesman for the National Bureau of Statistics, Fu Linghui, has pointed out that "the risk of global stagflation," something that would depress consumption on an international level.