The change of the wind leaves the fire on the border of the Monfragüe Park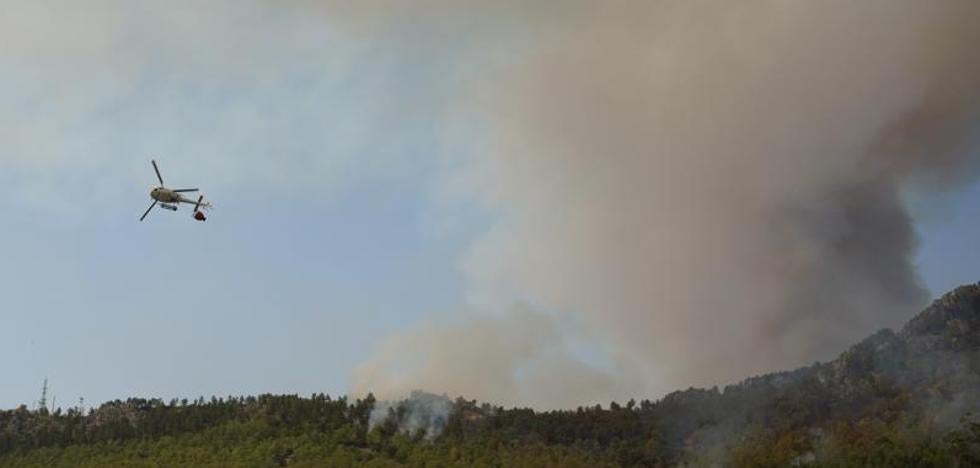 "The water released by aerial means evaporates before reaching the flames," says the director general of Forest Policy
60% of the members of the Infoex Plan are distributed today, Friday, between the two most important fires that continue in the province of Cáceres, although the situation that began yesterday in Casas de Miravete, whose causes are unknown, "is more critical, worse than that of Las Hurdes", Pedro Muñoz, general director of Forest Policy, pointed out this morning.
Even so, the flames have not entered the Monfragüe National Park so far. "The change in wind that has occurred has left the fire at the edge of the park, but now it is advancing very strongly to Jaraicejo and that is what is most worrying," Pedro Muñoz also said at the press conference he offered together with the José Antonio Navalón, responsible today for the extinction of the Las Hurdes fire, to explain the evolution of the two fires.
During the morning, from the Ministry of Agriculture, it had been ensured that it had entered "a peak" of the Monfragüe National Park. For the time being, and after evacuating Casas de Miravete this morning, the ground and air resources of Infoex and the UME (Military Emergency Unit) are working to try to contain the fire with adverse weather conditions, which have been occurring throughout throughout a week marked by the intense heat wave there is. So much so, "that the water released by aerial means evaporates before reaching the flames", indicated the general director of Forest Policy, to show the enormous difficulty with which they are working. Hence, they are trying to surround the fire with heavy machinery.
Las Hurdes

In the case of the Las Hurdes fire, the ground media have managed to contain the source of greatest instability in recent hours, which is the one that was reactivated in the early hours of yesterday afternoon in Las Mestas and which led to the precautionary eviction of its 50 neighbours.
"The wind has not been very intense and work has been done well tonight", confirmed José Antonio Navalón. However, its evolution continues to be unpredictable, "and we hope that on this day, when we have the highest temperatures, it will not reactivate again." For this, nine Infoex units, eight trucks, two helicopters and two amphibious planes are currently working. In total, about 170 troops.