The CEO King Juan Carlos I wins the Special Prize of the Cabildo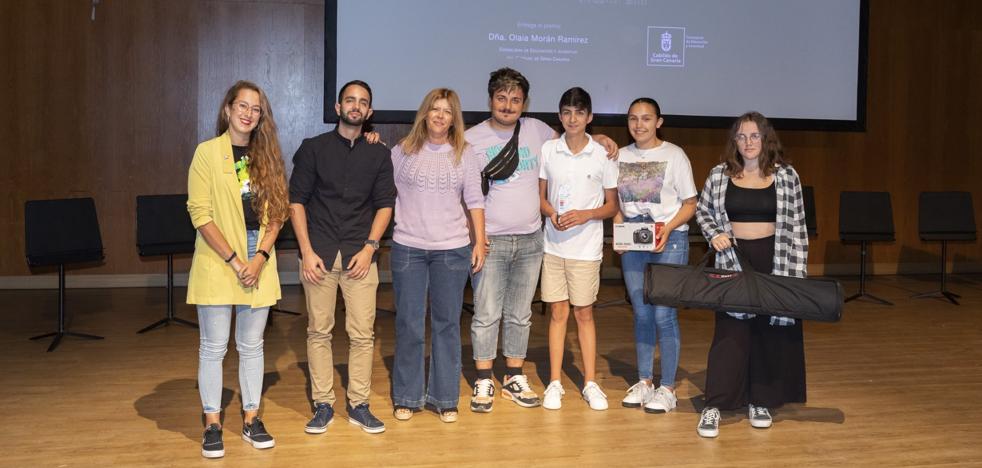 The different winners in the two final galas will be announced on June 16 and 17 at the Tenerife Multiplexes in La Laguna
The
Gabriel Rodó room of the Alfredo Kraus Auditorium hosted a gala of the Canarian Educational Film Festival to publicize the works shot in Gran Canaria in the ninth edition of
Cinedfest.
68 educational centers from Gran Canaria participated in the 2020/2021 film course and 10 will be the finalist short films in
cinemadfest 9, of the total of 370 films presented by Canarian students after receiving audiovisual training.
535 were all short films presented this year to the festival, if you count the Peninsula and International sections.
Olaia Moran, Minister of Education and Youth of the Cabildo de Gran Canaria was responsible for announcing that
'Olympe (without fear of death)'from the CEO King Juan Carlos I obtained the Special Award from the Cabildo de Gran Canaria.
«We are very excited to participate in Cinedfest because it is a transversal project that, beyond bringing the audiovisual world closer to students, teaches them to be self-taught, since they are
themselves the ones who write, shoot and edit the films and, it also teaches them to work as a team", he said when presenting the award.
Teacher Salvador Silva from the winning center commented that «
cinema at school is a source of enormous possibilities».
Two galas in Tenerife

The Gran Canarian centers that will be in the
Cinedfest finale They are: CEIP Esteban Navarro Sánchez, CEIP Tao, CEIP Hoya Andrea, CEO Rey Juan Carlos I, IES Faro de Maspalomas, IES Pérez Galdós, IES Casas Nuevas, IES Josefina de la Torre.
The winners will be announced at the
two final galas, Infant-Primary on June 16, and Secondary, Baccalaureate, FP-CEPA-EOI-EASD, on June 17. Both will be held in
Tenerife multiplex in La Laguna.
Among the awards that have already been announced are the award for popular vote for Children-Primary to
'Time to time', CEI Tao, the non-Spanish speaking award for
'Deux gants, un reve'from the IES Vega de San Mateo and the Primary animation award for
'Diana Saves the Planet', of CEIP Tagoror.