The CCO 7 Palmas reinforces its morale for the Cup by beating Madrid Chamberí 3-0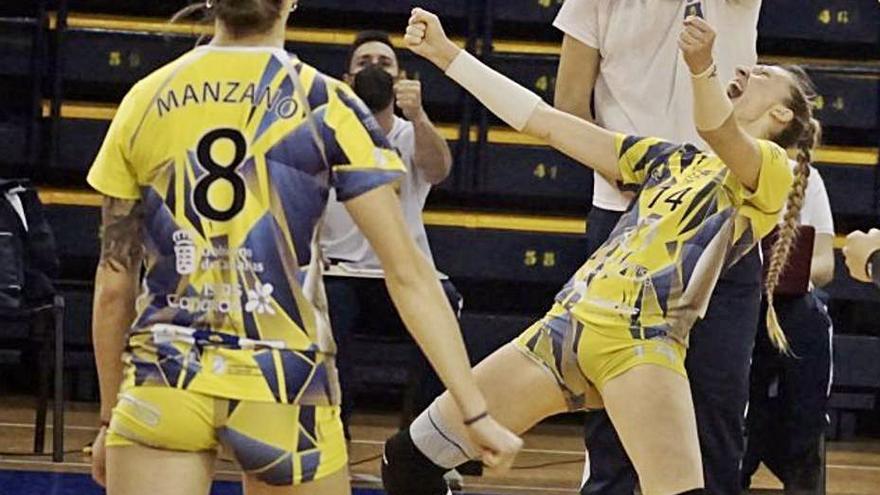 The CCO 7 Palmas, after his stumble last Thursday against Avarca Menorca, yesterday resumed the path of victory by clearly defeating a needy Madrid Chamberí 3-0. The team led by Pascual Saurín thus continues to keep its options intact in the fight for the leadership and is morally reinforced for the Queen's Cup that is played at the Insular Sports Center this next week. Helia González, the top scorer with 20 points, led the Gran Canaria squad.
Saray Manzano assumed the leading role from the start in the premises, forcing the rival to request the first time-out with a 7-3. But this did not stop the momentum of the islanders. Safe in the network and effective in the service, they increased their income (18-6). However, the Madrid women reacted to try to reach the decisive plays with options. But they ran into Helia González, who secured the first set for the yellow team (25-19).
Madrid Chamberí was better at the start of the second act (6-9). The CCO 7 Palmas recovered to 12-12. Then, a 0-3 run forced the Gran Canaria coach to stop the game (12-15). The break took effect and Saray Manzano, from the serve, was in charge of lifting the score (17-16). Later, Victoria Foucher assumed the responsibility to try to give the yellow sleeve the sleeve, but Laura Villasante and Inés Villa appeared so that the set was resolved in the tiebreaker. Helia González was pulling chevrons again to leave the match very on track for the interests of the local side (30-28).
Madrid Chamberí noticed the effort made during the second set and his rival took advantage of it to get the match on the fast track (11-7). Manuel Berdegué, visiting coach, tried to give his players one last breath with a time-out. It did not work, because Helia González and Victoria Foucher were in charge of ensuring the fifteenth victory for the yellows (25-15).
Key match for Sayre
The other representative from Gran Canaria in the Iberdrola League, Sayre CC La Ballena, plays today in Seville against Dos Hermanas an important match in their fight to ensure permanence in the highest category. The island team, immersed in the complicated positions of the table, needs the points at stake for salvation.