The CCO 7 Palmas meets with Sanaya Libby's and with history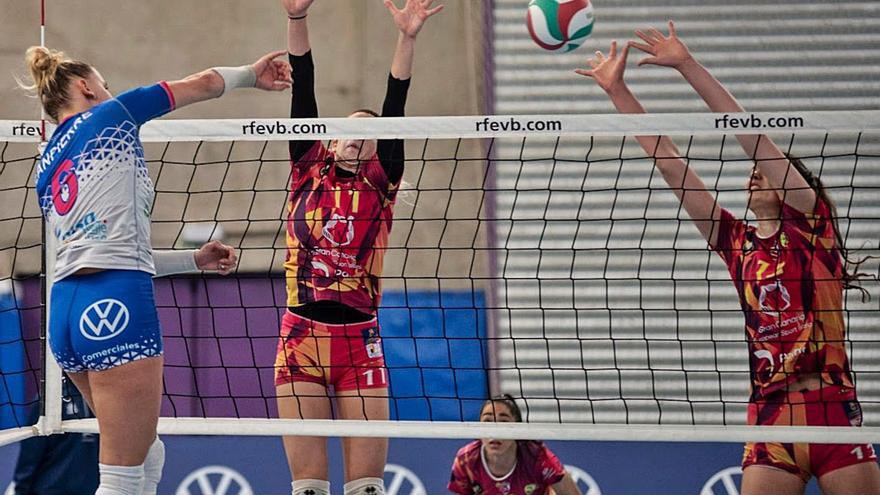 After achieving a great victory in the opening match of the quarterfinal series in Tenerife last weekend, this Saturday (4:00 p.m., at the Insular Sports Center), the CCO 7 Palmas intends to finish the job at home and achieve a A milestone in the club's history, its participation for the first time in the Iberdrola League final. To do this, they must defeat Sanaya Libby's La Laguna again, who will try to extend the tie until Sunday, the date set for the third and decisive match in the event of a tie.
During the week, Pascual Saurín's pupils have worked with the idea of ​​maintaining the great state of form in which they are to try to finish the tie without relaxing. With a cool head and knowing that there is some margin of error, the Olympian has before him a unique opportunity that he wants to grasp as soon as possible the better.
Haris Sanaya Libby's La Laguna arrives injured, making them an even more difficult opponent. The group directed by Juan Diego García is, right now, on the razor's edge; if he wants to keep his desire to reach the final alive, he must win two games.
Ariadna Priante, CCO 7 Palmas player, declares that they are calm "but not relaxed at all" ahead of this second Canary Island derby in the quarterfinals. He affirms that the Olympic squad knows that the rival "is not going to give us anything." "I expect a very difficult game, but we are confident that we will be able to have a match as good as the one we did there. We know that no crash is easy and that is why always to put it in some way, we have to put ourselves in the worst case, "he says.
For her part, Nancy Carrillo is clear: "With our best game, we must from the beginning remove Haris's intention to tie." The player from the Gran Canaria team points out that "we had very good feelings in the first game." "It was a semi-final match and this type of match is much more difficult than the final itself, because if you win you know you have a guaranteed medal and if you lose, then no," he said.
For the opposite of the CCO 7 Palmas, "to be able to aspire to play the first Iberdrola League final in the history of this club is something very nice." "It has been many months of sacrifice for all my colleagues and if we achieve it, the effort is rewarded. I think that this situation will motivate the youngest girls so that in the coming seasons they realize that great goals can be achieved ", he added.
In the same vein, his partner Helia González expresses himself: "Reaching a final would be very nice. We have to focus on Saturday and forget what happened last week. The objective is to try to deploy the same game that we showed in Tenerife. There are many things that are not going to change. We are two teams that know each other perfectly. Having a second chance on Sunday is an extra option ".
"As if we were 0-0"
Pascual Saurín, the coach of CCO 7 Palmas, has it very clear for the second match against Sanaya Libby's La Laguna. "We will face this match as if the tie started, as if we were 0-0. We are going to find a rival that comes for all. We have to have a cool head and that integrity that we already demonstrated in Tenerife. There we knew how to play the match, "he says. The former national coach warns: "We cannot get carried away by the emotions of thinking that this is a derby or that we can qualify for our first final, because that will play against us. We just have to focus on the game and try to counteract the good aspects of our adversary, and get the best out of ourselves ".