The Casa de Colón announces the Viera y Clavijo Humanities Research Award 2022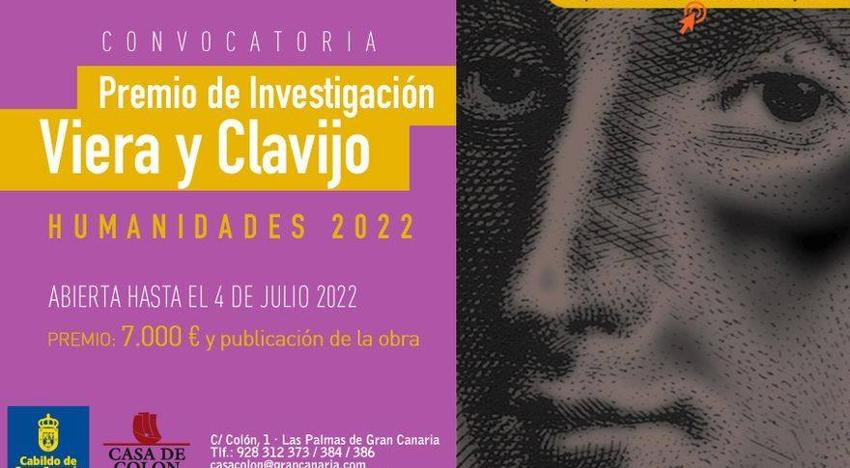 Culture
It is endowed with 7,000 euros and those interested have until July 4
The Casa de Colón in Las Palmas de Gran Canaria has convened the
Viera y Clavijo Humanities Research Award 2022, one of the references for research on the Canary Islands created in 1955 and which takes place every four years, according to the Cabildo.
The initiative, which has the vocation of promoting research on insular issues, both from a humanistic and scientific point of view, is
endowed with 7,000 eurosto which is added the publication of the work awarded by the jury.
For their part, stakeholders have
deadline until next July 4 to present research within the framework of the areas of humanities and that are related to the Canary Islands.
The jury may award, where appropriate, a second prize with an economic endowment of 3,000 without this implying the publication of the work by the Cabildo de Gran Canaria.
The bases of the contest organized by the museum managed by the Ministry of Culture of the Cabildo Gran Canaria can be consulted at the following link
https://cabildo.grancanaria.com/-/tramite-convocatoria-2022-premio-de-investigacion-viera-y-clavijo-de-humanidades.
Finally, the last edition of this prize was awarded in 2018 to the Gran Canarian researcher Jennifer Amada Guerra Hernández for her work 'Canarias before the Moroccan War (1909-1927). Views from the Atlantic'.