The capital of Gran Canaria honors Agatha Christie with a square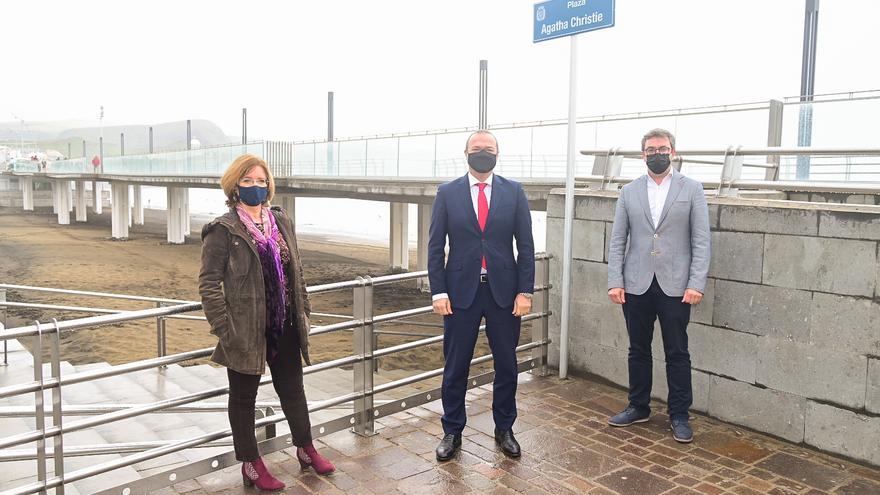 The City Council of Las Palmas de Gran Canaria has inaugurated the Agatha Christie square, between the GoFit gym and the La Cícer catwalk, to honor, on the 45th anniversary of her death, the British writer, who spent long periods of time in the city and frequented this space to practice surfing.
Councilor Augusto Hidalgo recalled that this Tuesday marks the 45th anniversary of the death of the English novelist, specialist in police genre, who died on January 12, 1976 in Winterbrook (United Kingdom).
"This new corner of the city and Las Canteras beach is named after the British universal novelist Agatha Christie, who spent time in Las Palmas de Gran Canaria fleeing from personal circumstances to a sunny place, where she practiced a sport that she discovered in Cape Town and is a symbol of this area, surfing, "he said.
Hidalgo highlighted that Agatha Christie was "one of the pioneers of surfing in the city", an anecdote that he has considered "the perfect excuse to name this square after her" and "recognize their talentor on the 45th anniversary of his death ".
Although the writer was already known and had "begun to reap her first successes", it was after her stints in the Canary Islands that "she emerged as a writer with her great mystery novels," she said.
Hidalgo has highlighted that the writer left evidence in her autobiographies that Las Palmas de Gran Canaria was the place she used to "rest and seek warmth."
To honor Agatha Christie, the City Council of Las Palmas de Gran Canaria has also promoted the 'Agatha Christie International Mystery and Police Novel Award', which convened last September on the occasion of the 130th anniversary of the birth of the English writer, and whose ruling, scheduled for this Tuesday, has had to be postponed due to the storm Filomena, which has made it impossible for the jury to reach the city and the winners.
This contest has received 266 literary works from various countries and will be "an element that links the city of Las Palmas de Gran Canaria definitively with Agatha Christie", Hidalgo has celebrated.