The capital of Gran Canaria accounts for four out of ten active cases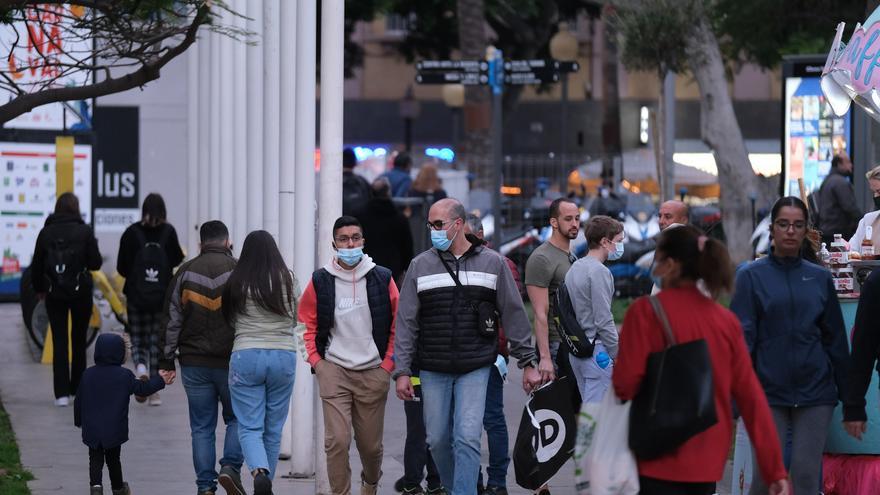 Canary Islands recorded yesterday 14,357 active cases from Covid-19of which 5,335 are counted in the grancanarian capital, which represents four out of ten positive patients in the whole of the Archipelago. It is followed in order of importance by Santa Cruz de Tenerife with 2,645 and La Laguna with 1,106 assets. On the contrary, there are already eight Canarian municipalities coronavirus freefive on the island of La Palma -Puntagorda, Tijarafe, Barlovento, Garafía and El Paso- two in Fuerteventura -Antigua and Betancuria-, and one in Gran Canaria -Artenara-.
According to data released by the Ministry of Health of the Government of the Canary Islands, 1,891 new infections were reported yesterday, bringing the total accumulated cases in the Canary Islands since the pandemic began to 291,947. Of the 14,357 active cases that there are currently, 14,017 - almost 98% - are at home with mild or asymptomatic symptoms. Regarding hospitalizations for the virus, the month of March starts with 340 admissions, compared to the 714 registered on February 1. This is 2.3% of the positive Covid patients at present, of which 43 are in intensive care (ICU) and 297 on the ward.
Of the 14,357 active cases that currently exist in the Archipelago, 14,017 -almost 98%- are isolated in their homes with mild or asymptomatic symptoms.
In the last 24 hours, the death of three people from the infection has been reported, two in Tenerife and one in Gran Canaria, although Health recalls that these cases are pending validation by the General Directorate of Public Health. In total, there are 1,576 people who have lost their lives on the Islands as a result of the coronavirus.
Regarding the positives recovered from Covid-19, in the last seven days there have been 13,187 medical discharges, and they amount to 276,014 since the health crisis began, which means that 94.5% have overcome the infection.
Since the pandemic began, 276,014 diagnosed people have overcome Covid, 94.5% of infections, after adding the Islands in the last seven days, 13,187 medical discharges
Gran Canaria was once again the island with the highest number of positives diagnosed in the last 24 hours, 830, and its assets amount to 6,754. It is closely followed by Tenerife, with 798 more cases than the previous day and 5,999 active. Lanzarote added 70 cases and has 532 assets; Fuerteventura, with 37 more, registers 591 assets; La Palma diagnosed 49 cases in the last 24 hours and has 354 active ones; La Gomera has nine more and 105 assets; and El Hierro has eight and its assets are 22.