The Canary Museum pays tribute to Manolo Millares for the anniversary of his death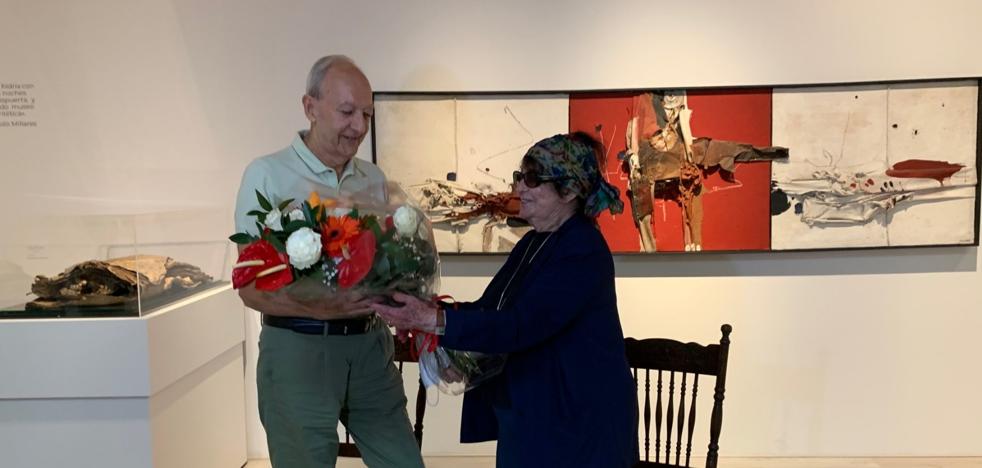 Elvireta Escobio, widow of the artist from Gran Canaria, attended the event in which the 'Manolo Millares' catalog was presented. Of the roots, of the tear'
The Canarian Museum, in the Vegueta neighborhood of the capital of Gran Canaria,
held this Friday morning an act of homage to Manolo Millareson the occasion of the 50th anniversary of his death (1972-2022), with the exception of his widow,
Elvireta Escobio.
The setting for this tribute was the exhibition
Manolo Millares. Of the roots, of the tear'installed in El Museo Canario since last July 14 and can be visited with free admission
until September 14.
The exhibition reviews Manolo Millares's fascination with the pre-Hispanic world and his desire to connect with that enigmatic
"conquered man"
The close link with Canarian archeology would become, in those forties and early fifties, the center of the cultural and artistic life of the capital of Gran Canaria, with the Museo Canario becoming the main enclave of visibility for the
young creators of the moment and space for debate for one of the most innovative generations of intellectuals in our recent history.
The catalog

During the tribute ceremony, the exhibition catalog was also presented, a careful printed edition that has
specialized texts and photographs of the works in the exhibition.
The introduction of
Diego Lopez provides some brushstrokes on the close relationship between Millares and El Museo Canario, a link in which the text of
Fernando Betancor Perez, institutional archivist and art historian.
a few lines of
Elvireta Escobio contribute the direct testimony of who was the painter's companion both in his personal life and in his artistic career, and finally an in-depth study carried out by
Laura Teresa García Morales, curator of the exhibitiondelves into Millares' fascination with the history of the islands, fundamentally forged in the halls of this Vegueta institution through which he had passed since he was a child.
Manolo Millares' early interest in island history is reflected in the catalog with the inclusion of a series of drawings he made on this subject at the age of ten.