The Canary Islands will sign the transfer of Costas in July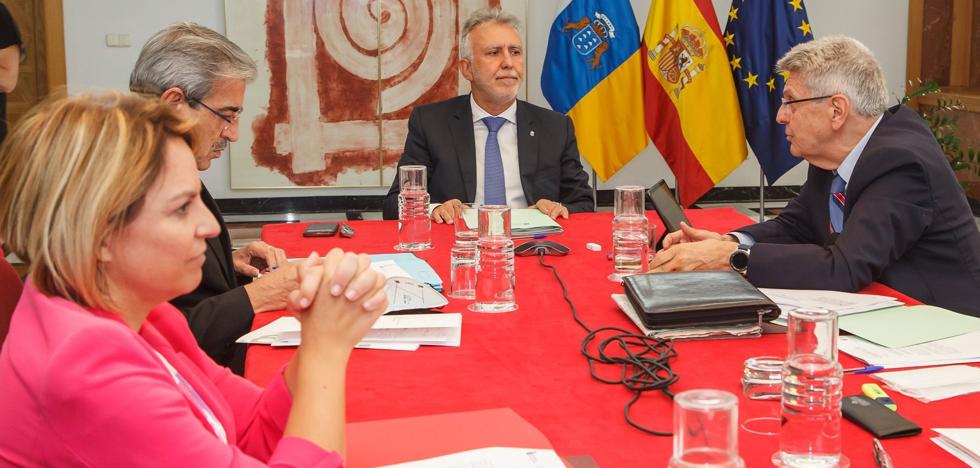 Julio Pérez pointed out that the Ministry of Finance is preparing a legislative initiative on triangular trade
Canary Islands hope you can close the
transfer of competences in matters of Coasts this same month of July at a meeting of the
bilateral commission with the State that is still pending. This was stated yesterday by
Minister of Public Administrations and spokesman for the Executive, Julio Pérez, in the usual press conference after the
government council.
Pérez expressed his confidence that when this meeting is convened there will already be an agreement on this matter
"particularly complex" and one is fixed
date not only for the signature but "for its effectiveness".
He indicated in this regard that representatives of the Government have been this week in Madrid
"trying to close some fringes" because the goal is "to go on vacation with this issue resolved." To that end, he told her, "we are pushing to reach an agreement."
delays

After
several delaysthe forecast of the Canary Islands was to sign the Costas transfers on July 1, but the lack of consensus with the State regarding the means that should be transferred to the autonomous community has prevented it.
These agreements, as the regional Executive has indicated on different occasions, become effective on January 1 or July 1. In this way, given the impossibility of closing this matter at the beginning of the month, we would have to wait until next year unless
"Another date can be negotiated with Madrid"
The objective of the Autonomous Executive is to receive
well-endowed skills» from the point of view of material and human resources. However, the big hurdle so far is that
Costas' staff in the archipelago is "shameful"because it has been decapitalizing in the last ten years, "says the Canarian Government.
In his opinion of members of the Cabinet, the personnel that would be transferred is "absolutely insufficient for the matter that it must manage." They detail in this sense that the forecast is that the Ministry transfers a
30% of the competitions, but his staff amounts to
only 73 workers. The shortcomings, they say, are especially serious in technical positions.
In this regard, from the autonomous community it is pointed out that, "badly endowed competences cannot be assumed because their development would be impeded". Given this circumstance, "the will continues to be to assume the transfers and do it as soon as possible, but not in any way," they add.
triangle trade

On the other hand, the Minister of Public Administrations, Julio Pérez, pointed out yesterday that progress is also being made with the State in the «
tax problem which should be applied in
triangular trade in the Canary Islands».
According to the spokesman, the
Treasury is preparing a proposal for a legislative initiative that would respond to this situation and that would also have to be seen before the end of this month of July. If necessary, he noted, a
extraordinary plenary session of the Parliament of the Canary Islands to address this measure, although he acknowledged that "these are bad dates."