The Canary Islands receive about 12,000 new doses of the vaccine to fight the covid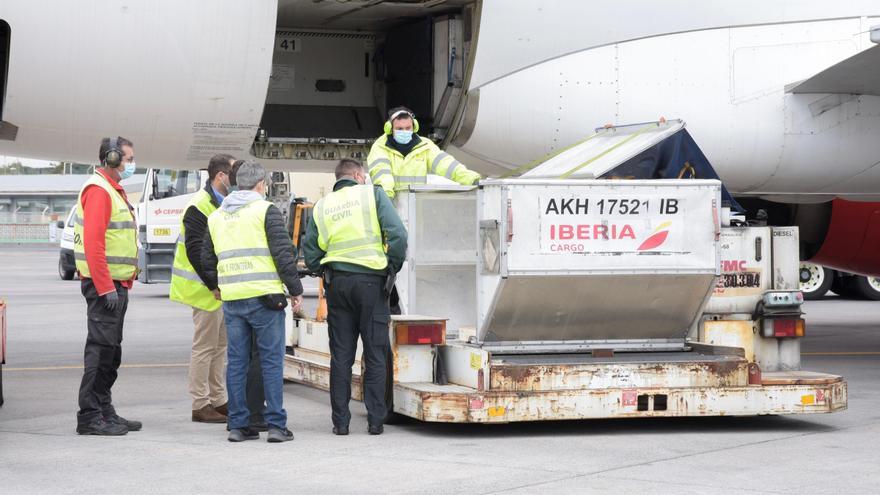 Canarias has received a new consignment of vaccines against Covid-19, of which 6,825 doses have arrived first thing in the morning this Monday at Tenerife North airport and tomorrow a shipment similar to Gran Canaria airport. Once received, the Canarian Health Service will distribute the vials received equally to all the health areas of the islands to continue with the planned vaccination plan.
It is the third batch of vaccines that arrives since Sunday 27 began the immunization process. With this new game, the vaccination plan in the social and health centers of the Canary Islands provided for in phase 1 will continue from tomorrow.
More than 5,000 vaccines administered
Until this Sunday, January 3, a total of 5,159 people, 30.74% of the target population (users and workers of residences) marked for this first stage, which is 16,782 people. Vaccination is carried out in the Canary Islands every day, including weekends, and 40% of the doses of the consignment that arrived in the islands have already been administered last Tuesday.
By islands, in Tenerife 2,254 people have already been vaccinated (27.79%); in Gran Canaria, 1,681 (25.10%); in La Palma, 530 (61.34%); in Lanzarote, 325 (61.79%); in La Gomera, 190 (80.17%); in Fuerteventura, 99, (57.23%), and in El Hierro, 80 (46.51%).
Vaccination has begun with the population sectors that must first receive the Covid-19 vaccine as defined in the Vaccination Strategy against COVID-19 in Spain, which establishes the chronological order of priority of the population groups to vaccinate. Therefore, in the first stage, residents and health and social health personnel who work in residences for the elderly and care for large dependents will be vaccinated.
A team of 150 nurses Canary Islands Health Service from all the islands has received specific training and will be in charge of vaccinating during the first phase in the social health centers of the Canary Islands. Gradually, training in the administration of this vaccine will continue to all Nursing personnel who are usually already dedicated to vaccination in Primary and Specialized Care.
Precautionary measures
Until a significant proportion of the population is vaccinated, it is very important that all people, both vaccinated and unvaccinated, continue to maintain preventive measures: mask, hand washing, interpersonal distance, limit the number of people with whom they we interact, always choose open air or well-ventilated spaces, stay home if you have symptoms, if you are waiting for the result of a diagnostic test or have had contact with someone with COVID-19.