The Canary Islands raise their voices to claim the Sahara referendum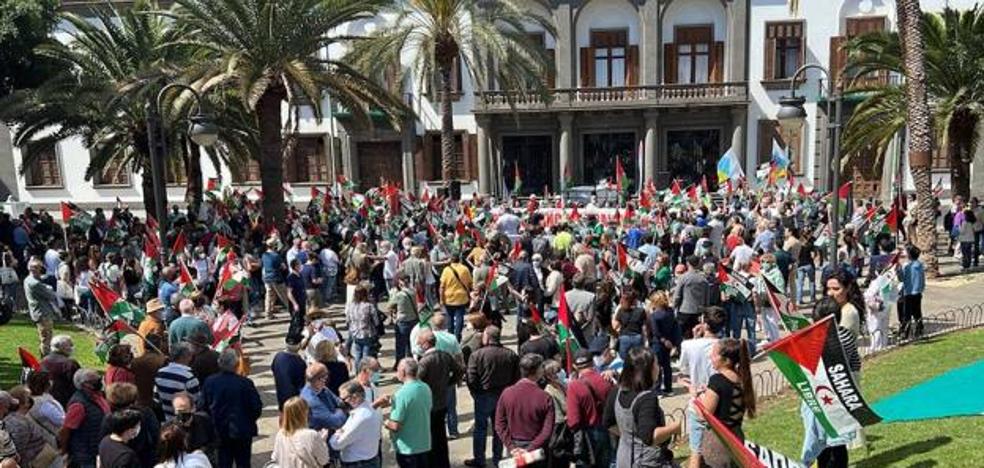 Civilians, public institutions and various groups promote a signature campaign that will lead to the UN Fourth Committee
Pedro Sánchez's letter to Mohamed VI has served to
"unlock" diplomatic relations with Morocco, as they have assured from the Government, but it has also been a turning point for civil society that opposes what they consider
a "betrayal" of the Saharawi people.
The campaign that began this Wednesday in Gran Canaria at the initiative of the Canarian Association of Jurists for Peace and Human Rights (JUPADEHU), but which will spread throughout the archipelago, is based on this premise.
until September 23.
It will basically consist of a collection of signatures that aims to reflect the voice of the people of the Canary Islands, but it will also be accompanied by other actions -tables, colloquiums, etc.- to make a message visible: «
The Canary Islands say no to Moroccan sovereignty».
For this, they are
two conditions that are detailed in the manifesto signed by both civilians and public institutions, trade unions and cultural, sports and political organizations:
The future of the Sahara must go through a self-determination referendum, without leaving the door open to other "more confusing" terms

The framework in which the resolution of the conflict must be developed is that of the UN
At the end of the campaign, a document will be transferred to both the President of the State and the regional president, Ángel Víctor Torres. The purpose, moreover, is to raise the claim to the
United Nations Fourth Committeewhich is in charge of the decolonization of the Sahara.
"For the Canary Islands it is important to respect international legality and justice," said the lawyer
Ines Miranda. "We want to stop being the passive party and take action." Some statements to which were added, among others, that of the activist
Koldovi Velascowhich praised the "resistance" of the Saharawis and asked that the archipelago not be used as a militarized platform against the African continent.
Decolonization

The president of the State Federation of Solidarity Institutions with the Sahara,
Carmelo Ramirezwarned in this regard of Morocco's "trap" to change the point of view of the international community, taking as a reference not the process of decolonization of the former Spanish territory but an internal conflict.
"The first requires a referendum, the second assumes that the Sahara is Moroccan and requires a statute of autonomy," added the NC Organization Secretary, who criticized Sánchez's position. «
That would be the most dangerous for the Canary Islands«, he added, in relation to the proximity of the territory and, also, to the notorious cases of espionage.
This afternoon, a delegation from the heterogeneous group will receive the Saharawi activist at the Gran Canaria airport
Soultana Khayawhich has been besieged and retaliated by Moroccan forces in Bojador since November 2020.