The Canary Islands Music Festival recovers its usual dates to celebrate its 56 concerts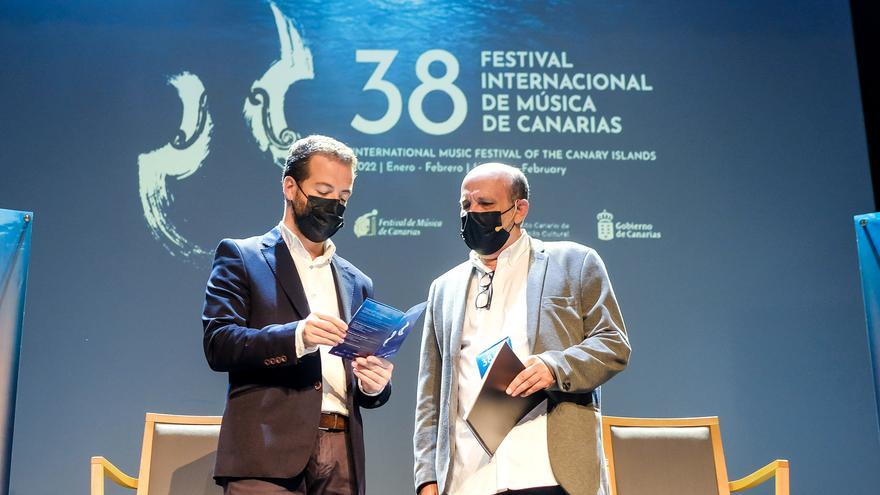 The Deputy Minister of Culture of the Canary Islands Government, Juan Márquez, and the director of the Canary Islands Music Festival, Jorge Perdigón, they have presented this Tuesday the 38th Festival program that returns to its usual dates, since it will be held from January 13 to February 16, 2022, a period in which the 56 concerts on stages across the eight islands.
In addition, at the same time the Festival In Parallel which will be simultaneously and complementary to the FIMC, the period for renewing subscriptions is already open, while the new ones will be available on the 24th, including the Youth Subscription, for audiences up to 30 years old who will have a 60 percent discount compared to the normal compost. Independent ticket sales will open on December 13.
Regarding the Festival's programming, the "high level" of the symphony orchestras that will meet in the Canary Islands stands out, as well as the coincidence of great figures of current classical music. Specifically, in just one month they will meet Grigory Sokolov (piano), Steven Isserlis (cello), Sergej Krylov (violin), Beatrice Rana (piano), Arabella Steinbacher (violin), Anastasia Makhamendrikova (piano), Javier Camarena (tenor), Philippe Jaroussky (countertenor) or Manuel Gómez Ruiz (tenor).
It will also be in the Canary Islands legendary violinist Anne-Sophie Mutter, which will act in a trio format, as reported by the Canarian Executive in a press release.
For their part, the great symphonic orchestras that will visit the archipelago this winter are London Philharmonia Orchestra, Gothenburg Symphony, Luxembourg Philharmonic, Tenerife Symphony, Gran Canaria Philharmonic, Paris Chamber Orchestra, Lithuanian Chamber Orchestra and Russian State Symphony 'Evgeny Svetlanov'. Among the directors, Santtu-Matias Rouvali, Jordi Savall, Vassily Petrenko, Philippe Herreweghe, Gustavo Gimeno, Antonio Méndez, Michael Boder and Karel Mark Chichon.
Lhe improvement of sanitary conditions will also lead to higher capacity than those of the last festival, have indicated Juan Márquez and Jorge Perdigón.