The Canary Islands chain 26 days with less than a hundred daily infections of Covid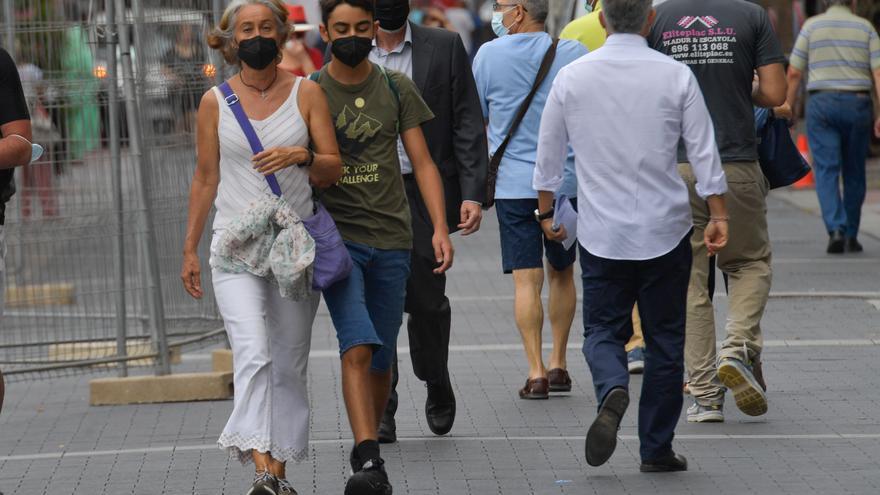 This is the still photo of the pandemic in the last day, in which Health It has not reported any deaths from the infection, so the number of fatalities from Covid-19 remains at 1,004 -416 women and 588 men-, of which 19 have occurred this October.
Currently there are 897 active cases -44 more than on Saturday-, of which 815 are in their homes with mild or asymptomatic pictures of the infection, and 82 are hospitalized, 18 in intensive care (ICU) and 64 in the ward. In the last month, the number of positive patients diagnosed has fallen by 56.5%, after registering 2,066 active cases on 24 September.
However, the accumulated incidence in the Canary Islands continues to rise since last October 16, reaching 14.89 cases per 100,000 inhabitants at 7 days and 33.36 at 14 days. Yesterday an AI was registered at 7 days of 23.53 cases per 100,000 inhabitants and at 14 days of 39.75; while on Saturday it was 23.35 and 38.70 respectively.
The accumulated incidence of the virus rises, at seven and 14 days, since last October 16
The island with the highest number of infections reported yesterday was Gran_Canaria, which added 37 cases, so it already has 36,876 accumulated, of which 362 are active. In the case of Tenerife, it registered 22 positives and has 46,153 accumulated and 378 active cases. In Lanzarote two new infections were reported, so the epidemiological figure amounts to 7,035 accumulated and 82 active; and in Fuerteventura, they have 4,553 accumulated, after adding two new cases yesterday, and the assets amount to 69. The rest of the islands did not count new positives this Sunday, so that La Palma has 1,114 accumulated and three active cases; El Hierro with 467 and one asset; and La Gomera, with 406 accumulated, is once again free of coronavirus, upon receiving the medical discharge yesterday the two active cases that there were.
After the 3,185 tests to detect SARS-CoV-2 carried out last Saturday by the health workers of the SCS, the number of diagnostic tests that have been carried out during the pandemic already amounts to 2,226,991, of which 127,172 have been positive, the 5.71%. Of the 27,649 tests done in the last week, 740 have tested positive, dropping the percentage to 2.68%.
Assets
Yesterday 897 active cases were reported -44 more than on Saturday-, of which 815 are at home with mild infection or asymptomatic, and 82 hospitalized.
Positivity
In the last week, 27,649 diagnostic tests for the detection of Covid-19 have been carried out in the Canary Islands, of which 740 have tested positive, which represents 2.68%.