«The Canary Islands can become the number one region in drones (...) Conrado is calling me»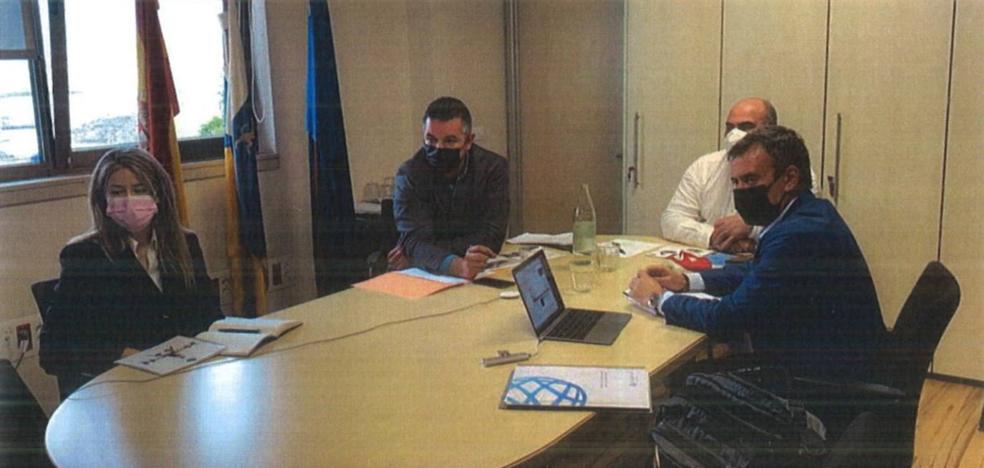 Courts
The mediator proposed succulent contracts to the businessman Suárez Esteve: «Doesn't one million two hundred thousand turkeys make you happy?
Among the numerous efforts carried out by Marco Antonio Navarro, the mediator, was mediating so that the businessman José Santiago Suárez Esteve, alias 'el Drones', set up his company Asesoramiento y Servicios de Drones SL in the Canary Islands,
with the promise of obtaining millionaire income. To do this, he transferred 500 euros to Taishet Fuentes and 13,500 to Navarro, convinced that "the Islands
The Canary Islands can become the number one Spanish region in the number of drones in all of Spain", the mediator told him in a conversation on January 12, 2021.
In the same talk, Navarro described what the way to proceed would be to access succulent contracts and, at one point, told the businessman "we have to be the example of Europe", and moments later he commented that they were requiring him:
«Conrado is calling me on the other phone, wait, wait (...). Look, I said you're here tomorrow, okay?" exposed in this conversation transcribed by the Civil Guard.
José Santiago Suárez Esteve, 'el Drones', a native of Valencia (1965) and who appears on the list of 12 investigated,
won at least three public tenders for the supply of drones for the GAR-SI Sahel project, for a total value of 89,000 euros, dependent on the International and Ibero-American Foundation for Administration and Public Policies (FIIAPP). It so happens that the general
Francisco Espinosa Navas, in June 2021, was in charge of the GAR-Si Sahel.
In addition, it appears in the summary that the 'Drones' referred to the general as "Dad" and in a conversation intercepted by the investigators on January 12, 2021, told Navarro Tacoronte that all the contracts in Africa had been obtained.
"Thanks to Dad" because he was involved with the "Ministry, that is, with the Foundation", in reference to the aforementioned FIIAPP.
That it was not up for bid

In the negotiations that Suárez Esteve carried out with Navarro, the latter offered him details that, for everything to go well, it was key that the contracts not go "out to competition."
«There have gone 2,500 bucks of those that you entered. I'm going to break it down for you to take note (...). That it does not go to tender or contest, very important" and "it has already been agreed that it will not" because "everything is going to be done through decree," Navarro insisted on 'Drones'.
The mediator qualified him that "
all the departments" were "ordered by decree" and he explained that "the Health Department is going to allocate one point two." The first day you meet him -in reference to Conrado Domínguez- he will listen to you, he will analyze you, okay? And he will stay for the next day, specify certain aspects of the drone, with the technicians who will work with it, "he added. «To the next trip
a preliminary service agreement will be signed», he announced to Suárez Esteve.
Regarding the profit margins that he could have obtained thanks to his efforts, Navarro commented to 'Drones':
"Doesn't a million two hundred thousand bucks make you happy?" He even asked him, to which the businessman responded with a brief "yes, yes."
The mediator explained that there were "seven presidents of councils" with "a fire unit" each, for what at that time counted, according to Navarro
«with the Government of the Canary Islands, with the Cabildo de Las Palmas -referring to that of Gran Canaria-, of Tenerife and La Gomera, okay?». Each council would put "between half a million and seven hundred and fifty thousand between now and August, but this is from the company in the ZEC area, okay?"
Finally, and after being arrested, Suárez Estévez testified before the investigating magistrate that Marco Antonio Navarro
He defrauded him of 46,000 euros with that promise to set up a drone company in the Canary Islands. "Give me my money back
motherfucker", He pointed out in the room that he told him by message to demand the return.
Thus, the businessman assured that he made several transfers up to 46,000 euros to various accounts, some of which the mediator was not the owner of. When the time came, when he realized that "it was a falsehood" he tried to get him to issue an invoice to justify that money before the Treasury.
«I told him that to avoid a tax inspection I needed him to invoice me; I have lost the money, perfect, but I need an invoice of 46,000 because if not, the Treasury is going to ask me what I do."he explained.
His surprise, he recounted, was that he sent him an invoice for that amount plus VAT, when Canarian companies do not bill at 21%:
"It was the auction, I already knew it was a scam, but there was not even a structure"he added.
In addition to this amount, Suárez acknowledged that he paid for plane tickets, hotel stays and restaurants to the plot.