The Canary Islands add 183 new infections, the majority in Gran Canaria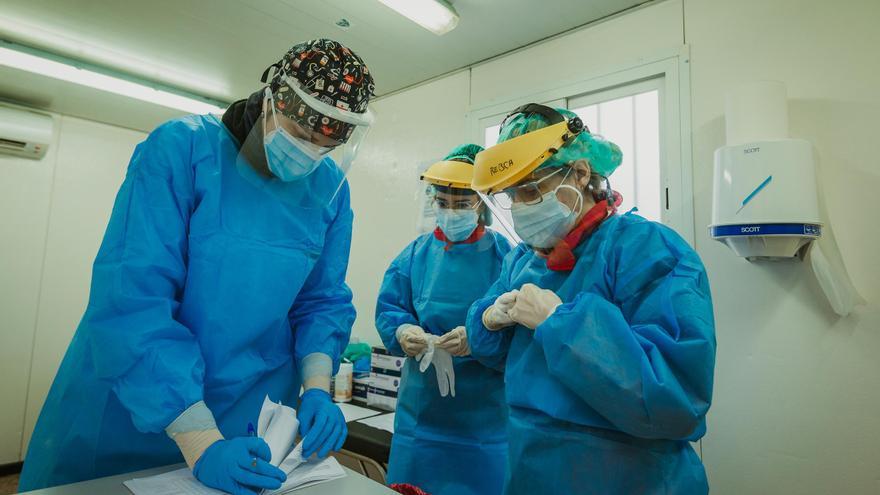 The Ministry of Health of the Canary Islands Government has registered this monday 183 new infections of Covid in the last hours, the majority in Gran Canaria, with 110 new cases. The number of deceased remains at 527 after not adding any deaths. The figure of active cases drops to 7,958 after adding 391 registrations.
The cumulative incidence in 7 days per 100,000 inhabitants drops to 88.05 (-1.86), while that of 14 days slightly increases to 184.96 (+0.70).
Canarian hospitals currently have 354 admitted with Covid (+5) and the ICU have 69 patients (+2).
By islands, Gran Canaria it remains the main focus of the pandemic with 110 new cases registered. The assets on this island increased to 3,539 (+24) after once again exceeding the number of new cases to the number of discharges (86). The accumulated incidence in Gran Canaria is still far from what is recommended to drop to level 2, since it remains at 114.78 (-3.52) at 7 days and at 226.50 (+1.88) at 14 days.
Lanzarote, at level 4, detects 42 new cases and the assets fall to 1,033 (-22) after the 64 medical discharges. The incidence continues to be high despite the slight decrease registered this Monday, with 328.32 (-24.95) at 7 days and 737.41 (-9.19) at 14 days.
Tenerife, meanwhile, adds 24 new positives and the number of active cases (3,197) continues to decline after 184 medical discharges.
Fuerteventura has ruled out two false positives and does not register new infections in the last hours, with which active cases fall to 159 (-57) after also adding 55 discharges.
El Hierro, La Palma and La Gomera they do not add new infections. The first has 27 active cases (-3) and La Palma remains at three, while La Gomera is still free of Covid.
The remaining seven cases remain to be assigned to an island, since they are outbreaks that Health follows but not a specific Health Center.