The Canarian president invites Pope Francis to visit the Canary Islands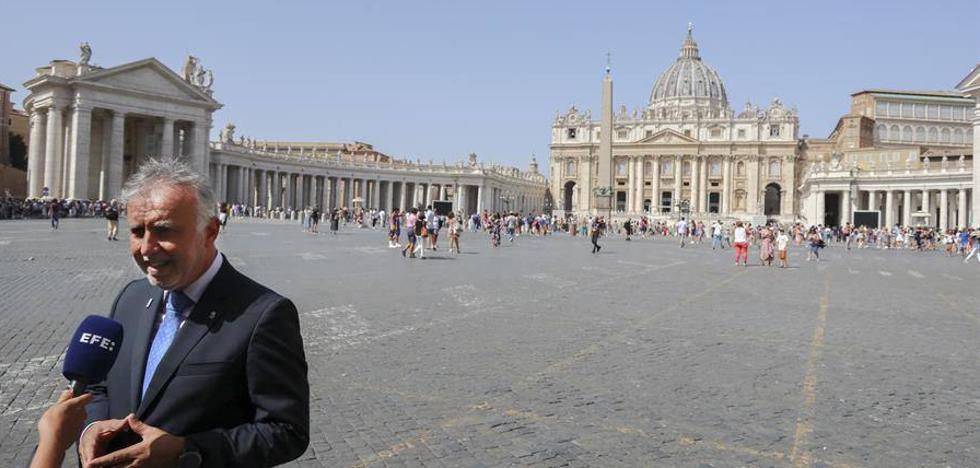 visit to the vatican
Torres went to the Vatican on Wednesday along with the delegation from Club Deportivo Tenerife
Ángel Víctor Torres, invited this Wednesday the
Pope Francis to visit the Canary Islandsduring the greeting after the general audience in the Paul VI hall in which the delegation of the
Tenerife Sports Club on the occasion of its centenary.
Torres went to the Vatican on Wednesday together with the delegation from the football club, the president of the Cabildo de Tenerife,
Peter Martinand Bishop Bernardo Álvarez to participate in the traditional Wednesday general audience celebrated by Pope Francis, and after which they were able to
greet the pontiff Argentinian and give him some gifts.
the canarian president described in statements to this greeting as
"historical" due to the centenary of the football club and "very emotional" since the pope "is a personality that goes beyond religion."
"He is an example in everythingin the ethical and moral aspect and in its message of working for the most vulnerable", he added.
He stressed that having organized this hearing by CD Tenerife "was a success" and that
"put the Canary Islands on the map".
The delegation gave the pontiff a pennant, a team shirt and scarf, and some Canarian pintaderas that, Torres explained, "reflect the pre-Hispanic reality of the Canary Islands and the aboriginal reality of our land."
The anecdote of the greeting was that the pope
receive the scarf he asked jokingly
"If it was so cold in the Canary Islands".
The occasion served for the president to invite Francisco to visit the Canary Islands. "If you can, it would be an honor," he noted.
«
We share the language, we share many things with both Argentina and Latin America and it has been a very special moment for Club Tenerife, for sport and for the Canary Islands as a whole", he added.
Invitation to discover Tenerife

Regarding the message that the pope sent due to the disaster caused by the eruption of the La Palma volcano, Torres commented that he knows that the pope has had
«very present the suffering of La Palmaof palm trees and palm trees and we have to thank them for this«.
For its part,
Pedro Martin stressed that it has been a "unique opportunity" for him.
«Having the possibility of being close to talk to him about our island and if on top of that we do it with a delegation from the
Tenerife that turns 100It's something we remember forever."
Martin also reiterated the invitation to the pope:
«What you have is to invite him to the island. We all want him to be in our country, in our region and, if possible, go to Tenerife«.