The Canarian playoff derbies will have a special security device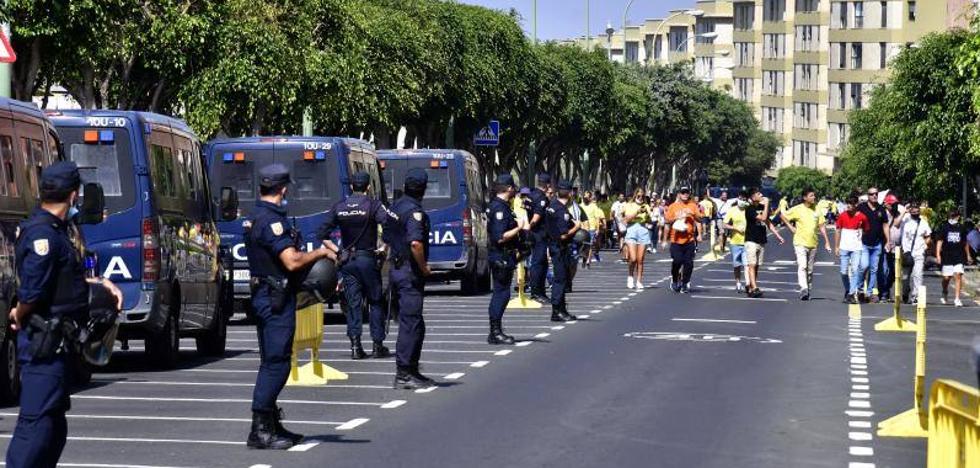 football
There will be more than 150 national police officers belonging to different special services
The Government delegate in the Canary Islands,
Anselmo Pestanahas chaired a meeting for the coordination of the security device on the occasion of the football derby that is being played today and next Saturday by the
Las Palmas Sports Union and the
Tenerife Sports Clubwithin the tie for promotion to the First Division of the Spanish Football League.
The meeting was held simultaneously from the headquarters of the Government Delegation / Government Sub-delegation in Las Palmas and the Government Sub-delegation in Santa Cruz de Tenerife, as well as via videoconference, as is the case with Anselmo Pestana from the island of La Palma, where he is due to schedule commitments.
The sub-delegates of the Government in Las Palmas and Santa Cruz de Tenerife participated in the meeting convened by the Government Delegation,
Teresa Mayans and Javier Plata, respectively, as well as representatives of the City Council of Las Palmas de Gran Canaria; from CD Tenerife; from UD Las Palmas, and from
National Police, Civil Guard, General Police Corps of the Canary Islands, and Local Police of the two capitals.
The Government delegate calls on the two fans to continue setting an example of behavior and sportsmanship to help achieve the "
common goal» of having a Canarian team in the First Division.
"There are two good fans who support our capital teams, so I am convinced that the Canarian fans will continue to have a
exemplary behavior. We all want the derby to be a moment of celebration, in which the winning team ends up being promoted to the First Division", says Anselmo Pestana.
"We continually see examples of the importance that the behavior of its fans represents for the world of football. And in this, the Canary Islands and the Canary Islands have been giving a very good example. We have two very quiet fans, who have not been involved in incidents in these years. And that is why I appeal to continue like this, to
collaborate with the organization of the matches so that each and every one of us can enjoy football in complete safety", he adds.
National Police will establish a specific security device on the occasion of this tie, which has been declared as
high risk by the Permanent Commission of the State Commission against Violence, Racism, Xenophobia and Intolerance in Sport.
In the special safety device there will be
more than 150 national police belonging to different special services such as the Police Intervention Unit, the Prevention and Reaction Unit, the TEDAX, Subsoil or Dog Guides, and the aerial means service of the National Police will be used, both with surveillance by helicopter and drones.
Civil Guard will participate in the special security device with a presence in the Port of Santa Cruz de Tenerife and the Traffic Association in Gran Canaria, to which it will join, to guarantee mobility and security in the urban environment, the deployment of
Local Police and private security agents at the stadiums.