The Cabildo receives the CC0 7 Palmas players and offers its support for the European competition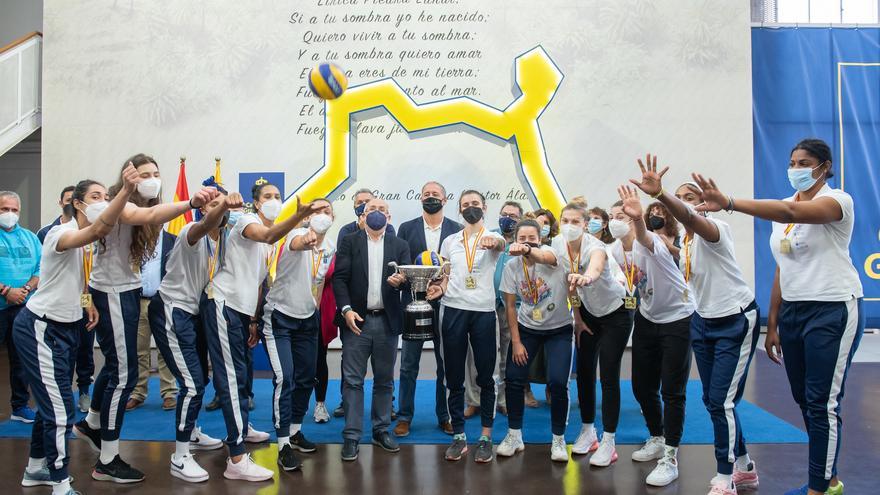 The president of the Cabildo, Antonio Morales placeholder image, today headed the tribute to CCO 7 Palmas after proclaiming women's volleyball league champion and stressed that the insular Institution does justice to women's sport with the equal distribution of subsidies, in addition to ensuring the will to "continue contributing to the successes of the future" of the club, which will include the support for your participation in the European competition.
Morales transferred to players, board of directors and sponsors the "pride" of Gran canaria and recognized the added difficulty that high-level women's sport entails due to the differences in projection and media resonance, while the president of the club, Juan Manuel Campos placeholder image, thanked the economic support and the use of the Cabildo facilities and assured that without this help "it would be impossible to compete."
Campos, on the verge of tears, dedicated his success to a deceased club associate, Diana Martel, in an act in which the Councilor for Sports of the Cabildo, Francisco Castellano, highlighted the regional, national and even international impact that the victory achieved this Sunday in Madrid has had.
The captain of the team, Saray Manzano, formed in the quarry and also designated best player in the competitionHe pointed out that this achievement "is just the beginning of something very big." At his side, the CEO of the IBSA Group, Patricia cabrera, assured that, as sponsors, they have been proud to support the club at all times, over and above defeats or victories.
The victory of CC0 7 Palmas is added to the victory in the Copa del Rey of the Guaguas Volleyball Club after his return to the elite of national volleyball with the support of the Cabildo in a series that was also developed at the Insular Sports Center and which was added to the celebration on the island of the Volleyball Queen's Cup and the Copa del King of Online Hockey, events that help to consolidate the Gran Canaria Isla Europea del Deporte brand.
Morales received a ball signed by the players, for whom he asked for a standing ovation before throwing it into the air in a metaphor that volleyball is flying higher and higher in Gran Canaria.