The Cabildo de Gran Canaria Cup kicks off next Saturday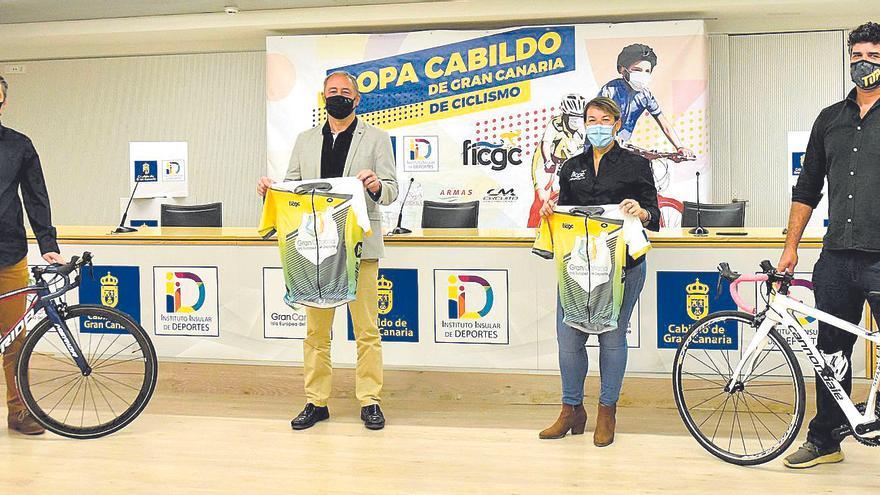 Everything ready for the start of the first edition of the Cabildo de Gran Canaria Cycling Cup. Next Saturday, at the Maspalomas Circuit, the inaugural tests of the Schools and Routes modalities will start. This new competition format represents the return of the sports activity of the Insular Federation after a difficult year, in which the health crisis derived from the pandemic interrupted the normal development of the season.
The Councilor for Sports of the Cabildo, Francisco Castellano, the president of the federative body, Marta Hernández, and the head of the Schools, Francisco Bolaños, presented the contest yesterday in society.
"It is a day to celebrate because an event like the Cabildo de Gran Canaria Cup finds a space on the calendar, with a totally new format. The Covid-19 pandemic has forced the reinvention of all sectors, including the Insular Cycling Federation of Gran Canaria, which in this context has opted for the development of this competition within a safe, limited space, but at the same time open air ", pointed out Castellano.
In this sense, the president of the Insular Institute of Sports added that "this circuit allows this physical and sporting activity to be resumed, something fundamental in terms of health, and that without a doubt all participants will be grateful for the next few weeks. enjoy racing on two wheels in a safe environment ".
For her part, Marta Hernández, president of the Gran Canaria Island Cycling Federation, thanked the Cabildo for the support to guarantee the realization of this championship. With regard to the competition itself, she explained that it is "a total of eight tests that will be held in the Maspalomas Circuit, with all the necessary resources to comply with the measures imposed by the authorities to stop Covid-19 ".
The Cabildo de Gran Canaria de Escuelas Cup will consist of a total of five events, which will be held next Saturday, March 27, May 1, May 23 and June 27. While. The Routes modality will consist of three: this Saturday, May 23 and June 27. The head of the Insular Federation Schools, Francisco Bolaños, pointed out that "in this specialty there will be cyclists from six years to 14.