The CAAM closes this Sunday the exhibition 'In Dialogue'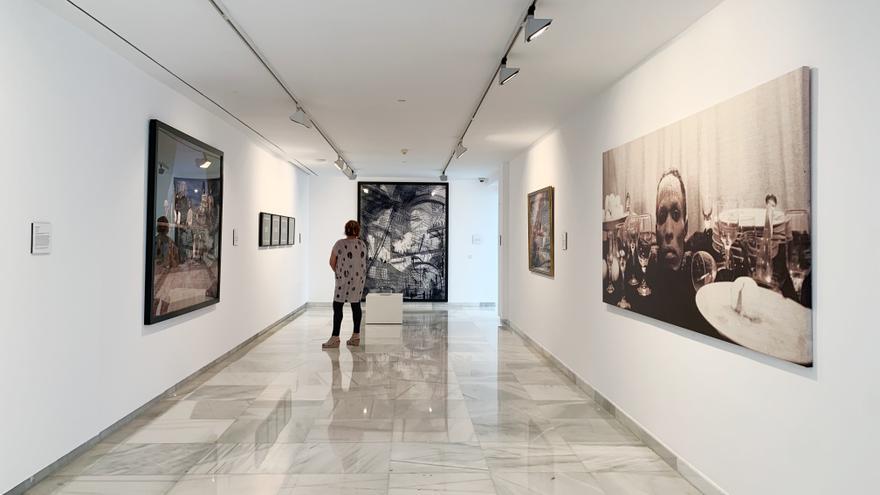 The Atlantic Center of Modern Art (CAAM) closing this Sunday, November 8, the collective exhibition In Dialogue, that brings together an attractive selection of works from the CAAM Collection, which they dialogue with the current exhibitions dedicated to the Cuban artist Dagoberto Rodríguez and the Afro-German duo Mwangi Hutter.
With free admission, the exhibition can be visited during the regular hours of the CAAM, from Tuesday to Saturday, from 10:00 a.m. to 9:00 p.m., and Sundays from 10:00 a.m. to 2:00 p.m. To guarantee the safety of its visitors, the Cabildo de Gran Canaria art center incorporates sanitary measures that include taking temperature, hand hygiene, use of a mask, capacity control or interpersonal distance, among others. In addition, the spaciousness of the art rooms allows no crowds to form.
The exhibition project In Dialogue brings together a selection of 22 works signed by 17 artists of different nationalities: Faisal Abdu'Allah, Ghada Amer, Marlon de Azambuja, Juan Pablo Ballester, Karina Beltrán, Zoulikha Bouabdellah, Sophie Calle, Antonio del Castillo, Nan Goldin, Martín and Sicilia, Ana Mendieta, Vik Muniz, Marina Núñez, René Peña, Miguel Rio Branco, Hiroshi Sugimoto and José Ángel Toirac.
The director of the CAAM, Orlando Britto, and the curator Mari Carmen Rodríguez, responsible for the curation of the exhibition, emphasize that the pieces selected for this exhibition allow the visitor to enjoy different artistic trends and varied supports such as photography, sculpture or painting . They are works that address issues that concern the iconography of war and power, violence and death, language and time or the body and gender, among others.
"We have identified a series of themes or discursive proposals that run through the works of Dagoberto Rodríguez and those of the Mwangi Hutter duo, and from these spaces for reflection, we propose to each of the people who visit the Center to establish possible dialogues, relationships and readings open between works ".