The bishop of Córdoba wonders why there are still no processions but "yes bulls, patios and little pots"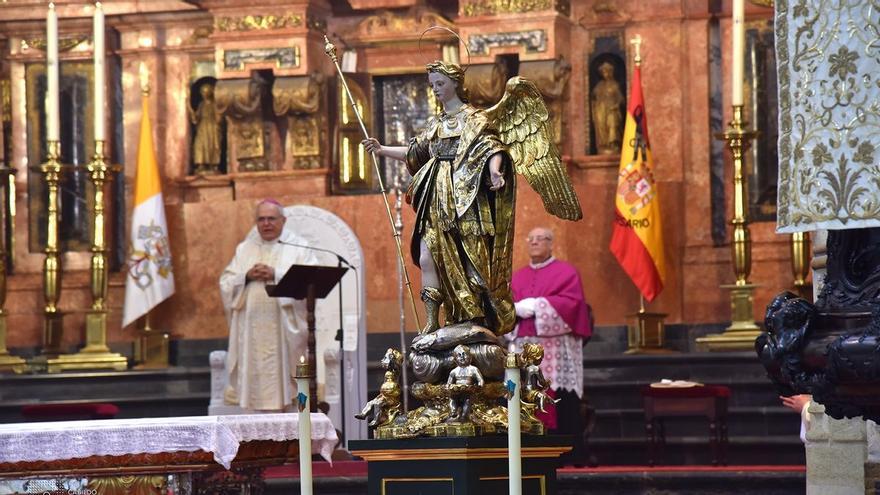 The Bishop of Córdoba, Demetrio Fernández, has said to expect from "the authorities" that public expressions of faith, which take place in the form of processions, among other ways, receive the same treatment that they have had in Cordova the bullfights, held this past weekend, or the patios, open until yesterday Sunday and have had hundreds of thousands of visitors, or the fair attractions, which are open from last Friday until next May 30 in The Arenal.
In this sense and during his homily at the mass he presided over yesterday Sunday at the Cathedral of Córdoba on the occasion of the 'Solemnity of the Ascension of the Lord', Demetrio Fernández addressed the brotherhoods of Gloria present in the main temple of the Diocese with their banners and invited them to live "the joy of resurrection, of the triumph of Christ over death, over sin and over Satan"as they manifest that joy.
In this sense, the bishop found it "curious" that "at this point there are Bulls, Patios Y gadgets"fair," but there are still no processions ", wondering for this reason if believers are" contagious ", this being, in his opinion," a reflection that we have to do, or we leave it for last? ", starting from the premise that Christians" are not going to complain or demonstrate. "
But the truth, as Demetrio Fernández has argued, is that "we will not get to religious freedom As long as we cannot express ourselves also in public, like the others, without any privilege ", and" with all the sanitary measures, without any exception. But we need to publicly express in the streets the faith that we profess, and this need is recognized in the religious freedom that our Constitution consecrates. "
"Religious freedom is not just that they let us believe"
That is something, as he announced, that Christians are going to ask "the Lord, and we ask the authorities, to give us a hand, lest – he ironed – this of faith and religion and their expressions is the most contagious thing in the world, and that's why it should be avoided.
In this regard, the bishop recalled that, "in all religious manifestations that have been done during the pandemic, Christians, believers and even simple people, have been exemplary, observing all the regulations that the authorities send ".
Consequently, "we hope that soon, first because the pandemic is banished, and secondly because this right" of Christians is taken care of and processions are allowed, since "religious freedom is not just that they let us believe, that until then we could arrive ", but rather" religious freedom consists in letting us express it ", because "We are no less than the Patios or the little gadgets".
For this reason, Demetrio Fernández insisted that "the faith of the Church needs to be expressed in the street too, with all the regulations that they give us and that we will observe them punctually ", because this way Christians will be able to fulfill the" evangelizing task "that Jesus Christ gave them, regarding" preaching the Gospel "with their lives, words and with their" testimony " In such a way that, "that faith that comes from Jesus Christ to the present day, nobody will be able to tear it away from us, and we want to express it, so that it infects the holy people of God."