The best rally for the 40th edition of the jewel in the crown: the Canary Islands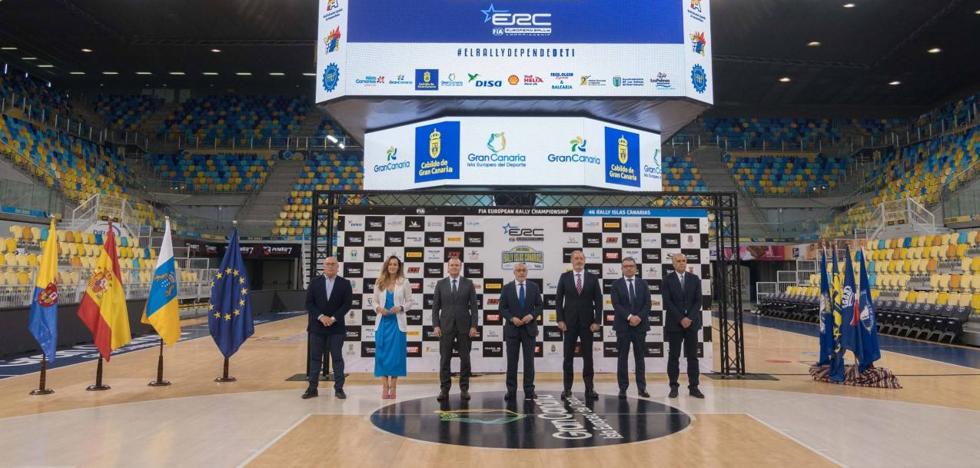 motoring
This Tuesday an unbeatable test was presented due to its impact and poster
The third round of the FIA ​​European Rally Championship and second of the Canarian Asphalt Rallies Championship It has been launched supported by the main regional and island institutions just over a week before the starting signal is given.
The Canary Islands Rally It has been presented, as in its last two editions, at the Gran Canaria Arena. The main regional and island authorities have supported the launch of this international test that returns
to be an integral part of the FIA ​​European Rally Championship calendar. This year 2022 marks 40 years since the first time, in 1982, the then called Rally El Corte Inglés premiered continental scoring.
In this act, the Organizing Committee has summarized the main novelties introduced in the championship, in the image and approach of the test. Also
The official poster has been presented, which, like last year, has as its main element the Peugeot 208 Rally4, a brand represented in the Canary Islands by Orvecamehistoric partner of the Rally Islas Canarias.
Ángel Víctor Torres, president of the Government of the Canary Islands, habitual in the presentation of all the editions of this international test, could not attend on this occasion, but wanted to convey his support:
«We are facing one of the main sporting events not only in Gran Canaria and the Canary Islands, but in the world. And that, in addition, it is an economic engine that attracts a lot of tourism. We are talking about a week of the motor festival in which
the Government of the Canary Islands has bet, bets and will continue to bet firmly».
Antonio Morales, president of the Cabildo de Gran Canaria, recalled that, edition after edition, "support for the Rally Islas Canarias has been encouraged from this institution, not only economically, but also by offering extraordinary infrastructures that the Government of the Canary Islands has at its disposal. island".
Official entry list

Coinciding with the day of the official presentation, the Rally Islas Canarias published the official list of entries at 2:00 p.m.
Finally there are 97 participating teams, 69 in the international section, the remaining 28 in the regional section and a total of 17 nationalities .
The FIA ​​ERC list It is opened with number one by the winners of the last Azores Rally and second in the provisional championship, Efrén Llarena-Sara Fernández (Skoda Fabia Rally2 Evo), with the also Spanish Nil Solans-Marc Martí (Volkswagen Polo GTI R5) with the number two.
Finally, there are 14 teams registered in the Junior ERC division of the Rally Islas Canarias, the first round of the championship season whose winner will be promoted to the Junior World Rally Championship in 2023.
Everything will start on May 14.