The best popular electric cars, to test | Economy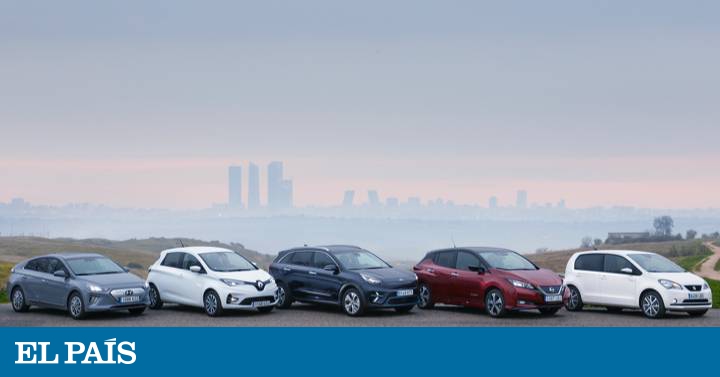 We thoroughly analyze five electric models of different classes, sizes and prices. They represent the most accessible emissions-free mobility alternatives of the current offer in Spain, and offer sufficient autonomy to cover the daily journeys of most users and even some road trips.
The Seat Mii, Renault Zoe, Nissan Leaf, Hyundai Ioniq and Kia e-Niro are the options chosen for the test and show that these models have already passed the majority of pending subjects of the battery cars. They cannot yet fulfill as a single family car, but more than for lack of autonomy – from 200 to 420 kilometers in the models tested -, due to the shortcomings of the fast recharging infrastructures en route, which do not yet cover many motorway axes.
They remain more expensive than their combustion equivalents, but not prohibitive, and are already available to many buyers. Of course, they require a parking space, either in the private home, in the garage of the neighborhood community or in the workplace, in order to install a charging post and enjoy its benefits to the fullest.
The kWh of the batteries (kilo watts hour) are equivalent to the liters of a conventional tank, and the official autonomy values ​​outlined correspond to the new WLTP approval cycle, closer to reality than the previous NEDC.
The conclusion
There are no winners, just a catalog of proposals for electric mobility. The Seat Mii is the most basic option, it includes the fundamentals at the best price and has 200 kilometers of autonomy. The Renault Zoe offers similar features, but with more interior space and consistency to go on the road and 300 kilometers of use. Although it costs 10,000 euros more. The Nissan Leaf is a compact Golf type, very spacious and refined inside, with the best features, a good safety equipment and 320 kilometers of range, but it is expensive. The Hyundai Ioniq collects smaller batteries to reduce costs and weight, and costs 2,300 euros less than the previous one, although with 260 kilometers of reach. And the Kia e-Niro is the most complete, a large and modern SUV with 420 kilometers of radius of action per load that meets almost as familiar to everything and has the price of the Nissan.
All the offer of the Spanish market