The best moments of the Super Bowl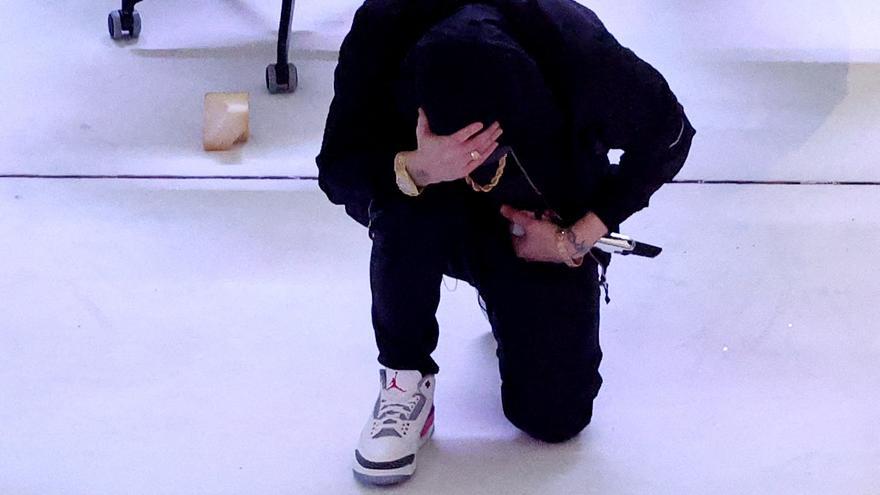 One more time, the superbowl has once again been one of the most important events of the year in U.S. The day that most Americans congregate in front of the television, the afternoon in which the most French fries are consumed and the reason why millions of people miss work on Monday has left countless images that have made burn the social networks inside and outside US borders.
On the sporting level, Los Angeles Rams conquered the grand final of the NFL American after beating the Cincinnati Bengals by a tight 23-20, in a match with alternatives that was decided in their favor in the final stages. In the non-sports, the halftime show was a tribute to rap hosted by Dr. Dre and Snoop Dogg. Kendrick Lamar, Mary J. Blige, Eminem and the surprise appearance of 50 Cent completed the list of stars that passed through the stage.
These were some of the Best moments of the night:
Eminem kneels
Eminem, one of the most internationally produced American rappers, decided to perform one of his most iconic songs: 'Lose Yourself' raised the public when the party was facing its final stretch. However, apart from his musical talent, the most applauded gesture came when Eminem He finished his part by kneeling on the ground as Colin Kaepernick did in his anti-racist claims in the NFL. The specialized media suggest that the organization had not allowed him to carry it out, something that did not stop the artist. That decision in favor of the Black Lives Matter movement received much applause in the social networks.
Los Angeles Rams champions
The Rams managed to lift their second trophy. Vince Lombardi repeated the success of 2000. The Bengals, the great revelation of the season, fell short of glory for the third time after their losses in 1982 and 1989 against the San Francisco 49ers.
Rap stars together
One of the most emblematic moments of the event was when the five rap stars (Eminem, Dr Dre, Kendrick Lamar, Mary J. Blige, Snoop Dogg and 50 Cent.) closed the presentation of 13 minutes together after their respective individual performances. . 'Still DRE' was the best finishing touch of a show that had never before paid homage to this genre.
Jay-Z and Beyoncé, in the stands
Like every year, there were dozens of celebrities who crowded into the stands to watch the NFL grand finale live. Among them Jay Z Y Beyoncewho did not want to miss the event of the year. The rapper, responsible in part for the halftime show, enjoyed the show like no one else.