The best and worst looks from the 2021 Grammy red carpet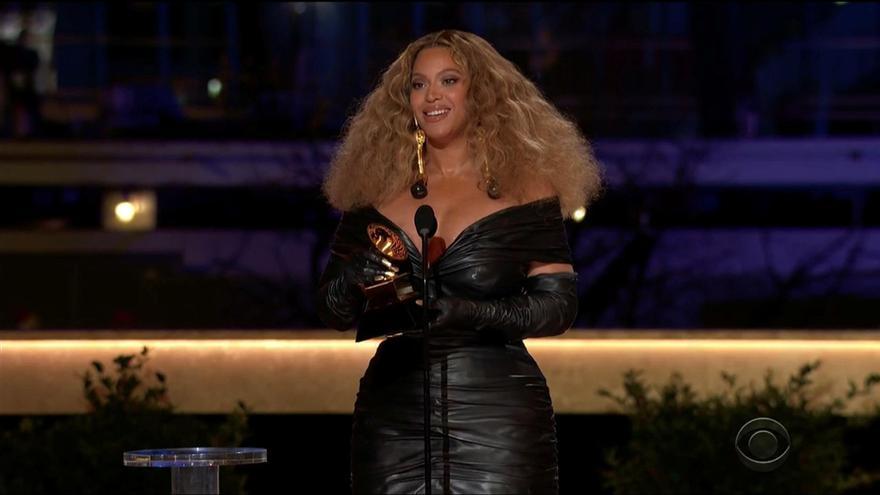 The Grammy awards are the most important awards in the music industryl but his gala also becomes a fashion showcase with a red carpet worth analyzing in detail. In a 63rd edition marked by the Covid pandemic – in which many of the celebrities wore matching masks with their outfits – we reveal the best and worst dressed of a night in which there was equal parts glamor, color and excess.
The best dressed
Beyoncé. How could it be otherwise, "Queen B" struck with the look with which she became the most awarded in the history of the Grammy Awards. The diva, accompanied by Jay Z (dressed in gold) impressed with a very tight black leather minidress from Schiaparelli with a bardot neckline. As accessories, some glamorous leather maxi-gloves, long earrings and a hair more Afro than ever with which it was spectacular.
Taylor Swift. After five years of absence from the gala, the singer became the main protagonist of the red carpet – and of the night for her Grammy for "Best Album of the Year", achieving a milestone because she is the first woman to achieve it for the third time – with her applauded look. A flowered minidress from Oscar de la Renta featuring a long sleeve sheer mesh covered in embroidered flowers. Colorful, romantic and very springtime. As a complement, some spectacular sandals in pink. Of ten.
Dua Lipa. The artist, who was opting for 6 gramophones, sensed that it could be her night and dressed for the occasion in a risky and daring Versace with which she showed off her body. A jewel mesh-effect garment made of crystals with a pink butterfly on top, in a completely transparent dress full of openings that exposed different parts of her anatomy.
Finally, the white tuxedo of Ingrid andress remember how well the suit jacket suits these events and how elegant it is in a well-worn white color.
The worst dressed
Many of the artists went from eccentric with looks that we will find it difficult to forget, but finally the occupants of the podium to the worst dressed are …
Noah Cyrus. Miley Cyrus's sister was accompanied by her mother and with a noteworthy styling. A Schiaparelli model that the protagonist defined in her social networks as the "most sick, angelic and haute couture final piece of your spring '21 collection". We are left with the unhealthy as excessive and exaggerated. Too many volumes trying to look like an angel to stay rather in a cream and meringue tart.
Billie Eilish. True to herself, the young artist, 19 years old, wore an outfit in which there was no lack of detail. A Gucci total look with a floral print in shades of pink and green made up of a matching suit, gloves, hat and even a mask. In his line, I already match the green of his hair, but inappropriate for a Gala of this category in which he won a Grammy.
HER The singer believed that she was going to a hippy costume party and her look seems indescribable to us. Flared trousers, with a mid-calf jacket in burgundy tones with silver appliqués in the Moorish style, round sunglasses in the same burgundy as the outfit, and his very long hair loose at the waist.
Special mention for Harry styleIt is that he has captured all eyes with his looks chosen for the night in which he opened the Grammy gala with his performance and in which he also won his first gramophone. On the red carpet, she walked in a 70s style of Gucci brown squares that she has combined with one of her characteristic lilac feather boas. For the performance he changed his "grandfather" suit for a jacket and black leather pants with no shirt underneath so that we could appreciate his worked torso. The boa, this time, in green.
It is not saved from the list Megan Thee Stallion, one of the winners of the night, who has added a touch of color to the carpet with an orange Dolce & Gabbana dress that is too loaded.
Negative note also for the gloomy look of Phoebe Bridgers, that has not gone unnoticed on the red carpet by the skeleton that he wore embroidered.