The beer brand that encourages politicians to agree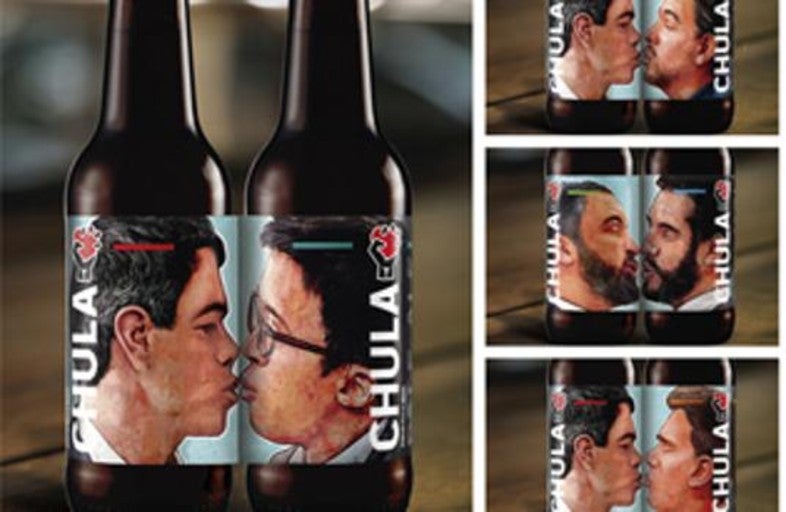 Updated:
save

– What happen to you? Why is it so difficult for you to agree? – With this first sentence on its label, a craft beer brand in Madrid wants to help political leaders reach agreements and launch a government. To achieve this, he has sent each of them a special PACK-TO edition with six bottles in which the six leaders appear on each of the labels, encouraging them to get together with a beer in front and provide their images of the labels in a very "affectionate" attitude. – What it takes so that, once and for all, we have Government – finalizes the label text on the bottles.
All possible agreements, combining bottles two by two.
The PACK-TO special edition consists of six bottles of the brand's craft beer, each with the illustration of a political leader in a symbolic "pact" attitude. By bringing the bottles together two by two, a unique "encounter" image is achieved that functions as a metaphor for the pact. The virtue of the PACK-TO edition is that it allows different pact combinations, to the taste of the consumer and the leader. Although some agreements will be impossible, at least in this edition, as leaders and consumers will verify that they intend to make them by collecting bottles.
A limited edition of CHULA Especial PACK-TO will be put up for sale in bars and establishments.
To reinforce the pact message that citizens want, and allow everyone to make their preferred pact proposals, the brand will distribute a limited edition of 50,000 bottles by different hotel establishments in the Spanish geography that it will announce on its website.
Why does a beer get into this?
Where do you talk about politics? In bars. And what is done in Spain when you want to reach an agreement with someone? Order some beers and sit and talk.
Today, the lack of agreements among politicians is an issue that drives all Spaniards out of their minds. No one understands why they don't agree, so CHULA wanted to help without taking sides. We don't care who agrees with who, that's why you can make almost every possible combination, but like all Spaniards, we don't understand why they stay that way and the only conclusion is that they haven't sat down with a beer in front. So, we put the beer, the best there is, a CHULA.
In addition, being an independent craft beer we can say what we think without relying on external or multinational management boards that want to be politically correct.
Are we going to do it more times?
Yes. A lot of things happen around a beer, everything is talked about, and there are conversations worth proposing, and even denouncing. We do not want to be an authorized voice, only the voice of the majority pointing out the things that make us all indignant or make us happy. We would like the bar conversations to go to CHULA labels.
About CHULA beer.
CHULA is one of the best craft beers in Spain. Awarded in the best international competitions (Superior Taste Award iTQi 2017, World Beer Idol in 2018 …), it has remained for years in the top positions of the rankings of experts in their different varieties. It is made by Cervezas Villa de Madrid and its secret lies in the obsessive passion that its brewing master puts in the selection of malts and hops and the patience that he overturns in his elaboration, following the traditional processes, without using preservatives, neither filtering nor pasteurizing , which force to wait weeks until each CHULA is at its point. The result is a beer that, when tasted, breaks your heart and conquers you forever.
. (tagsToTranslate) pact



Source link