The beatification of John Paul I clarifies that he died of a heart attack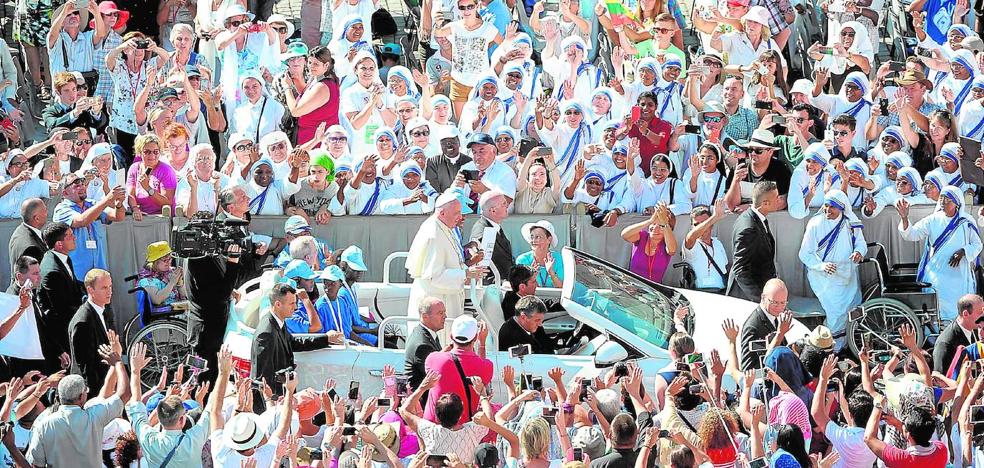 Pope Francis presides this Sunday at the ceremony in which Albino Luciani will reach the step prior to sainthood
This Sunday John Paul I will be beatified, the last step before reaching sainthood. In a ceremony to be held in Saint Peter's Square in the Vatican, Jorge Mario Bergoglio will raise to the altars this Pope whose pontificate lasted only 33 days, one of the shortest in the history of the Catholic Church, when he died totally unexpectedly in September 1978 at the age of 65. The beatification process has made it possible to access medical information about Albino Luciani, which is how the 'Smiling Pope' was called, and shed light on his death, about which all kinds of speculation arose at the time.
«All the documentation converges on a cause of death by heart attack. It is specified that it is an unforeseen death," Stefania Falasca, vice president of the John Paul I Vatican Foundation and vice-postulator for the cause of beatification, told this newspaper. The doctors who examined Luciani's corpse had "the causes of death very clear, which were later confirmed by the academics of La Sapienza University", so it was decided that an autopsy was not necessary. «History is made with documents. Everything else is black literature, which can be very profitable, but has nothing to do with the facts, "explains Falasca.
The miracle that drives the beatification of John Paul I consists of the healing, inexplicable to science, of the Argentine girl Candela Giarda, who was evicted by doctors in 2011 due to a serious brain pathology. According to the Catholic Church, the healing took place thanks to the intercession of the new Blessed. Giarda is 22 years old today and she has not had any sequelae from that illness, although she has not been able to travel to Rome to participate in the ceremony because she broke her foot while she practiced sports.
According to Cardinal Beniamino Stella, postulator of the cause of beatification and who maintained a close relationship with Luciani, since he was his bishop in the diocese of Vittorio Veneto (northern Italy), the legacy of John Paul I is that of a "humble" pastor and with great communication skills. They are virtues that, according to those who knew him, made him put the faithful in his pocket in that very brief pontificate and that are also very present in Francis, the Pope who will beatify him this Sunday.