The bears continue to stalk the bank and the Ibex struggles to maintain 6,600 points in a volatile day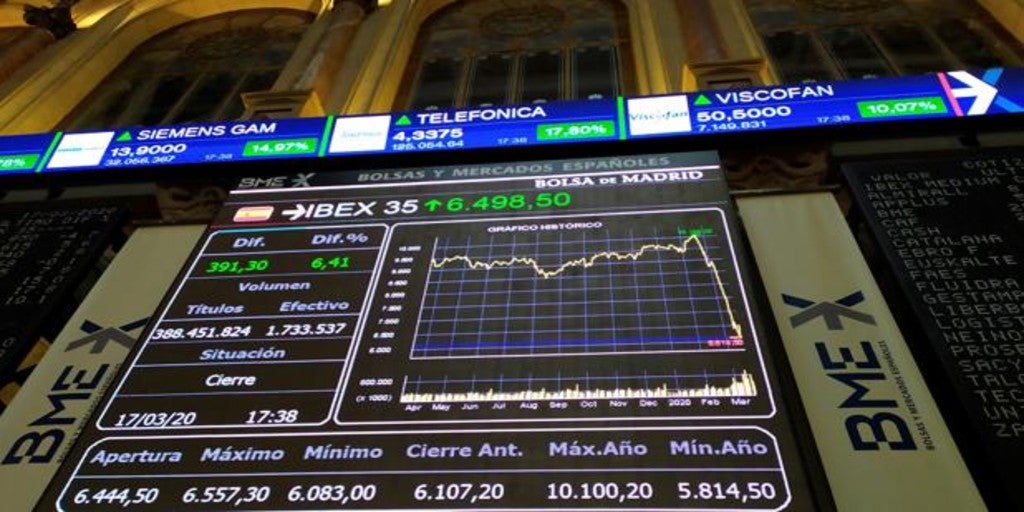 Madrid
Updated:
save

The Ibex 35 was trading with slight losses after 2:00 pm on Wednesday, with a 0.11% drop, which led the selective to stand at 6,602 integers, in a day that continues to be marked by the progressive economic reopening in different countries, including Spain, and in which optimism about the progress of a vaccine against Covid-19 has given way to prudence.
British American Tobacco (BAT) has announced that the new coronavirus vaccine being developed by its biotech affiliate Kentucky BioProcessing (KBP) in the United States has, after completing preclinical tests, been shown to produce a positive immune response.
Likewise, investors have learned that the year-on-year inflation rate for the euro area stood at 0.3% in April, four tenths below that registered in the month of March and its lowest level since August 2016, given the impact of the fall in oil prices and the containment measures implemented to stop the spread of the coronavirus.
After closing yesterday with a fall of 2.51%, the Ibex 35 remained cautious this Wednesday, also marked by yesterday's uprising by the National Securities Market Commission (CNMV) of the prohibition to establish or increase net short positions on shares admitted to trading. Today bears continue to stalk bank stocks, the most punished in the session.
As the morning progressed, the most bullish values ​​were Acciona (+ 2.08%), Endesa (+ 1.4%), Grifols (+ 1.39%), Naturgy (+ 1.35%), Iberdrola ( + 1.32%) and Inditex (+ 1.3%). On the opposite side, the falls of Bankia (-8.37%), Banco Sabadell (-4.74%), Colonial (-5.55%), Meliá (-5.35%) and Merlin (-4,) stood out. 95%).
In this scenario, the barrel of West Texas Intermediate (WTI) oil, benchmark for the United States, was trading at $ 32.07, while Brent crude, benchmark for Europe, was priced at $ 34.95.
The European stock markets experienced declines, with falls of 0.2% for the Ftse 100 in London, 0.67% for the Cac 40 in Paris, 0.06% for the Dax in Frankfurt and 0.93% for the Milan mib.
For its part, the Spanish risk premium stood at 120 basis points, with the interest demanded of the ten-year bond at 0.736%, while the exchange rate of the euro against the dollar stood at 1,095 'green notes'.