The Barcelona defense cancels the Red Star and raises him to the leadership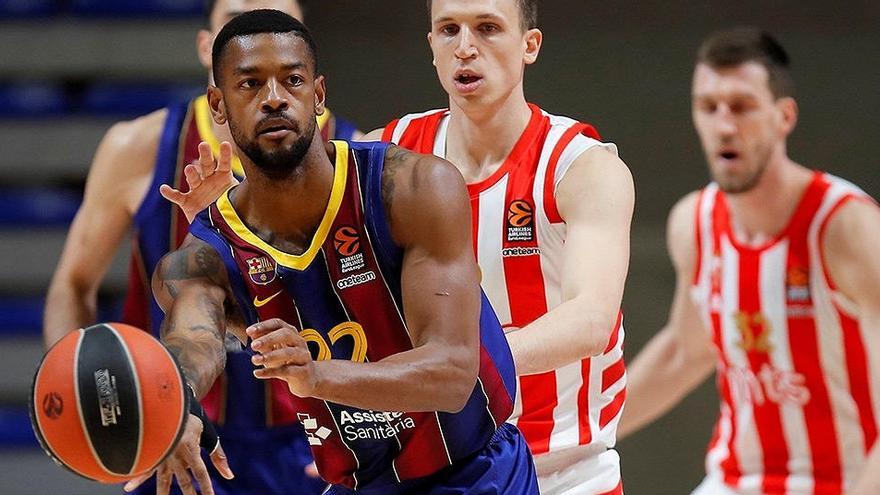 The victory of Barcelona on the track of Red Star of Belgrade (60-72), based on his defense, and the defeat of CSKA Moscow against Fenerbahace he has returned Saras Jasikevicius's team to leading the competition.
With a stellar Pierre Oriola (12 points and 7 rebounds), supported by Cory Higgins (14) and Roland Smits (11), led by Nick Calathes, the Catalans have added their fourth consecutive victory and have been very solid, although the outside shot was not successful (2 of 18 triples).
It was the day of the Nikola Mirotic and Brandon Davies comeback in Barcelona and, especially, that of the American Jordan Lloyd, after five days of absence, second scorer in the Euroleague (18.7 points on average) in the Red Star.
His return was noticed, but Barcelona was a demolishing start through Pierre Oriola, Cory Higgins and Rolans Smits, and reached a maximum advantage of 13 points (8-21, m.9), thanks to a defense that only allowed the Serbs to score from the 6.75 line (3 of 8).
Local coach Dejan Radoncic ordered more defensive intensity to his team and block Mirotic (a basket at halftime) and nullify Nick Calathes' pass line. The tactic worked for him and Jordan Lloyd's awakening led to narrowing differences (28-31, m.19). Only Calathes's actions had prevented the difference at halftime from being less (31-35).
Barça had only added three baskets (a triple) in play in the second quarter and came out in the third at a devastating pace. Calathes went on to maneuver with Higgins and Oriola, opened the gap (36-47, m.24) and Radonjic had to stop the game.
Andorran and Spanish international Quino Colom went on to direct the Red Star and the home defense pressed again, causing a technique to Jasikevicius. Leo Westerman relieved Calathes and Jordan Lloyd was back on track.
Barcelona failed from the 6.75 line (2 of 14) and Colom cut (43-39, m.28). The Catalans were now betting on the inside game and Oriola, Davies and Higgins cut the streak with a 0-8 partial (43-57, m.17), their maximum advantage so far.
The last quarter opened with 45-57 and Westerman directing Barça and also accelerating the transition and with Smits very effective the advantage was extended (45-64, m.32) after Kyle Kuric's basket. Besides, Hanga neutralized Lloyd.
A 0-9 run led to more than 20 points ahead (45-66, m.33) and the first Red Star points came with two free throws from Walden (47-66, m.34). The Barça dominance of the rebound had been key in a defense that suffocated the local team. From there to the end, many errors on both sides and a timid Serbian reaction for the final 60-72.
60 – Red Star (11 + 20 + 14 + 15): Walden (8), Dobric (11), Radanov (5), Reath (-), Kuzmic (-) -starting five-, Davidovac (8), O'Bryant (6), Lazic (3), Quino Colom (6 ), Lloyd (9), NNoko (2), Jagodic-Kuridza (2)
72 – Barcelona (21 + 14 + 22 + 15): Calathes (10), Abrines (3), Higgins (14), Mirotic (6), Oriola (12) -starting five-, Smits (11), Davies (9), Westerman (1), Hanga (-), Martínez (2), Kuric (2) and Pustovyi (2).
Referees: Lottermoser (GER), Kowalski (POL) and Rossi (ITA), not eliminated.
Incidents: Match of the twenty-first day of the Euroleague played without an audience at the Aleksandar Nikolic Hall in Belgrade.