The Barça does not close the first place in Tel Aviv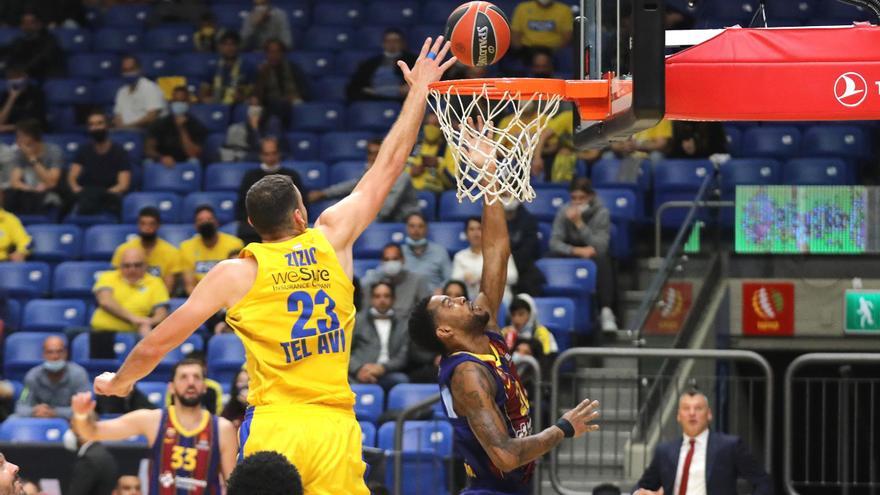 Barça could not close the first place in the Regular Phase of the Euroleague After going out defeated this Tuesday from his visit to the Israeli Maccabi Tel Aviv, winner by 99-94 of a decided duel after an extension where a strange technique was key to Nikola Mirotic.
The Catalan team, already classified for the 'playoffs', will have to look in Istanbul against Fenerbahce that first place that guarantees them already playing against the eighth in the qualifying rounds after not adding their ninth defeat against a team already eliminated and after not offering his best game.
It was a balanced duel in a Hand of Elías with the public, where Maccabi, configured for more ambitious levels, was almost always ahead. However, Sarunas Jasikevicius's men were able to recover to the best local start (24-16) to balance things out by taking advantage of the losses of Ioannis Sfairopoulos's, dominating the rebound (18-10) at halftime.
Barça, without offering their best version, were only one down after the first two quarters (39-38) and although he came out of the locker room a little more determined, he could not take command of the scoreboard, in part due to the good work of Ante Zizic and Dragan Bender, who combined to contribute 40 points and 14 rebounds.
In fact, the first, who had 24 points and 8 rebounds for a PIR of 33, was unstoppable with 12 goals in those ten minutes and allowed Maccabi to have command for the fourth quarter (65-59). The Israeli team threatened to escape again (69-61) at the start, but then Nikola Mirotic emerged (23 points, 10 sacks and a PIR of 34) with nine points to restore equality.
A Davies basket put even the Blaugranas ahead (74-76), who had a couple of options to open the gap further, but were condemned to an extension after an exchange of big baskets between Zizic and Jones by the locals and Calathes and Higgins by the visitors.
In the extra five minutes, Davies' fight brought the victory closer (86-90), which escaped by two triples in a row by Bryant and Dorsey. With a draw at 94, Mirotic's strange technique came before the ball was put into play and there the options were over despite the fact that Davies had a triple to tie again.
Data sheet
Result: MACCABI TEL-AVIV, 99 – BARÇA, 94 (39-38, at halftime, 80-80 at the end of regulation time)
Equipment
Maccabi Tel Aviv: Wilbekin (10), Jones (4), Caloiaro (12), Bender (16) and Zizic (24) – starting five -; Bryant (10), Cline (-), Casspi (11), Dorsey (10), Dibartolomeo (-) and Blayzer (2).
Barcelona: Calathes (9), Higgins (20), Abrines (-), Mirotic (23) and Oriola (4) -initial quintet-; Davies (12), Westermann (2), Bolmaro (-), Smits (6), Martínez, Kuric (12) and Hanga (6).
Partial: 19-14, 20-24, 26-21, 15-21 and 19-14.
Referees: Boltauzer, Difallah and Rocha. They eliminated Calathes for fouls.
Pavilion: Menora Mivtachim Arena.