The Bank of England expects British GDP to fall 9.5% this year, the biggest decline in a century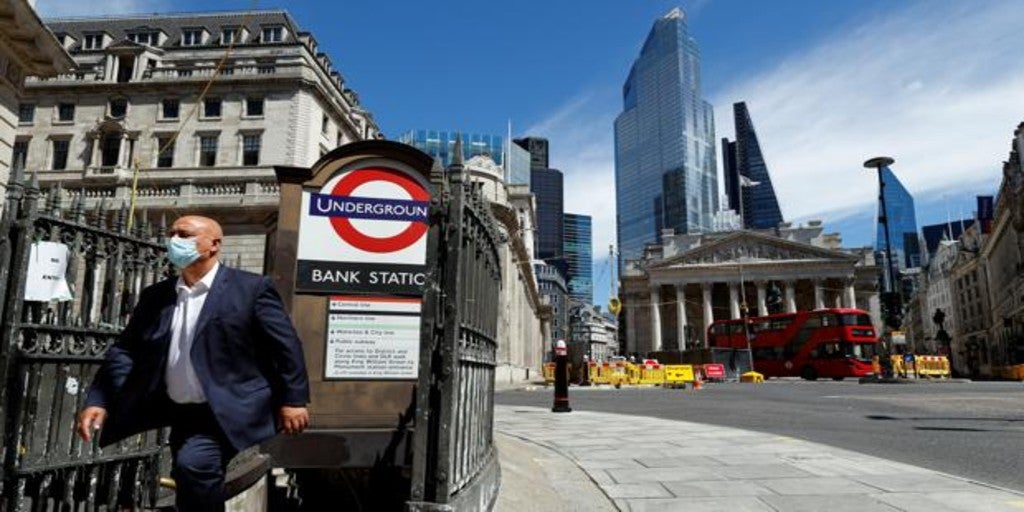 Madrid
Updated:
save

The Bank of England (BoE) has put figures to the impact of the Covid-19 and forecasts for this year a fall of 9.5% of GDP, the largest in a century although it is an upward revision of the forecasts previous reports that spoke of a decline of 14%. On the other hand, it has decided to keep its monetary policy unchanged, with interest rates at the historic low of 0.1%.
The Monetary Policy Committee of the Bank of England has unanimously decided keep the reference interest rate for its operations at the historical minimum of 0.1%, as well as go ahead unchanged with your current asset purchase program worth £ 745 billion (€ 825.2 billion), as reported by the institution in a statement.
On the other hand, the institution has updated its macroeconomic projections, which point to a collapse of the UK's GDP of 9.5% in 2020, compared to the 14% drop expected last May, with a rebound of 9% in 2021, which will continue in 2022 with an estimated growth of 3.5% of GDP, when in May it had forecast an expansion of 15% next year and 3% the following.
In this sense, the new forecasts of the institution suggest that The second largest European economy registered a 21% drop in the second quarter of the year, after having fallen by 2.2% in the first quarter, below the estimate of -25% last May, while the Bank of England He is confident that the economy will grow 18% in the third quarter.
At the mercy of the Covid-19
However, the entity has warned that the intensity of the recovery will depend largely on how countries achieve control the spread of the disease and whether it is necessary to reimpose strict containment measures in a general way.
The issuing entity has warned that "even without closure measures, fear of infection may continue to weigh on spending. Despite the relaxation of the blockades, the demand for goods and services involving social interaction has remained moderate in many countries.
Recovery of GDP at the end of 2021
The Bank of England has anticipated that "recovery in demand takes time, as health problems weigh down activity. GDP is not expected to exceed its level in the fourth quarter of 2019 until the end of 2021 ». At the same time he has warned that the risks to the economic outlook "are skewed to the downside."
In this way, the central bank has stressed that it will continue to closely monitor the situation and affirmed that it is ready to adjust its monetary policy accordingly to fulfill its mission. "The Committee does not intend to tighten monetary policy until there is clear evidence that significant progress is being made in eliminating spare capacity and the sustainable achievement of the 2% inflation target," he assured.