The Balandro Tirma Trophy brought together 104 boats in the bay of the capital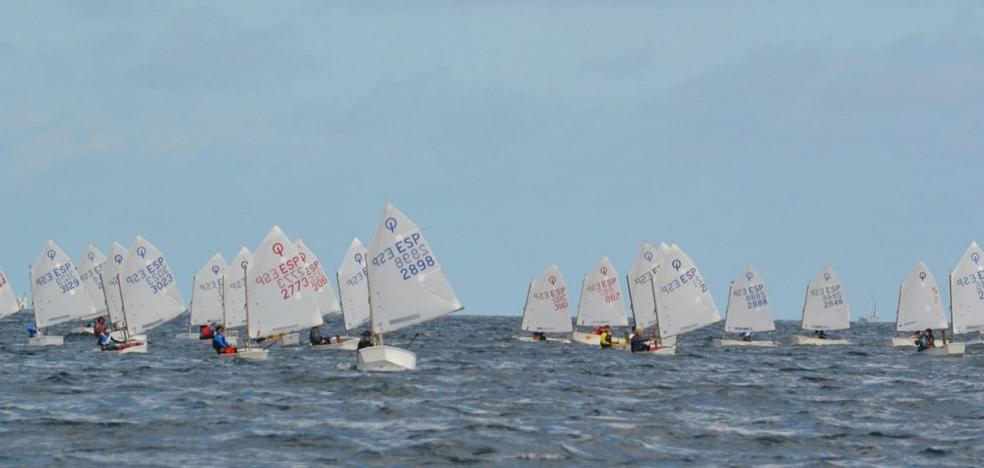 candle
In this edition, boats representing the nautical clubs of Tenerife, Arrecife, Club Marítimo Varadero participated together with a large participation of the host club
This competition took place over two weekends. First of them with
the Optimist infant classwhere the greatest participation was concentrated, adding 54 sailors to the starting line.
With five disputed regattas, the greatest rivalry between the two Gran Canarian nautical athletes, who are currently reaping the most success on the regional scene and leaders of the Canarian team:
Miguel Méndez and Miguel Padrón, with two first places eachconquered the first and second place on the podium respectively, with only one point difference.
Jaime Lang-Lenton closed the podium of the absolute classification and male U16, Isabel Lang-Lenton won the female title in the U16 and U13 categories, while Ayozet Vega won the male U13 category.
The vessels that comprise
youth sailing, they sailed the last weekend of May. The wind conditions were very light, complicating on Sunday, because the wind between 4-7 knots heading north, joined a current in the opposite direction, putting the participants in trouble.
Six were the tests disputed with a windward leeward route. In the double class 420, victory in the absolute classification for Jaime from Gran Canaria
Ayarza / Mariano Hernández of the RCNGC. In the 29er class, the current women's U17 world champions won this trophy.
Regarding the individual classes
Pol Núñez and Isabel Hernández both with seven points in the final calculation, got the first place on the podium respectively, in the ILCA 4 and ILCA7 classes. And finally, in the Techno 293 class, Bruno Bárbara was proclaimed the absolute winner.
The next appointment scheduled for the regatta team of the Real Club Náutico de Gran Canaria will be
the IV Alejandro Da Silva Trophy, a charity event where, in addition to the competition for light sailing and the Cruiser class, nautical outings are planned for the Foundation's children and relatives, a regatta for parents, activities on land, raffles and a nautical clothing market. The proceeds will go entirely to this non-profit organization, whose objective is to work against leukemia and offer care support to patients and their families.