The autistic student body increases in the Canary Islands by 39.24% in two years: there are more because they come to schools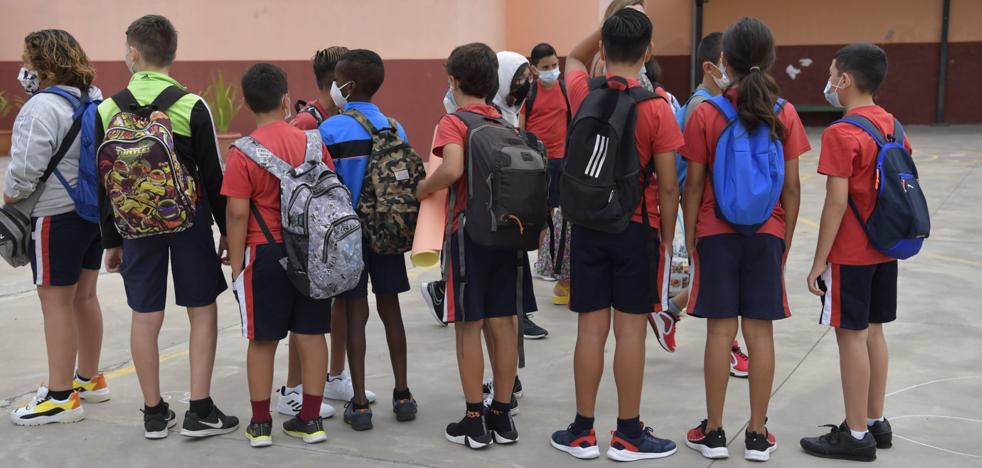 Education has commissioned a study from Health in the face of the "incredible" rise in students with ASD on the islands. Early detection and care explain it, says an expert
The Minister of Education, Manuela Armasshowed last week his surprise at the rise in Canarian schools of students with
autism spectrum disorder (ASD) and advanced in the parliamentary commission to which he attended that
Given this "incredible" increase, he has asked Health for a study.
The counselor did not put figures on that boom, but according to
the open data offered by the Education websitethis course
23,068 minors are enrolled in public schools and institutes and have
specific educational support needs (NEAE). From them
3,005 present an ASD20.15% more than the previous year in which 2,501 minors were enrolled and
39.24% higher than the figures for the 2019-20 academic yearwhen there were 2,158 students with ASD and includes the three schooling modalities: in the ordinary classroom, in the enclave classroom and in special centers.
Education only offers this data for the last three years, but
if compared to 2016-17, the increase is 458% since that year there were only 448 students. These figures appear in the report
'Students with autism spectrum disorder in Spain'prepared by the
Autism Confederation Spain and published in 2020 with information provided by the Canarian Ministry of Education.
This report states that "the analysis of the data provided by the Ministry of Education in the last school years confirms the significant increase in the number of students identified with this diagnosis in the educational system, especially in the Primary education stage."
early diagnosis

For people who work with autism, this is nothing new.
"The early prognosis due to a good diagnosis and the inclusion policies mean that they are no longer confined in special centers but rather that they reach schools"replies the autism expert
Sol Forteaprofessor and researcher at the
University of Las Palmas de Gran Canaria (ULPGC) and head of the Fortea Child Psychology Center.
Today, an autism spectrum disorder is detected in babies a year and a half old, the researcher points out, "and if treatment is started as soon as the course of the disorder stops and they can choose to go to school. Before, when they were not diagnosed so early, the disorder continued its course, producing cognitive deterioration. In addition, now we have the 20-30 agenda just around the corner to work for inclusion", adds Sol Fortea.
"When they are detected so early, they improve a lot. The deterioration that disables them a lot and that they go to special education centers is avoided. Now they can go to schools, although they need support and for that human resources are required", Sol Fortea abounds. «When you do not intervene and there is no early attention, the disorder continues its course, language does not appear, they do not relate, they present behavior problems...»
When they receive early attention everything changes. In fact, he explains,
"Years ago between 70 and 80% of people with ASD had intellectual disabilities, now that figure is below 30% if it has been intervened early. And that they started working like this four days ago, as they say, before there was no early attention service », he regrets.
If, in addition, they have specific support at school "as they grow, the prognosis is better, the adaptation is better and they need less and less help," he adds.
The expert also explains that
Before «many children with Asperger's were left behind, they did not appear on the lists because they were not diagnosed. But now, with the diagnostic tools, we detect part of that spectrum that presents a very normalized attitude", says the researcher. Asperger's, according to the Spanish Autism Confederation, «shares the nuclear characteristics of autism. The person has difficulties in social communication and flexibility of thought and behavior. However, he has a fluent language and an average and even higher intellectual capacity ».
Prevalence: one person with ASD for every 100

The prevalence of autism spectrum disorders (ASD) is directly related to early diagnosis. points out Sol Fortea, and in the Canary Islands we are already around the European average of diagnoses,
one person in 100 has ASD, "but we are approaching the North American figures of one person in 50"he warns.
Fortea remembers that his doctoral thesis was precisely a study of the prevalence of ASD in the province of Las Palmas. "These were data from 2010 and 2011 and the prevalence was 0.68% of the population.
Now it reaches 1% due to early detection and that the spectrum has been opened to other disorders».
"One child with autism for every two classrooms"

It should be remembered that the Minister of Education,
Manuela Armas, said last Friday that "it had never been seen" that in a classroom of 20 children, three students had autism.
According to the expert Sol Fortea, based on the increasing prevalence of ASD, there will be "one child with autism for every two classrooms" on the islands.
María Afonso, Coordinator of Services of the
Association of Families of People with Autism of Las Palmas (Apnalp) calls it "boom" and believes that the Ministry of Education has realized "ten years late" of what is happening.
"There is a boom in diagnosed cases of ASD" and it is "a global trend. In the Canary Islands we follow the same path as the national trend», abounds. He agrees with Fortea that the answer is that it is diagnosed early and care is given early, but he believes that the education system is "overwhelmed" to serve students with ASD.
"More personnel are needed and they have to be trained in autism," insists Fortea.