The assembly of delegates approves the 'Espai Barça'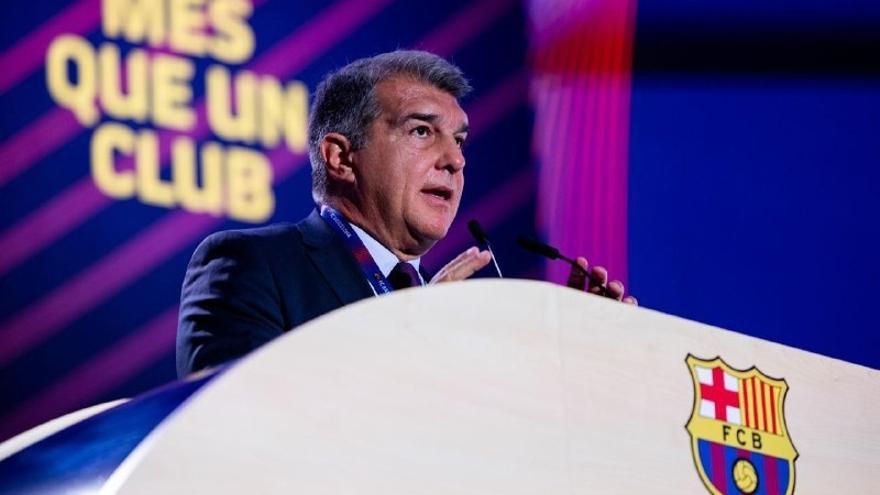 The Assembly of Committees has given the green light to Espai Barça, the definitive impulse that the macroproject for the remodeling of the club's facilities needed. The vote has given carte blanche to the board of directors of Laporta, which asked the partners for permission to sign a financing plan amounting to 1,500 million of euros.
The voting percentage has been clear. There were present in the room 445 delegates of the 455 accredited until then. Have voted for favor 405 people, while 21 raised the ballot with the 'No' and 6 have not spoken with the blank voting card. 2/3 approval and acceptance percentage was needed amounted to 91%.
Joan Laporta had resumed the Assembly of Compromisarios that was suspended on Sunday with a welcome statement to defend the Espai Barça before the answers to the questions from the partners were addressed, which was the point at which he stopped to attend Barça-Valencia. The president wanted to finish lthe previous interventions of Maria Elena Fort, institutional vice president, and Ferran Reverter, the general director, who defended the approval of the project, whose maximum cost is estimated at 1,500 million.
Laporta rivets the nail
Laporta presented only two reasons for asking the delegates to agree. I needed that 260 people they will give it to him. They were the legal 2/3 of the attendees. There were just 389 people who were at the beginning of the second part of the assembly, which later increased to 455. Something more than half that of last Sunday (770 the maximum level) of 4,457 delegates. That is to say, only 8%. A pyrrhic attendance for a club with more than 140,000 members. Among them was the former agent and former candidate Josep Maria Minguella, that he was one of the four new speakers, and announced that he would vote yes.
The president, in his brief parliament, stressed Barça's economic need to modernize its facilities. "The rivals have overtaken us and we need to revive the club's economy to compete with them," he explained, alluding to the 7 Spanish stadiums remodeled in recent years and the urgency of obtaining new income for a club drowned with 1,350 million euros of debt.
"A place of pilgrimage"
Laporta has presented the vote as "a unique opportunity" not to delay any more "a project that we have found [el aprobado por el referendum de 2014 convocado por Josep Maria Bartomeu], which has become obsolete and out of date "and that has had to be reformulated. He advanced that he would not make" an apocalyptic presentation "and he did not do it.
He guaranteed, that yes, that the partners will be informed "of each euro invested in each game" and that the directive would act with total transparency. He did predict that the Espai Barça will be "a place of pilgrimage" Due to the attractiveness that the completely new and active Barça facilities will generate, "it will be a very culturally attractive place."
"We want to refloat the club without violating our values," he answered a question from a partner last week, Laporta assured, insisting that the financing structure (coordinated with Goldman Sachs, although there are other investors, the president slipped) does not It would mean "no increase in ordinary spending, it will not endanger the club's assets or condition sports management."